Obama responds to Republican victories, looks ahead
President Barack Obama holds a press conference in Washington to discuss Tuesday's election, and what it means going forward.
Republicans came away with a resounding victory in the midterm elections, with a commanding majority in the House and gains in the Senate. Republican leaders are vowing to deliver on their "golden opportunity" to roll back the size of government and President Obama's signature health care law.
In the second hour of the show, Congressman Jim Oberstar holds a press conference to discuss his defeat. In the third hour, Democrat Mark Dayton discusses the latest on the gubernatorial race.
Gallery
1 of 1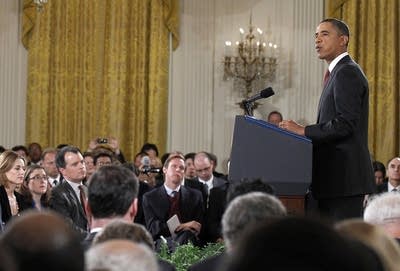 Gain a Better Understanding of Today
MPR News is not just a listener supported source of information, it's a resource where listeners are supported. We take you beyond the headlines to the world we share in Minnesota. Become a sustainer today to fuel MPR News all year long.