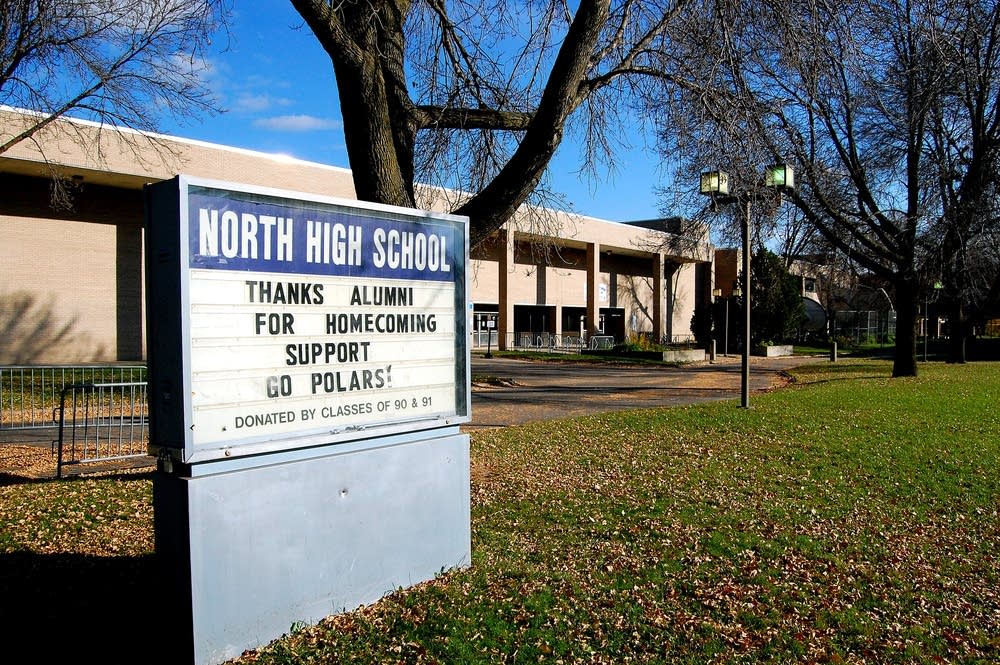 Minneapolis school Superintendent Bernadeia Johnson offered a partial reprieve Thursday for North High School.
She's still persuing North's closure, but is now also offering a chance for the community to help create a new North that would open in 2012.
At a press conference Thursday morning, Johnson reiterated her reasons for why she's recommending the school board vote next week to close North High, saying the district can't justify such low enrollment and achievement. The plan means no new ninth graders would be admitted next year but current students would be able to stay at and graduate from North.
Johnson still wants that vote to happen on Tuesday, but with one addition. She also wants to convene a team of community and other stakeholders that would design and create a new North, to open in 2012.
"The most difficult work begins now," she said.
Johnson said this effort to save North is different from past efforts because it's a clean slate. She said the district previously piled new initiatives upon the North that was already there -- and the initiative came from the top. With this plan, the community will throw everything out and start anew, building a school from the ground up.
In fact, Johnson isn't even saying whether the new school will be located at the current North High School building. That's for the design team to determine.
"I'm trying to show to the community that I haven't created this program already in the backroom, in my office, with a group of folks," she said. "This will be a program that's designed in terms of everything from curriculum to the placement of the program -- with the community."
Johnson's new North plan puts a large share of responsibility on the community. School board chair Tom Madden notes the scores of people who spoke at recent public meetings. He said the key is they weren't just speaking against North's closure; they also offered personally to work on a solution.
Madden said Johnson is essentially saying 'go for it.'
"Worst case scenario, we're back to where the recommendation is," Madden said. "Best case scenario, you have a new model for turning around schools, where the community is the driver of the enrollment by working closely with the district."
Madden said the challenge will be to design a school that attracts students who had previously left the district to attend suburban or charter schools. It won't work, he said, if the new school only drains students from other Minneapolis high schools. He also said the new school would need around 500 students to be viable.
The move also appears to have paved the way for an easier vote on the school board. Johnson's original recommendation to close North would have drawn a divided vote, with at least two board members, Jill Davis and T. Williams, voting no. Both attended Thursday's news conference and said they'll support the updated plan.
North High sophomore Gwendolyn Kinsman was also at the news conference Thursday, but is still not supportive. She said the new plan, like the old one, abandons North's current students.
"And I feel like they haven't taken a look at the school; they've only looked at the numbers," she said. "And it's unfair to judge the students are there by previous numbers because all those new students who came in are being judged by old numbers."
The protests in recent weeks came from people across Minneapolis who said the district had set North up to fail with moves like closing all the middle schools that fed into North. 1990 alum Brett Buckner, with the Save North High Coalition, said the new plan is a good first step, but there's a lot of work ahead.
"We're here, ready to stand with the superintendent as the table's going to be set, and permanently set as we go forward," he said. "But it's going to be a day-by-day rebuilding trust, rebuilding momentum again in order to make this better for all kids in Minneapolis."
Minneapolis Mayor R.T. Rybak and state Rep. Bobby Joe Champion, DFL-Minneapolis, are among the elected officials who signaled support for the new plan. Champion is a North alum whose district includes the school. He said he supports the idea, though he'd like to still see new ninth graders allowed next year.