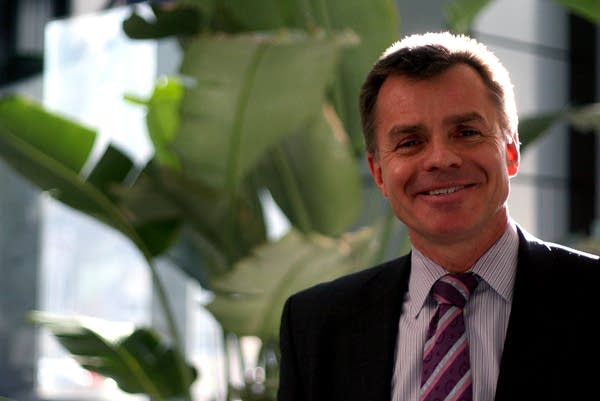 As Minnesotans head to grocery stores to buy Thanksgiving turkeys, stuffing, and cranberry sauce, a record number will be paying for their holiday meals using food stamps.
The number of Minnesotans receiving aid from the Supplemental Nutrition Assistance Program, the new name for food stamps, has doubled since 2002. About one in 12 Minnesotans -- 440,000 people -- received food support in September.
Despite the widespread use of food support, many Minnesotans are unaware that they might be eligible. A 2009 study found that only 45 percent of people who are eligible for food support receive it. People who receive food support say that the amount is not enough to afford healthy food.
A Minneapolis man hopes to help change that by raising awareness of food insecurity issues. Kevin Winge, the executive director of the nonprofit Open Arms of Minnesota, has spent this week living on a food budget of $27.65, the equivalent of one week's worth of food support for a single adult.
"It's amazing how quickly it changes your shopping and eating behaviors," he said. "I haven't thrown a ... single piece of spaghetti away."
Winge consulted with a dietician before embarking on his seven-day experiment. His shopping list included six bananas, a bag of carrots, a pound of ground turkey, six chicken drumsticks, pasta, bread, a jar of peanut butter, several cans of soup, canned spaghetti sauce, and black beans.
"You can fill your stomach easily on $27.65," he said.
The challenge, he said, is finding a way to eat a healthy diet without having enough money to purchase the fresh produce that many take for granted.
Winge has been blogging about his experience and posting photos of some of his meals.
On day four, he wrote, "So far I've been having cereal with skim milk (measured) and a banana in the morning, turkey or grilled cheese sandwich, five baby carrots and skim milk for lunch and dinner. Today I lived it up and had poached eggs for breakfast."
He added, "I miss pizza, Pepsi and potato chips."
Winge said he was surprised by the reaction his blog received.
"One of the most eye-opening experiences for me this week is not about the food, but about the stories that people have been telling," he said.
Winge's blog has sparked conversations from many people who receive food support, including people who volunteer with Open Arms. The nonprofit prepares and delivers free food to people with severe health problems, including HIV/AIDS and cancer.
Winge said he hopes that many of the state's 440,000 food support recipients will continue those conversations after his experiment ends Wednesday.
"If all of them were willing to tell their friends and family members that this is partly how they're feeding themselves, I think it would completely change the discussion about what food insecurity looks like, and what hunger looks like in the state," he said.