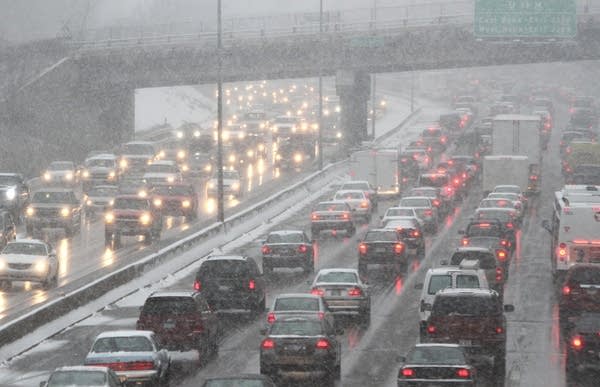 Travelers headed out of town for Thanksgiving are facing icy and snowy roads as a winter storm system passes through much of the state.
Snow continued to fall in the Twin Cities on Wednesday evening, and meteorologists caution that slightly warmer temperatures in the metro area could turn the snow into sleet and freezing rain.
Road conditions worsened just in time for the evening rush hour, slowing traffic from the Twin Cities north to Duluth along I-35 and toward St. Cloud along I-94.
The state's Department of Transportation reported snowy and icy road conditions in parts of western and southern Minnesota this afternoon, with scattered reports of sleet. The agency has advised motorists to consult its traffic website before traveling. The site provides frequently updated traffic and road conditions.
Overall, the State Patrol and MnDOT said they haven't seen a significant spike in the number of vehicle accidents on Wednesday.
Rochester officials said one woman was critically injured when she lost control of her SUV while traveling on I-90 just west of U.S. 52. The vehicle careened off the road at about 1 p.m. and landed in an embankment. Emergency responders used the "jaws of life" to extricate her from the vehicle.
Operations went on mostly as normal at Minneapolis-St. Paul International Airport. However, airport spokeswoman Melissa Scovronski said travelers driving to the airport should get on the road early. She said traffic congestion on the freeway ramp headed into the Lindbergh Terminal caused a 30-minute delay during evening rush hour.
Inside the airport, both arriving and departing flyers said they were pleasantly surprised at how smoothly travel was going. Waits at the security lines at the Lindbergh Terminal rarely lasted more than 20 minutes during the day.
Anna Dagmar flew in from LaGuardia Airport this morning to visit her boyfriend in Minnesota. She said she didn't mind going through a body scanner before she boarded her flight.
"There was less of a line than I thought, so it was smooth sailing," Dagmar said.
A call for opponents of new electronic scanners to boycott the machines resulted in scattered demonstrations. But there was no indication it had any effect at all in Minnesota.
Click here to see updated photos of the security lines at the airport.
On the state's roads, crews have been working throughout the day to clear away snow and ice, said MnDOT spokesman Kevin Gutknecht.
"In the metro area, crews will be running 24/7," he said. "Greater Minnesota, it all depends on what the conditions are, and it depends on which roadways, too."
Gutknecht said that crews in greater Minnesota will continue to work on I-94 and other major roads and highways, but might not be able to pass through smaller side roads.
He stressed that drivers should follow basic safety advice.
"I think that everywhere we look, there's going to be some challenges," he said. "My caution to the driving public would be to drive according to the conditions, take your time, plan ahead, leave early if you can, belt up, put your headlights on, (and) don't drive distracted."
The Twin Cities metro area is expected to receive between one and three inches of snow by Wednesday night. Some areas in northern Minnesota could see nearly a foot of snow accumulation.
Meteorologists predict the temperature throughout the state could drop into the single digits on Thanksgiving. The cold weather is expected to last through Friday. By Saturday, the temperature is expected to be about 30 degrees.
You can get the latest weather updates at MPR's Updraft blog.