Blizzard conditions and near impossible travel tonight
A massive snowstorm shut down the Twin Cities airport, forced city buses off the streets in Mankato and the Twin Cities and closed 165 miles of Interstate 90 on Saturday, forcing thousands of Minnesotans to postpone their weekend plans.
The storm dumped more than a foot of snow in parts of the Twin Cities, and forecasters said light now was expected into Saturday evening. The heavier bands of snow were moving into southeastern Minnesota and western Wisconsin.
The Minnesota Department of Transportation issued a "no travel" advisory for the Twin Cities late Saturday afternoon. A similar advisory had gone out earlier for southern and western Minnesota.
All flights in and out of Minneapolis-St. Paul International Airport's main terminal were canceled for the rest of the day.
Metro Transit began pulling its buses off the streets on Saturday afternoon after 70 of the agency's 220 buses got stuck.
Light rail and the Northstar commuter line were still in service, and Metro Transit officials said they expected buses would be up and running again Sunday morning.
Before you keep reading ...
MPR News is made by Members. Gifts from individuals fuel the programs that you and your neighbors rely on. Donate today to power news, analysis, and community conversations for all.
MSP shut down for several hours because the snow was falling too fast for crews to keep up. Then, Delta Air Lines canceled all flights in and out of MSP for the rest of the day, and other airlines followed.
Airport spokesman Pat Hogan said the airport reopened one runway to flight traffic Saturday afternoon, but by that time most airlines had canceled flights anyway.
Getting around in the Twin Cities was extremely difficult, as most side streets hadn't been plowed. St. Paul, Minneapolis, Mankato and several other cities called snow emergencies and planned to restrict parking Saturday night so that plows could clear streets.
Many who tried to drive on city streets got stuck. With no buses, some tried calling taxis, which were in short supply.
"I can't really help them much," said Phil Thompson, a dispatcher at Rainbow Taxi in Minneapolis. "We're only able to pick up on snow emergency routes. We can't really pick up on any side streets."
Thompson said only one or two taxi drivers out of the usual 40 were braving the roads.
Snow totals reached 20 inches in the St. Paul suburb of Oakdale by Saturday afternoon. Nearly 15 inches had fallen at the airport, Shakopee reported 18 inches and Maplewood had 17.
If the snow keeps up, it will be the largest storm since the famous "Halloween Mega Storm" of 1991, when more than 28 inches of snow fell in the Twin Cities and nearly 37 fell in Duluth.
The snow started in western Minnesota Friday evening and spread into the Twin Cities metro area about 10 p.m. During the day on Saturday, the snow fell 1 to 2 inches per hour in many places.
Roads in eastern and southern Minnesota and western Wisconsin were listed as difficult or even dangerous, and many Minnesota roads had closed.
MnDOT pulled plows off the roads and closed state highways in Blue Earth, Brown, Cottonwood, Faribault, Jackson, Le Sueur, Martin, Nicollet, Nobles, Rock, Sibley, Waseca and Watonwan counties.
I-90 remained closed between Albert Lea and the South Dakota border.
"We actually had winds recorded at Rushmore, which is along I-90, at 64 mph. The superintendent described it as worse than anything we dealt with last year," MnDOT regional spokeswoman Rebecca Arndt said.
Arndt said motorists who venture onto closed roads can be fined up to $1,000 or be sentenced to 90 days in jail. Drivers who have to be rescued will also have to pay for the cost of their retrieval, she said.
The State Patrol said there have been at least 129 crashes, including 96 in the Twin Cities, since midnight Friday. Fifteen of the crashes involved injuries, but no fatalities were reported.
The patrol said 561 vehicles slid off of roads; nearly 400 of those were in the metro.
Hennepin County had pulled most of its 64 plows off the road because of blowing and drifting snow.
"We realized that we were just going in circles and making no headway," Hennepin County spokeswoman Carolyn Marinan said. "What we are keeping on the roadways are a handful of plows that will keep access to emergency operations like hospitals as passable as we can."
Besides Minneapolis and St. Paul, Golden Valley, Eden Prairie, Mendota Heights, Hopkins, Robbinsdale, St. Louis Park and Bloomington had all declared snow emergencies.
Winter weather warnings and blizzard warnings are posted for much of southern Minnesota and western Wisconsin. Troopers with the State Patrol are reporting white-out conditions in open areas as far north as St. Cloud.
School districts in the area, including Minneapolis, St. Paul and Anoka-Hennepin, have canceled Saturday activities and sporting events.
Saturday night cultural activities were also canceled, including shows at the Guthrie Theater in Minneapolis.
Many high school students were scheduled to take the ACT college test today, but more than 50 schools -- including those as far outside the metro as Worthington, Mora, and Rochester -- have canceled the tests.
Arctic low temperatures will follow the snowstorm. Temperatures will drop into the single digits on Saturday night, and well into the double digits below zero on Sunday night across much of the state. Lows could approach 20 below zero in western Minnesota from the Canadian border to Willmar.
(MPR reporters Madeleine Baran, Tim Nelson and Matt Sepic contributed to this report.)
Gallery
11 of 11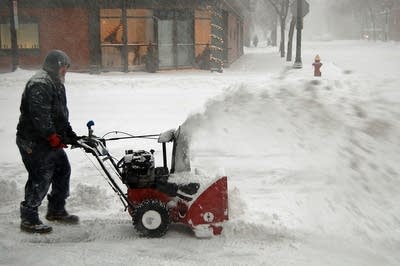 1 of 11
2 of 11