Boy returns home after U of M treatment for rare skin disease
A young boy with a rare skin disease returned home to Alabama Sunday after undergoing an experimental stem cell transplant at the University of Minnesota in September.
Payton Thornton is not cured yet. But his blistered skin has recovered so much that he is able to run, jump and even wrestle with his brothers.
Joy Thornton is thrilled with the progress Payton has made since his transplant.
"He looks like a completely different child," she said. "And he even acts different."
Grow the Future of Public Media
MPR News is supported by Members. Gifts from individuals power everything you find here. Make a gift of any amount today to become a Member!
Gauze bandages still cover Payton's arms and legs. But the small areas of skin that are visible on the 5-year-old's body look remarkably improved.
When Joy asks Payton to lift up his shirt, he eagerly shows off his fully healed belly.
"Before, every bit of this [belly skin] was all broke down. And you can just feel his skin and it's so soft," she said.
Before his transplant, Thornton estimates her son had 20 to 30 open wounds on his skin. The sores were caused by the normal friction from playing, falling or bumping his skin.
Payton's condition is called epidermolysis bullosa, or E.B. for short. It's rare and it's usually fatal. Kids with E.B. are missing a key protein that anchors skin to muscle. Their bodies try to compensate by making a mutant form of protein cell.
"Before, you could take your finger and his skin would just move real loosely, and you could tell that it wasn't attached to the muscle. And so you had to be extra careful. And now he has that firmness," said Joy Thornton.
The stem cell transplant that Payton received is experimental, and carries risks. Several children have died from complications related to the procedure. But more than a dozen others survived, and their bodies have begun making the collagen protein that anchors their skin in place.
Dr. John Wagner helped develop the University of Minnesota's therapy. He says Payton has done exceptionally well.
"That protein that was missing is now being produced," he said. "Think of it as velcro attaching the outer layer of your skin to your body, so he doesn't have that blistering like he had before."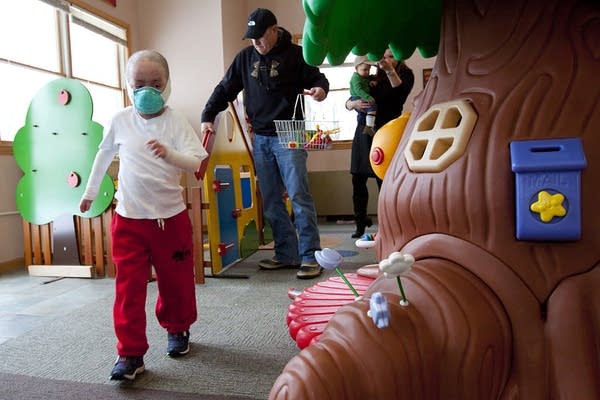 But biopsies from Payton and Wagner's other patients show that their bodies are still making mutant protein cells. It's not clear what that means over the long term. It's possible these mutant cells could diminish with time. Or, it's possible they could overtake the new healthy protein cells.
"People ask me, will this be forever? Will it continue to get better forever? We don't know yet," said Wagner said. "The longest out is about two and a half years. So there's much for us to know that we'll only figure out over time."
In the meantime, Wagner and his colleague Dr. Jacob Tolar continue to tweak their therapy. They're trying to find ways to use less chemotherapy on their patients prior to their stem cell transplants, to reduce complications.
Wagner says they hope to figure out a way to genetically manipulate a patient's own skin to produce the missing protein, so they don't have to rely on using donor stem cells.
The possibility of avoiding dangerous donor transplants is exciting to families battling E.B. But Joy Thornton says she's still glad her family went ahead with the U's experimental treatment, rather than wait for a more advanced therapy to come along.
On their way to a checkup appointment a week ago, she says it became clear to her how much Payton's life has improved.
"He was holding my hand and he said, 'Mommy, this is the best I have ever felt in my whole life,'" she said. "Now he's able to experience what it's like to be free of pain."
Payton still faces many challenges. He has just begun tapering off the drugs that suppress his immune system. So for the next few months he will be very susceptible to germs.
He will also undergo surgery next year to remove the thick webs of scars between his fingers and toes caused by years of skin damage.
Thornton says Payton's goal is to be able to wear flip flops by next summer.
Gallery
5 of 5
1 of 5
2 of 5