Nearly a dozen cooks, caterers and small food business owners use a shared commercial kitchen in north Minneapolis to make money. Some believe the small business incubator will help revitalize a part of the city that has long suffered from underdevelopment.
The air in Kindred Kitchen is often heavy with the aroma of deep fried appetizers, such as when cooks like eggroll maker Vilai Tchaa is cooking her specialty treats in a Dutch oven full of hot oil.
Like many food entrepreneurs, Tchaa began her business by making her homemade appetizers for friends and family. Tchaa is Hmong, but her eggroll recipe includes ingredients from a variety of Asian traditions. However, she admits she hasn't always been a good cook. That became apparent after she met her husband Seng.
"I was trying to impress him with my cooking, and it didn't work too well," Tchaa said. "But he was a good sport. He ate it."
Seng describes himself as a willing guinea pig for his wife's cooking. He said they got the idea to create a company as demand for the eggrolls grew. Now they cook, freeze and package the appetizers at Kindred Kitchen. Seng said their customers are non-profit groups that sell the eggrolls to the public as fundraisers.
"So hopefully schools and organizations would find - instead of selling popcorn or candy - maybe eggrolls would be a viable option," he said.
Terese Hill is the manager of Kindred Kitchen. She said the kitchen is big enough for three separate teams of cooks to work in at the same time. The space costs $25 an hour to rent. But before aspiring food business owners can get in, they will also need to spend money and time on three things -- a food manager certification, a business license and an insurance policy.
"When I meet with people and kind of walk them through the process of getting started, I generally say that you're going to need about $1,000 right up front, just to get into the kitchen," Hill said.
Kindred Kitchen also helps its clients negotiate the red tape of the licensing process through workshops and consultation. Hill said licensing requirements vary, depending on what a person wants to make, and how he or she wants to sell it.
Right now, there about 10 regular renters who use the kitchen. Hill said they vary from a wedding cake maker to a small organic food company, and there are many more waiting in the wings.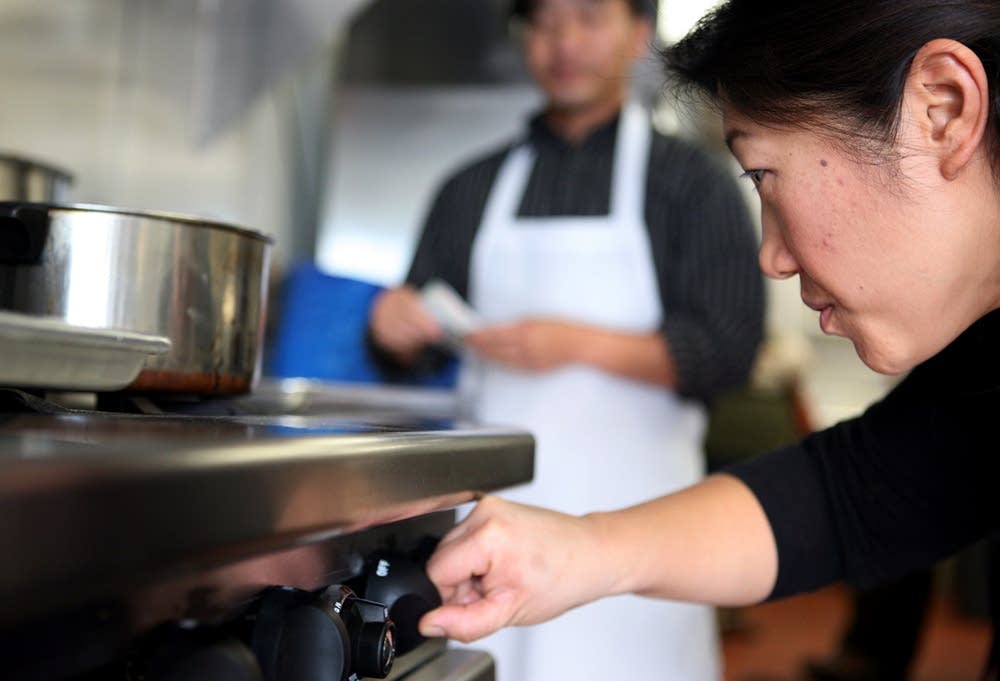 "We have a list of about 200 people who have expressed interest in the kitchen and kind of want to get started in here," Hill said.
She said it then shakes down a bit, to people who really want to go through the whole process of getting licensed, getting food manager certified, getting their insurance and actually getting into the kitchen.
"It takes a little bit of time. So there's a lot of people working on it," she said.
Kindred Kitchen is located on West Broadway Avenue, a once thriving commercial corridor which has suffered for decades from crime and underdevelopment. However, over the last several years, West Broadway has been the target of millions of dollars of new investment, lead by developers such as Catalyst Community Partners.
Catalyst developed the kitchen as well as other buildings in north Minneapolis. Program director Mary McGill said food businesses are relatively inexpensive to start. So a food-based business incubator is a good way to spur development from the bottom up.
"Ideally, we would love it if every one of the people who rented our space outgrew our space and had better incomes for themselves, maybe hired some people," McGill said.
Back in the kitchen, Vilai Tchaa said she'd like to expand her business into a wholesale and distribution operation some day. She is also thinking up new non-Asian eggroll recipes -- which will mean more taste-testing for her husband, Seng, and their four children.