St. Paul attorney takes priest abuse fight to Europe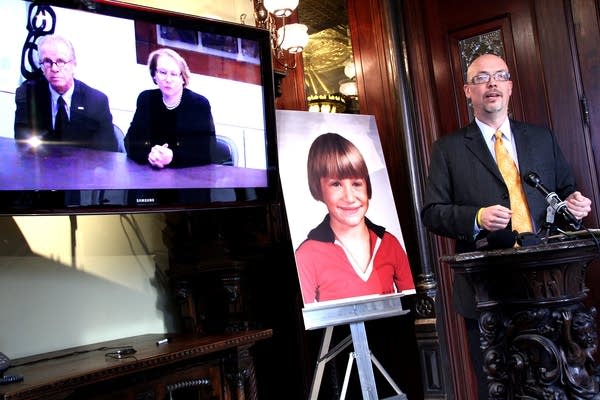 After filing more than 1,500 lawsuits against alleged pedophile priests in the United States, St. Paul attorney Jeff Anderson is now setting his sights on Europe.
Anderson has opened a law office in London, taking him even closer to the gates of the Vatican.
This week, the joint practice between Anderson and UK attorney Ann Olivarius brought forward its first case. The suit alleges that nearly 30 years ago, Catholic officials from Minnesota to Ireland conspired to keep one priest's history of sexual abuse a secret.
The alleged victim in the case is known only as "John Doe J.S.," and now lives in Nevada. A blown-up photograph of him as a child, provided by his attorneys, shows a smiling kid of the 1980s with bowl-cut hair.
Grow the Future of Public Media
MPR News is Member supported public media. Show your support today, donate, and ensure access to local news and in-depth conversations for everyone.
Speaking from his office in St. Paul, the plaintiff's attorney, Patrick Noaker, said this case gets to the heart of his belief that the Catholic church has engaged in the "international trafficking" of priests who abuse kids.
"Priests who have been sexually abusive in other countries, are being, and have been, trafficked to and from the United States, in order to avoid justice, in order conceal their wrongs," he said.
Noaker is an attorney with Jeff Anderson's law firm, and Anderson, in London, joined in on the press conference by video.
Anderson is arguably the most well-known attorney on the front lines of clergy sex abuse cases, and he has vowed to take his crusade to the highest reaches of the Catholic church. He has already filed two lawsuits against the Vatican, alleging church leaders refused to take action against priests accused of abusing children.
Noaker says when John Doe was 8 years old, back in 1982, an Irish priest, the Rev. Francis Markey, was assigned to his church in Granite Falls in southwestern Minnesota. That same year, according to the lawsuit, Markey sexually abused the boy while serving as one of his confirmation teachers.
"His family had been led to believe that Fr. Markey was safe," Noaker said. "His family had been led to believe that the authorities who placed Fr. Markey there did not know that Fr. Markey was not a child molester."
But the suit alleges officials with the Diocese of New Ulm knew of Markey's past, because the priest had already been suspended and received treatment as a sexual predator three times before coming to Minnesota.
The lawsuit also names as defendants a diocese in Ireland, and the treatment centers Markey attended, for allegedly keeping the public in the dark despite his risk to re-offend.
Markey was extradited last year from Indiana to Ireland to face charges of raping a boy in that country.
Officials with the Diocese of New Ulm say they are reviewing the allegations. A spokeswoman did not answer specific questions, but released a short statement on Tuesday, saying the diocese is "committed to offer help and healing to anyone who has been a victim of sexual misconduct," and to further prevent what the diocese calls a terrible crime.
Markey, now in Ireland, can't be extradited back to the United States to face the allegations in the civil suit. But Anderson and his attorneys say their new office in London might assist in gathering testimony from Markey as the case moves forward.
Gallery
1 of 1