Can Twin Cities music venues survive a shaky economy?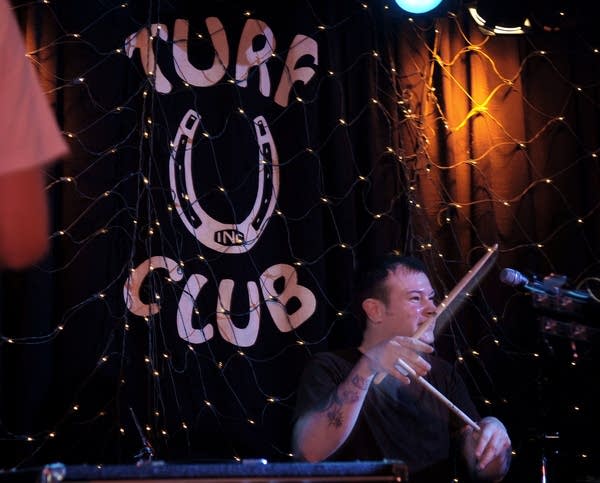 Panic spread through the Twin Cities music scene a few weeks ago when two highly regarded nightspots -- the 501 Club in Minneapolis and the Turf Club on University Avenue in St. Paul -- closed their doors.
It's a sign, some say, of how tough it's become for live music venues in the Twin Cities.
Even though the Turf Club was closed for only a few days, regulars like Twin Cities bluegrass musician Kevin Kniebel felt like they'd been kicked out of their own home.
"It's become a cultural hub for a lot of people, and to know that that was no longer going to be happening was a little disappointing to hear," he said. "But I'm really relieved that it's open again."
Grow the Future of Public Media
MPR News is supported by Members. Gifts from individuals power everything you find here. Make a gift of any amount today to become a Member!
Owner Tom Scanlon said he performed what some might call an intervention.
The Turf Club needed plumbing and electrical repairs. But it also needed to be shored up both as a drinking establishment and music venue.
Scanlon made several changes and the club is now closed on Sundays and Mondays. It started a month-long music residency on Tuesdays and a DJ night on Wednesdays. More beer choices were added.
Bartender Josh James was installed as manager, and Ryan O'Rourke was re-hired as talent booker. O'Rourke thinks it won't be long before the Turf Club is buzzing again.
"I'm definitely feeling positive about it. I think Josh is a great manager and I think he's going to run the bar well," he said. "And now that we have Christy Hunt on board helping me book shows, I'm really excited to see what the future holds."
Hunt has been booking music off and on in the Twin Cities since the late '90s. Over that time the market has become much more competitive. Hunt's noticed a lot of growth in the sheer number of venues.
"Actually I was thinking about it today and we have 20 live music venues I can think of offhand," she said.
The count was 26 when Hunt grabbed a couple friends at the Turf Club and started rattling them off.
"And I remember when I moved here in 1993 there were about four real ones that we all hung out at," she said.
Which makes you wonder whether the Twin Cities market for live music can support that number of venues, especially in a dreary economy.
"I think just based on recent events it's clear that it really can't," said Eric Funk, co-owner of the Triple Rock Social Club in Minneapolis.
The increase in venues has made it harder for bars to set themselves apart musically, he said.
"On any given night, whatever type of event you're doing, there's a good chance there's something pretty close going on the very same night somewhere else in town, and a definite chance there's something similar that's gone on in several places in town throughout that week," he said.
Bands might be getting more opportunities to play, Funk says, but some need to be smarter about spacing out their gigs.
"It's hard to get, for a small band, your audience to come out and see you every week," he said. "So inevitably, your shows are gonna get smaller and smaller."
Meanwhile, the costs for venues just keep going up. These days, national and international acts make their living from touring more than from selling CDs or mp3s. As on-the-road expenses have risen, so have ticket prices, sometimes by 50 to 100 percent.
"And the problem is is that the venue's share of that revenue hasn't changed at all," Funk said.
Add to that, he said, the rising cost of the main money maker for all venues: alcohol.
"That's another industry that's hurt by the economy and those prices keep going up and up and up," he said.
All in all, Funk said, you have an environment in which many establishments eke out an existence on a month-by-month basis.
"If people really knew behind the scenes, they'd probably be surprised at how thin a margin everyone operates on and how a really bad month might be all it takes," he said.
To some extent, a really bad month closed the 501 Club. When it opened near the Metrodome two years ago, the club relied on a live-music, no-cover model.
But the high cost of doing business downtown, including rising liquor license fees and property taxes, weighed heavily on it. When the Metrodome collapsed, the roof caved in on the 501 Club, too.
Gallery
1 of 1