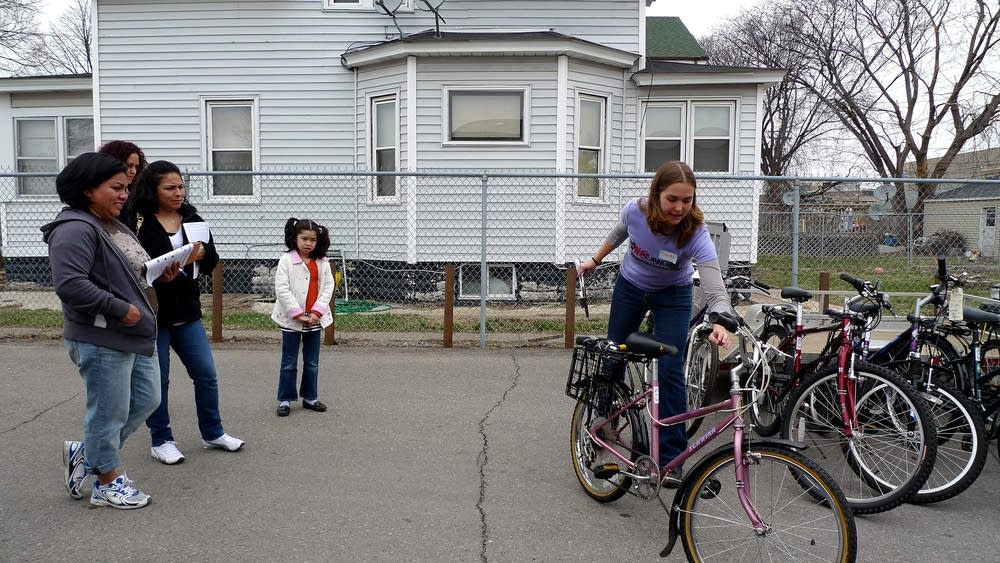 An innovative bicycle loan program in the Twin Cities is back for its second year — with more bicycles, more volunteers, and another $110,000 in funding.
The Community Partners Bike Library provides free six-month bicycle rentals to low-income adults. Organizers see the program as a way to share a love of bicycling, along with its health and transportation benefits, to people left out of the mainstream bicycling community. This year, the program aims to reach 200 adults from April to September — 50 more than last year.
"I think it's in a great moment of expansion," said program director Claire Stoscheck. "People are very, very excited about it."
Sibley Bike Depot, a volunteer-run bicycle shop in St. Paul, created the library with a $193,000 grant from Bike Walk Twin Cities. The library was one of dozens of programs to receive funds as part of a $22 million federal pilot program to increase walking and bicycling in the Twin Cities. Last week, program organizers found out they'll be receiving up to $110,000 in funding for 2012, in addition to funding for this year.
The season kicked off on Saturday at CLUES, a Latino social services agency in south Minneapolis. The group is one of 16 nonprofits partnering with the bicycle library to recruit riders.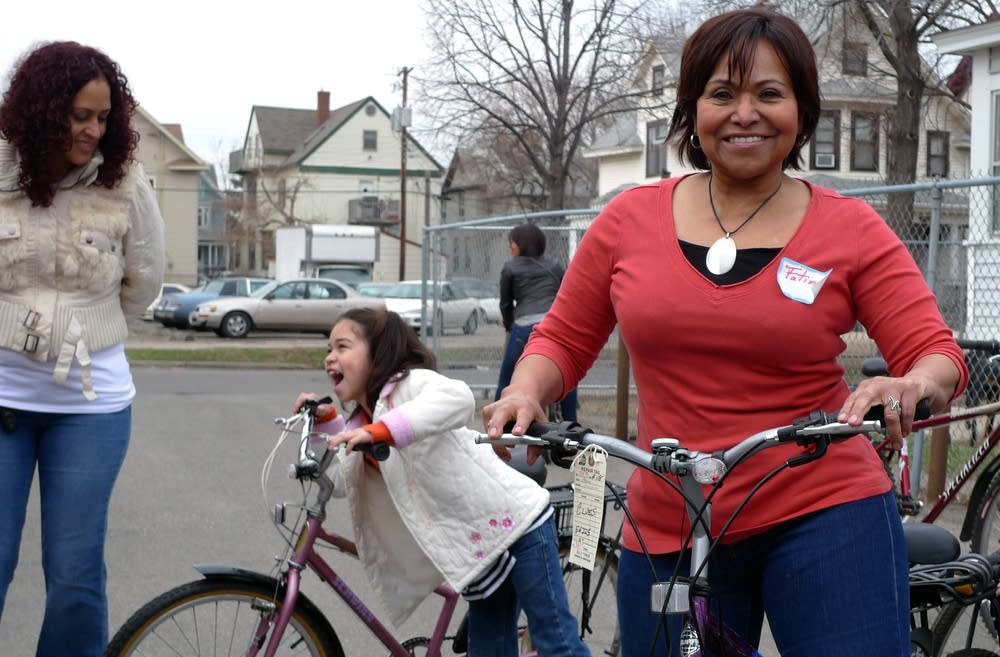 Eighteen people showed up for the bicycle safety orientation — more than organizers predicted. Ten adults had already applied to the program and had bicycles waiting for them.
"I'm so excited to get back on a bike," said Perla Montoya as she waited for a mechanic to make a few final adjustments.
Montoya, who is 26, hadn't ridden a bicycle since she was six years old. "I never fell down," she said, laughing. A few minutes later, she was pedaling up and down the alley with ease. She said she plans to bicycle to work every day and looks forward to getting healthier.
Cesar Orjuela, a community health worker at CLUES, said he hopes the program helps combat high rates of diabetes and high cholesterol.
"We need to promote healthy living in our communities," Orjuela said. "And this is the best way to have very good health."
Each program participant receives a helmet, a bicycle lock and a two-hour safety training orientation. The program also provides bicycle maintenance classes and coordinates group rides.
Organizers hope extra classes and rides will help build a sense of community and encourage people to return the bicycles at the end of the six-month loan period.
Last year, 30 percent of the bicycles weren't returned, but Stoscheck said the number isn't alarming. The program had estimated that it would lose one in four bikes.
"Honestly, I'm very impressed with how many came back, considering it's a complete honor system," she said. "I just think it shows how good people are and how people really care about their community."
This year, mechanics have outfitted each bicycle with an odometer to track the number of miles ridden. Riders can opt to create teams to compete in a "miles pedaled" challenge. The top teams will receive prizes at the end of the riding season.
The program will also offer discounted bicycles to participants who used the loaned bicycle at least once a week and returned it in good condition.
Organizers plan to distribute most of the bicycles at partner agencies in the next few weeks.