Job prospects improving for soon-to-be college graduates
Dressed in a gray business suit, 23-year old Vanessa Hendrickson could walk into an office today and fit right in.
Hendrickson, who graduates in May with a criminal justice degree from Century College in White Bear Lake, hopes an employer thinks the same.
"I feel pretty good," she said at a recent college job fair in Minneapolis. "There's a lot of recruiters here. I'm just excited to be here. Yeah, I'm optimistic."
There is good news for Hendrickson and others about to finish college: The job market for new graduates is looking up. But even though employers plan to hire more this year than in the past two years, competition will be stiff.
Hendrickson wants to find a job in the legal sector. But since she's going head-to-head with lots of other soon-to-be-graduates, she's not picky.
"With the market today I think anybody is looking for any position open," she said. "I'm happy taking anything, almost."
Because of the nation's economy, the job market for new college graduates has been tough over the last couple of years. But their prospects appear better this year, said Sarah Hover, director of career services at Inver Hills Community College.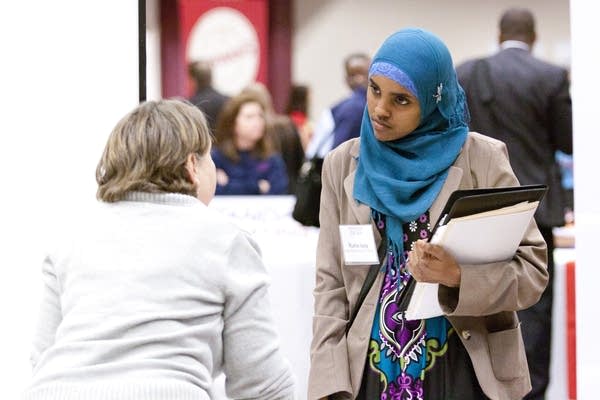 Hover said if her college's job search website is any indication, there are more open positions out there for college graduates.
"I would say graduates in 2011 have a much better chance of finding a position," she said. "We were averaging in 2009-2010 about 50 to 60 positions. Now we're up to 150 to 200 per week."
Some of those jobs are with MDI Achieve, a company that supplies software to nursing homes and other long-term care facilities.
Company recruiter Bonnie Schultz, who took applications from students at the job fair, said her company has lifted its hiring freeze of the last couple of years.
"I have 15 or more open positions right now," Schultz said. "Out of those 15, I have six at least that we would actually be happy to see college graduates."
Career and labor analysts say the market is looking up for college grads because many companies have the confidence to begin hiring again, especially for entry-level positions.
For those spots, hiring managers have their eyes on college students trained on the latest technology. They're also generally willing to work for less money than more experienced workers.
"We're seeing employers projecting almost a 20 percent increase in the number of college recruits they will hire from the class of 2011 than they hired from the class of 2010," said Edwin Koc, director of research for the National Association of Colleges and Employers.
The number of paid internships is also up seven percent over last year, said Koc, who has surveyed the nation's companies on their hiring strategies,
Starting salaries also have risen to an average of about $50,000 for students with a bachelor's degree, $3,000 more than last spring. Chemical engineers can earn starting salaries of $64,000. Liberal arts graduates are on the low end with a starting salary of $35,000.
That's all good news for graduates, but it doesn't mean they'll be able to jump into their new careers without some hard work.
"I think the job market is trending a little bit better than last year," said Sheila Risacher, director of career services at Southwest Minnesota State University in Marshall. "It's still challenging; it's still very competitive."
Risacher said that's in part because college graduates are competing with laid-off workers for entry level jobs.
"I think people need to be mindful of that when they're doing their job search," she said. "When it is more competitive, you need to make sure you have a well-marketed resume, that you do your research on the company."
Risacher said flexibility is important. She said new graduates searching for work in Minnesota should be open to opportunities in surrounding states as well.
She also said a key part of a job search is effective networking. Making connections with college professors, alumni and those who do the hiring at companies is more important than ever.
Gallery
1 of 1
Your support matters.
You make MPR News possible. Individual donations are behind the clarity in coverage from our reporters across the state, stories that connect us, and conversations that provide perspectives. Help ensure MPR remains a resource that brings Minnesotans together.