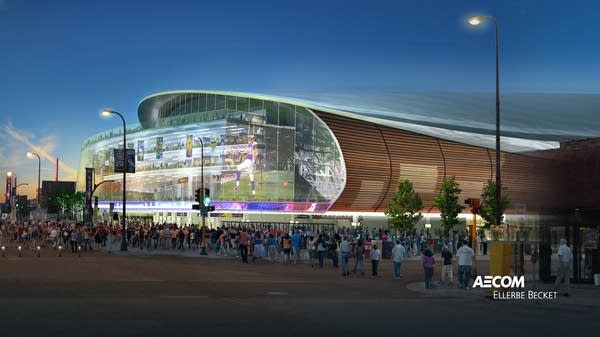 An announcement from Ramsey County and the Minnesota Vikings proposing a deal for a new football stadium in Arden Hills comes one day after Minneapolis officials announced their own pitch for a new Vikings stadium, on the site of the existing Metrodome in downtown.
The Minneapolis plan proposes several new or expanded taxes to pay the city's portion of the cost. Mayor R.T. Rybak made it clear that city voters would not have a say on the stadium proposal if it advances.
"This will not be put to a vote. We're coming to the Legislature to ask them to allow us to move forward," Rybak said Monday.
When Minneapolis residents went to the polls in 1997, they overwhelmingly approved a measure that would give them veto power over large city subsidies for professional sports facilities.
Those voters changed the city's constitution in a way that would forever alter how stadiums in Minneapolis were financed.
Or so they thought. The referendum requirement appears to have no teeth, some 14 years later.
The 1997 change to the Minneapolis charter states that the city will not spend more than $10 million on stadiums without first getting voter approval through a ballot question.
At the time, then-Mayor Sharon Sayles Belton was backing a proposal to steer $50 million in city money toward a future Minnesota Twins baseball park. And critics accused elected officials of ignoring widespread opposition to using public money for stadiums.
One of those critics was Kathryn Harris, then working with the political party Progressive Minnesota. Harris remembers going door to door gathering signatures for the charter-amendment referendum.
Harris says she thought the hard-fought ballot battle would ensure voters have a voice in public financing of stadiums, including a future home for the Vikings. But now, she thinks that battle was all for naught.
"I feel disappointed the referendum is not effective, but it's politics as usual: Figure out how to keep the small people small and the big people big," said Harris.
Mayor R.T. Rybak and city leaders can ask the state Legislature to override the charter rule which requiring a referendum.
"It's a very strange thing for city leaders to go to the Legislature and say, 'Please override our constitution.'"

Dave Bicking, opponent of stadium taxes
Under a plan backed by Rybak and City Council President Barbara Johnson, the state would pay a third of the $900 million price tag to build the Vikings' new stadium. The city would pay about $200 million, and the Vikings would pay for the rest.
Dave Bicking is a member of the group No Vikings Tax, and says city leaders are acting contrary to their own principles of guarding their own local control.
"It's a very strange thing for city leaders to go to the Legislature and say, 'Please override our own constitution,'" said Bicking. "Rybak and Barb Johnson ... don't want to ask the people of Minneapolis for a referendum. Instead, they want the legislators from all over the state -- Ely, Thief River Falls, etc. -- to decide whether the city has to have a referendum in order to build a stadium."
The latest Star Tribune Minnesota poll shows nearly three-quarters of respondents oppose public financing for the project.
Rybak wasn't available for comment, but his spokesman says the mayor's plan to build a Vikings stadium should be palatable to many Minneapolis residents because it would result in some property tax relief. The plan, however, would raise sales taxes citywide.
It wouldn't be the first time a publicly financed stadium sidestepped a referendum. When Target Field was built, the Legislature allowed Hennepin County to get around a law requiring sales-tax increases to go before the voters.
Not everyone agrees questions about sports stadiums should be on the ballot.
In 1997, Shelly Regan was the president of the Greater Minneapolis Chamber of Commerce, which opposed the city's charter amendment. Regan recalls that the chamber at the time believed in the idea of representative government -- that the public elects officials to govern accordingly.
Regan now runs a Minneapolis brand agency and says she still feels that way today.
"I would rather have that debate within the context of City Hall, or the Hennepin County commissioners, or within my state legislators," said Regan. "I want people who are looking at bigger picture issues, who are seeing it very broadly. And I'm not sure that public referenda on particular issues help accomplish that."
The critics on the other side, the group No Vikings Tax, plans to start organizing their opposition this weekend.