Vikings, Ramsey County announce stadium deal
The Minnesota Vikings and Ramsey County announced an agreement to build a proposed retractable-roof stadium in Arden Hills, about 10 miles away from the Metrodome.
Vikings owner Zygi Wilf said the 430-acre site will be home to a "day-long NFL experience," with 21,000 parking spaces and plenty of room for tailgating.
"This is what our fans want and this is what everyone wants to experience," Wilf said at a press conference with Ramsey County officials Tuesday afternoon.
Vikings officials said the new stadium would be large enough to accommodate the Super Bowl. It would include 65,000 seats, but would be expandable to 72,000 seats for larger events. Wilf said the plan would allow the Vikings to continue playing in the Metrodome during the three years it would take to build the new stadium.
Reaction was mixed from state legislators, who would have to approve the plan.
House Speaker Kurt Zellers, R-Maple Grove, said lawmakers need to finish the state budget before taking up the debate over a new stadium.
But Ramsey County officials expressed optimism.
"It's football season in Arden Hills," Ramsey County Commissioner Tony Bennett declared at the start of the press conference.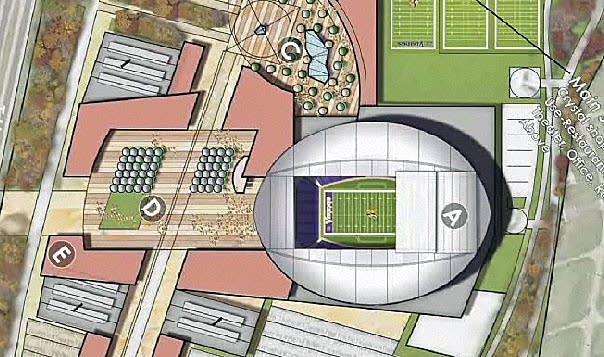 The stadium would be built on the former Twin Cities Army Ammunitions Plant property. The agreement calls for an $884 million stadium and an additional $173 million for on-site infrastructure, parking and environmental costs. It would be owned by a sports authority, not by the Vikings, Bennett said.
The Superfund site has sat vacant for years. "Now we've got the prize of everything, the Minnesota Vikings," Bennett said.
The Vikings have agreed to pay 44 percent of stadium costs and 39 percent of overall costs, or about $407 million. The county has agreed to raise the sales tax by a half-cent to generate $350 million for the project.
Ramsey County Commissioner Rafael Ortega called the deal a "once in a lifetime" opportunity to create jobs and fix the sprawling Superfund site. However, he said that either side could still pull out of the deal.
"At the end of the day, if this deal does not make sense for our taxpayers, then it's not good for us," he said. "So it's a two-way street."
A Minnesota Department of Transportation study released today suggests that road costs around the Arden Hills site would be $175 million to $240 million. Wilf said he thinks it would cost less.
Gov. Mark Dayton said he committed the state to a $300 million contribution to the stadium and associated costs, such as transportation needs.
"It's an even-handed commitment on the part of the state," Dayton said.
State Rep. Kate Knuth, DFL-New Brighton, said she needs to study the proposal before deciding whether to support it. Knuth said the Vikings also need to reach out to the 10,000 residents of Arden Hills.
"We need to make sure they are good neighbors and they're working with people around the site to make sure that it's something that they can be on board [with], not something that is impacting their neighborhood in a bad way," she said.
The agreement was finalized Tuesday afternoon, about 30 minutes before the press, Wilf said. The Vikings owner said he considered other offers from Minneapolis and Hennepin County, but preferred the Ramsey County site.
Wilf said the Vikings will build a Hall of Fame museum on the property, but would continue to train at Winter Park in Eden Prairie. He said the retractable roof will allow for other uses of the property, including returning major league soccer to Minnesota.
He said the Arden Hills stadium will be designed to bring back the old football experience from the Metropolitan Stadium in Bloomington, which closed in 1981. That won praise from Hall of Fame coach Bud Grant.
"This is a historic place and it's almost like fate that saved this for the Vikings," Grant said. "And we're going to take advantage of it and bring on Green Bay."
PLAN ASSESSMENT
(MPR reporters Tim Nelson and Tom Scheck contributed to this report.)
EDITOR'S NOTE: In an earlier version of this report, State Rep. Kate Knuth was incorrectly identified as representing Arden Hills. She represents New Brighton.
Gallery
1 of 2
2 of 2
Your support matters.
You make MPR News possible. Individual donations are behind the clarity in coverage from our reporters across the state, stories that connect us, and conversations that provide perspectives. Help ensure MPR remains a resource that brings Minnesotans together.