Rybak, Coleman take different paths on Vikings stadium
The mayors of Minnesota's two largest cities are taking dramatically different approaches to the debate over a new Vikings football stadium. And for both men, the idea of funneling taxpayer money to a professional sports team comes with considerable political risk.
St. Paul Mayor Chris Coleman and Minneapolis Mayor R.T. Rybak often work together on legislation to help their cities. Just a few days ago the two mayors -- both Democrats -- were at the governor's office, accusing Republicans of targeting their districts for education spending cuts.
But when it comes to a new Vikings stadium, Coleman and Rybak are on different paths.
Rybak announced a plan last week to keep the Vikings playing in Minneapolis. The plan calls for building the team a new stadium on the site of its current home -- the Metrodome. To help pay for it, Rybak's plan included expanded food and liquor taxes, and a higher city sales tax.
Rybak says he's willing to take the heat for an unpopular tax increase.
"I've learned over 10 years as mayor of Minneapolis that my job is to think about leading the city before the politics," said Rybak. "Obviously I'm not an idiot, and I understand politics, but right now I have to lead."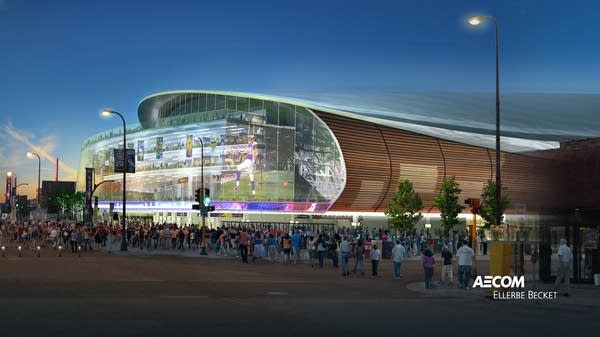 Unlike Rybak, Coleman stands to take heat for a plan he didn't propose. Ramsey County officials have proposed a half-cent sales tax increase that would help finance construction of a new Vikings stadium in Arden Hills. That increase would give St. Paul the highest sales tax of any city in the state.
Coleman says his priorities are to keep libraries open and police on the street, despite expected cuts in state aid. He says the idea of raising local taxes for a football stadium is not something he'd be quick to back.
"Making the decision to raise revenues, to raise taxes, is always a tough decision, and it should be," said Coleman. "That doesn't mean that you don't do it if the circumstances are right. That's what I'm going to analyze the next few days or weeks -- are these the circumstances that would justify that."
"It is intriguing, and in this case, a painful calculus," said former St. Paul Mayor George Latimer, who adds that he doesn't know what he'd do if he had to make a stadium decision.
Latimer says it's the kind of decision politicians like to avoid because regardless of what they do, voters will be angry.
Both mayors start from essentially the same position, Latimer says -- they are hard-pressed to pay for even the most basic services, and neither knows right now how much aid will be coming from the state.
It's understandable that Rybak is willing to raise taxes to keep the Vikings, and that Coleman is skeptical.
"It would be there in Minneapolis, and it would be something tangible citizens could see. They have the example of Target Field, which has been so successful," said Latimer. "In St. Paul, one cannot candidly say that Arden Hills is the same for St. Paul as say 5th and Wabasha would be."
Latimer notes that St. Paul residents resoundingly rejected a sales tax increase for a Twins stadium in 1999. Just two years earlier, in 1997, Minneapolis voters changed their city's charter to prevent Minneapolis from spending more than $10 million on stadiums without a public vote. As part of his plan, Rybak would ask the Legislature to override that charter rule.
In St. Paul, Coleman is talking about looking for a funding solution that does not rely so heavily on local taxes. Maybe, Coleman says, there should be a penny-per-drink statewide stadium tax.
"They're the Minnesota Vikings, they're called that for a reason," said Coleman. "If this is Minnesota's team, then it's Minnesota's responsibility to figure out a way to make this thing work."
In Minneapolis, Rybak is selling the stadium taxes as a way to reduce property taxes, because some of the proceeds would be used to retire some Target Center debt owed by the city. Rybak insists it's not just a subsidy for wealthy sports team owners.
"I'm not trying to be cute at all. The reality here is that my work, from the beginning of this session, has been property tax relief," said Rybak.
In the end, former Mayor George Latimer says voters won't necessarily judge either Rybak or Coleman solely on their stadium positions. He has proof of that in his own background.
Latimer remembers taking a pro-gay rights position on an ordinance that St. Paul voters soundly defeated -- on the same ballot they overwhelmingly re-elected him.
Gallery
1 of 1
Your support matters.
You make MPR News possible. Individual donations are behind the clarity in coverage from our reporters across the state, stories that connect us, and conversations that provide perspectives. Help ensure MPR remains a resource that brings Minnesotans together.