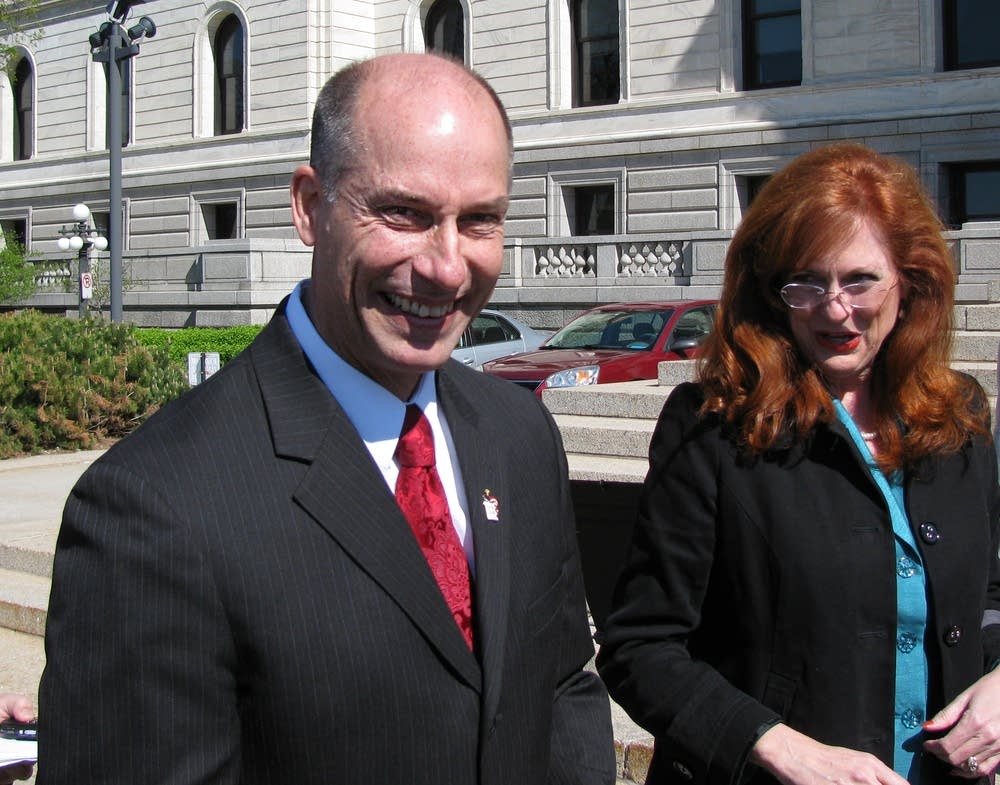 Former state Rep. Dan Severson on Monday announced his plans to challenge DFL Sen. Amy Klobuchar next year.
Even some Republicans say Klobuchar will be hard to beat, given her standing in the polls and her fundraising ability.
As he announced his campaign on the State Capitol steps, Severson talked about the five years since Klobuchar was elected, calling it a time in which Americans lost hope and opportunity. He did not mention Klobuchar's name and instead broadly blamed Democrats in Washington.
"Five years ago unemployment was at 4.6 percent. Today it is over 9 [percent.] Five years ago gas was about $2.20 cents a gallon. Today it is almost double that," he said. "Less than five years ago our national debt was about $4 trillion. Today it has rocketed to a whopping $14 trillion with no signs of slowing down."
Severson, 56, is a retired Navy pilot who served four terms in the Minnesota House. Last year he ran unsuccessfully as the GOP candidate for Secretary of State.
On the issues, Severson said he would increase domestic fuel production to reduce the cost of gas. When asked how he would cut spending, he talked about eliminating wasteful government spending and cited federal funding for government drug rehabilitation facilities.
KLOBUCHAR LOOKING STRONG, ANALYSTS SAY
Klobuchar is considered to be in a strong position going into her first re-election campaign. A Public Policy Polling survey of Minnesota voters late last year showed her approval rating at an impressive 59 percent.
Klobuchar declined to comment on Severson. Her campaign issued a brief statement, noting that the election is a year and a half away and saying that she's focused focused on standing up for middle-class families and finding a reasonable bipartisan plan to reduce the debt.
College of St. Benedict — St. John's University political science professor Kay Wolsborn said Klobuchar's popularity makes her a difficult target. Wolsborn said Klobuchar usually votes along party lines, but that might not be the only way voters will judge her.
"On the other hand she works very hard on middle of the road kinds of issues and is very attentive to Minnesota kinds of issues," Wolsborn said.
Klobuchar has also established a reputation in the Senate as someone who will sit down and negotiate with Republicans, Wolsborn said.
"That's a very positive thing with independent voters," Wolsborn said. "And in the end, independent voters are often the ones who make all the difference in the state of Minnesota."
This year's Senate campaign is starting more slowly than the past few. But state Republican Party Chairman Tony Sutton said he expects several more Republicans will soon join Severson in the race.
Despite the polls, Sutton insists that Klobuchar is vulnerable. He said she talks like a moderate, but votes like a liberal.
"We're going to win this race because what we have to offer is smaller, sensible government living within its means [and] not raising taxes to kill jobs," Sutton said. "We want to repeal "Obamacare." These are all things that are in tune with Minnesotans, and we think that Amy Klobuchar is on the wrong side of those issues."
FIRST HURDLE FOR SEVERSON: MONEY
But Carleton College political science professor Steven Schier said Klobuchar will be difficult to defeat.
"The first thing that Amy Klobuchar's opponent will need is money and lots of it in order to introduce him or herself to the electorate because Amy Klobuchar at this point is well-known and well-liked," Schier said.
Severson said he will need between $9 million and $12 million for his campaign. In his last statewide race, Severson raised a little more than $80,000 according to Minnesota Campaign Finance and Public Disclosure Board filings.
Federal Election Commission records showed that through March, Klobuchar had more than $2.5 million in re-election cash on hand.