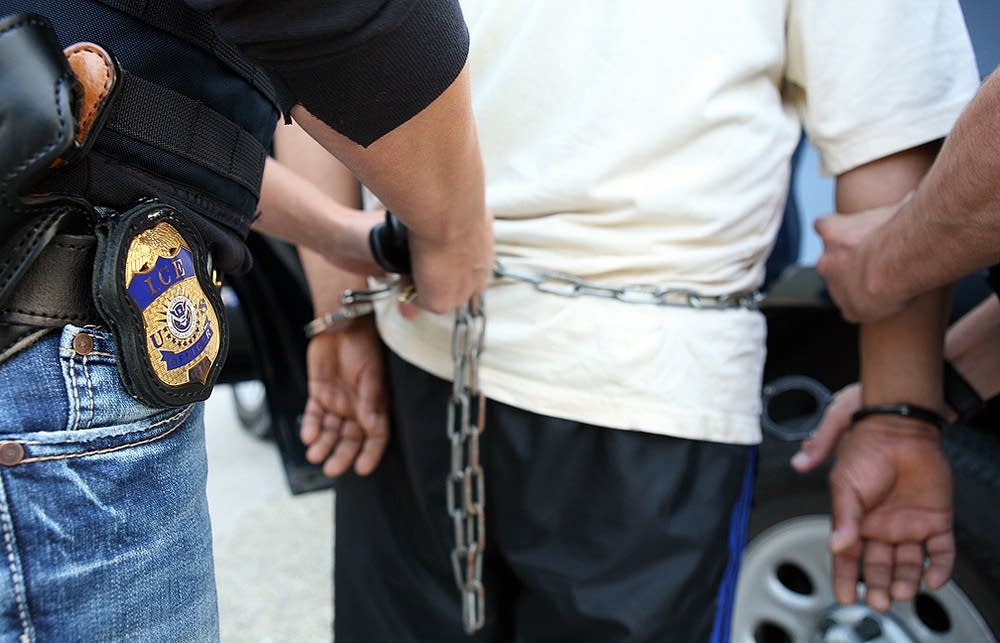 Civil liberties advocates and state officials voiced concerns this week about a move to enroll Minnesota in a federal program to find and detain people who are in the country illegally.
The Secure Communities program checks the fingerprints of every person arrested and booked by police against Department of Homeland Security databases for immigration violations or any other immigration contact with government, including routine matters like applications for student visas.
When the electronic program finds a violation, it notifies Immigration and Customs Enforcement. ICE officials could then detain and deport people who are in the country illegally.
AMENDMENT RUSHED THROUGH
Sen. Julianne Ortman, R-Chanhassen, added the amendment to a data practices bill in a conference committee on Monday. Senate lawmakers unanimously approved the bill the same day, raising concerns from advocates for government transparency who said the measure was rushed through without any public debate.
"It was a mockery of the democratic process," said government transparency advocate Rich Neumeister. "You want to be able to have an open discussion and process for all people to put their two cents in, and that did not happen the way this legislation was done."
The Minnesota Department of Public Safety objected to the amendment, saying it needs more time to study whether the program has worked in other states and how it would impact state and local governments.
"We feel it would be unwise to circumvent this deliberative process by prematurely adopting the proposed legislation," the department said in a statement issued Wednesday.
Ortman said she authored the amendment because state officials have not moved quickly enough to adopt the program. She said law enforcement and legislators have spent months trying to convince Gov. Mark Dayton and Ramona Dohman, the public safety commissioner, to enroll in Secure Communities, without any progress.
PROGRAM FACES CRITICISM
The Secure Communities program, created in 2008, has expanded to include 41 percent of the country's law enforcement jurisdictions in 42 states, including the entire state of Wisconsin and many areas in the southwestern United States.
President Obama has said the program is central to his plan to strengthen the country's immigration policies, but some politicians and law enforcement officials are skeptical.
The governor of Illinois withdrew his state from the program this month, arguing that the immigration agency violated the terms of a 2009 agreement with the state. Under the agreement, ICE said the purpose of the program was to identify and deport immigrants who have been convicted of "serious criminal offenses."
Statistics from ICE show that nearly two-thirds of the 77,000 immigrants deported were not convicted of serious crimes, like murder, rape, and child sexual abuse.
In response to concerns, the Department of Homeland Security's Office of Inspector General plans to launch an investigation into whether the program is effective in removing violent criminals. That investigation could hamper federal efforts to expand the program to all states by 2013.
IS IT ANTI-IMMIGRANT?
Chuck Samuelson, the executive director of the American Civil Liberties Union of Minnesota, said that data shows the program has a different and more troubling goal.
"It's being put forward as a public safety measure and a national anti-terrorism effort, and it's just an anti-immigrant thing," he said.
In other states, officials have raised concerns about whether the program engages in racial profiling. Sheriff Michael Hennessey, of San Francisco, has said the initiative would damage relationships between police and immigrant communities by turning jails into immigration screening centers.
Samuelson said some jurisdictions in Minnesota might be wary of the program, but others might welcome it and adjust their policing strategies to find more people who are in the country without documentation.
"They'll start arresting anybody who looks like they might be Hispanic, frankly," he said.
Ortman, the Minnesota lawmaker who authored the amendment, said those concerns are misplaced. She said law-abiding residents should not be concerned.
"This is about once someone has been arrested with probable case, a reason to be detained," she said. "They have been placed in one of our jails, and we're already fingerprinting them. That's a very different scenario."
ICE spokesman Shawn Neudauer said that by relying on fingerprints, law enforcement can avoid issues of racial profiling. Everyone is fingerprinted, he notes, and the program makes it difficult for any person to use an alias.
However, civil liberties advocates said the program does not protect those who are arrested, but never charged with a crime or found guilty.
ICE can ask a jail to detain anyone whose fingerprints turn up an immigrant violation for up to 48 hours. Samuelson and others said that could result in many law-abiding residents spending days in jail.
Neudauer said that scenario is unlikely. He said ICE does not detain every person who turns up in the Department of Homeland Security database.
"Those are decisions made on a case-by-case basis," he said.
The measure still needs to pass the state House and be signed by Gov. Dayton before becoming law.