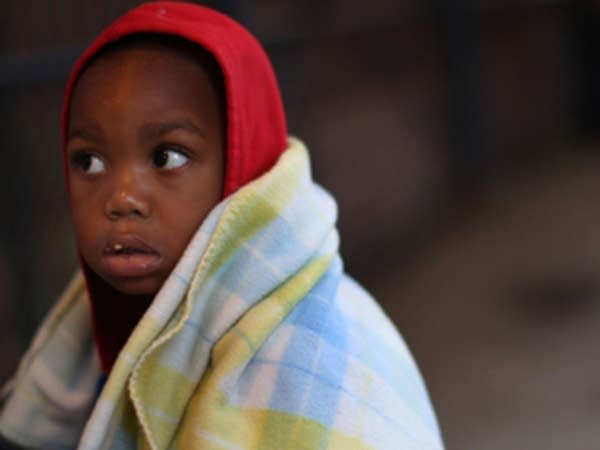 A new report by the Wilder Foundation estimates 4,500 children in Minnesota spend time in shelters on any given night -- the highest number since the surveys began 20 years ago.
Those children are often haunted by depression, the study shows. Whether homeless children and teens get help and support has a big impact on whether they end up homeless as adults.
The Wilder research shows about half of all homeless children in Minnesota are younger than the age of 6. The organization found that children who grow up under this kind of stress have lasting physical and emotional problems that are hard to overcome.
The Wilder report found that one-third of homeless parents were homeless themselves as children, and 35 percent of homeless parents report struggling with depression.
Sabrina Inabinett fits that pattern.
The state of Minnesota took Inabinett away from her mother when she was 5, and she was raised in foster homes. At 26, she was sleeping on friends' couches with her two children -- aged 5 and 2.
"Sometimes I feel like I don't deserve to be helped. I don't feel like I'm good enough to be helped," said Inabinett. "I've had people telling me most of my life that I wasn't worth anything, that I would be nothing."
Inabinett says her two boys can tell when she gets down. They hug her, and kiss her and tell her not to cry. She knows her emotions have a direct impact on her children and how they feel about themselves.
"I try not to let them hear any negative stuff. I tell them every day that they're smart and they're getting better, and don't let anyone tell them different," Inabinett said.
Inabinett and her children just moved into a Catholic Charities shelter, where the workers are helping her plan for a college education and child care. She says it's hard to trust the people trying to help her because she's never trusted anyone before.
That feeling of trust -- of being cared for -- is especially important when homeless children become teenagers. Wilder found that 16 percent of homeless youth are between the ages of 13 and 17.
Deb Loon works with homeless teenagers at Avenues for Homeless Youth in Minneapolis. She says the number of homeless teens is rising, in part because more families are staying in shelters or at friends' homes and there isn't enough room, so the oldest child is on their own.
Loon says there aren't enough beds for these teens. Her organization turns away 12 to 24 kids every day.
"We have to say 'no' a lot. It's very, very hard to do," said Loon. "We obviously try to connect them to places that may have room. But for the most part, homeless youth are getting the answer 'no' many more times than they get the answer 'yes,'" Loon said.
This month, Loon's organization is partnering with other nonprofits to kick off a program that recruits families in the suburbs to host homeless youth. It's not foster care, because the teens themselves choose which family they'll live with.
The program builds on what a woman named Lynn has been doing in the western suburbs for 10 years. MPR News has agreed not to use Lynn's full name to protect the privacy of the children she serves.
Lynn says she has taken in several teens who came to her for help. She says they were just looking for a place where they could feel safe.
"They're devastated. Some kids just cry for hours," Lynn said. "And some, they just are stunned. There's this level of disbelief. It's surreal."
Lynn says most stay until they understand what's happened to them, and what they should do about it. In some cases it takes years. But Lynn says more families would take in homeless youth if they knew what a difference that would make in the teens' lives.