1 dead from Minneapolis tornado
At least one person has died in a tornado that struck Minneapolis Sunday afternoon.
City spokeswoman Sara Dietrich said the death was confirmed by the Hennepin County medical examiner. She had no other immediate details.
The tornado struck a residential northern portion of the city Sunday afternoon, damaging scores of homes and toppling hundreds of trees.
Another 29 people were injured and taken to area hospitals. Of those, two have critical injuries, 12 have moderate injuries, and 15 have minor injuries, according to Minneapolis city officials.
National Weather Service meteorologist Todd Krause said the line of damage stretched from just west of Minneapolis through the city and into the northeastern suburbs.
Aerial photos showed block after block of toppled trees and homes with damaged roofs in a northern residential part of the city. Images from KSTP-TV's helicopter showed an apartment building with part of its roof peeled off and the roofs of dozens of homes torn away to the studs. A few buildings collapsed completely.
Gain a Better Understanding of Today
MPR News is not just a listener supported source of information, it's a resource where listeners are supported. We take you beyond the headlines to the world we share in Minnesota. Become a sustainer today to fuel MPR News all year long.
Minneapolis Mayor R.T. Rybak said it wasn't immediately clear how many homes were affected. "It's a lot," he said.
Though the damage covered several blocks, it appeared few houses were totally demolished. Much of the damage was to roofs, front porches that had been sheared away, or smaller items such as fences and basketball goals.
The tornado left part of a garage door in a tree. Many large trees were uprooted and toppled or left leaning against houses.
Residents walked around their neighborhoods taking in all the damage. Some chatted on cellphones about what they saw, while others snapped pictures.
Others went to work, tending to downed trees with chainsaws, machetes and hacksaws.
The tornado left a tree leaning against Pat Trafton's house, but she said her family escaped harm.
"It's been a crazy day," Trafton, 67, told The Associated Press. "They say it was a monster tornado. ... It all just happened so fast."
Krause said it was clearly a tornado - the first to hit the city since August 2009.
"There was no doubt right away," he said. "When we are out on our damage survey, the purpose will not be to determine if it was a tornado. That was obvious. The purpose will be to see the strength, width."
Some north Minneapolis residents told the Star Tribune they saw the tornado go through their yards.
"It went right between our houses," said Tiffany Pabich, who was taking a nap just as the tornado passed. "A tree landed on top of my car. We smelled gas right away."
The storms uprooted as many as 50 natural gas service lines in Minneapolis and suburban St. Louis Park, and CenterPoint Energy warned residents to be careful of gas leaks. Xcel Energy reported more than 20,000 of its customers lost electricity in the metro area.
The Minneapolis Police Department asked people who didn't live in the area to stay away. A shelter for those displaced by the storm was set up Sunday afternoon at a nearby armory.
Mayor R.T. Rybak has declared a Local Emergency, and the Minneapolis Emergency Operations Center is open.
City officials have set a curfew from 9 p.m. Sunday to 6 a.m. Monday within the following boundaries: Penn Avenue to Interstate 94, from Dowling Avenue to Plymouth Avenue.
During the curfew, residents of that area must stay in their homes. Minneapolis Police will have extra patrols in the neighborhoods.
Minneapolis Public Works crews are working with Hennepin County and Minneapolis Park and Recreation Board crews to clear streets of debris.
Minneapolis city building inspectors are in the area assessing the damage and will work through the night.
Minneapolis Public Schools are expected to be open as scheduled on Monday. If this changes, the district will communicate directly with the families.
(MPR editor Melanie Sommer contributed to this report)
Gallery
3 of 3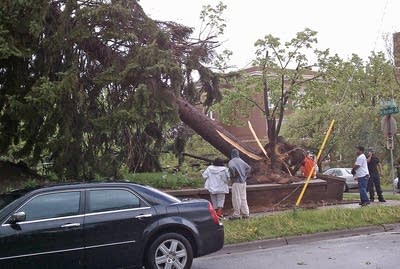 1 of 3
2 of 3