In Iowa speech, Pawlenty officially announces presidential run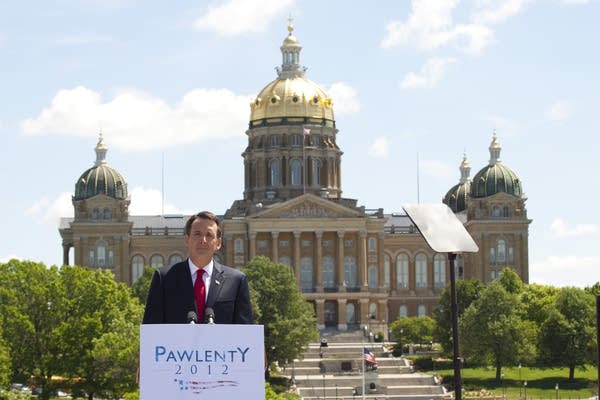 Former Minnesota Gov. Tim Pawlenty announced that he's officially running for president in 2012 at a town hall meeting in Iowa Monday.
The announcement came as a surprise to no one since Pawlenty released another of his movie trailer-style Internet videos on Sunday evening, making it clear he will seek the Republican Party nomination for president.
The video emphasized Pawlenty's familiar theme of showing courage in face of the problems facing America. But for the first time, he clearly said "I'm Tim Pawlenty, and I'm running for president of the United States."
Pawlenty's path to this day started at least four years ago when he was a top contender to be Republican Sen. John McCain's running mate in the 2008 presidential election.
That position went instead to former Alaska Gov. Sarah Palin, who skyrocketed to national stardom among the tea party faction of the GOP. But Palin's prospects and ambitions for the presidency are still unclear.
Pawlenty enters the presidential race without Palin's national name recognition. Although he's been informally running full time for more than a year he often registers very low in presidential preference polls, well behind better-known names including former Massachusetts Gov. Mitt Romney.
Before you keep reading ...
MPR News is made by Members. Gifts from individuals fuel the programs that you and your neighbors rely on. Donate today to power news, analysis, and community conversations for all.
Still, Pawlenty's slow and steady quest for the GOP nomination has been more disciplined than some of the other candidates, and many party insiders and influential pundits have him on a short list of those who could win the nomination.
On June 2, 2009, Pawlenty announced he would not seek a third term as Minnesota governor, fueling speculation he was focused on higher office. At the time Pawlenty would not say whether he planned to run for president in 2012. But he made it clear he had ambitions.
"I still have a lot of ideas and energy left, but being governor should not be a permanent position for anyone," Pawlenty said at the time. "When it comes to how long someone should stay in an elected position, a little less is better than too much."
For the balance of his final term, Pawlenty mixed official business with increasing amounts of national travel. In December 2009, Pawlenty made his first trip to New Hampshire as a potential presidential contender. He told a group of Republicans in Concord he was worried about the growing national debt.
"The federal government is running a Ponzi scheme, the Ponzi scheme on the Potomac. And it needs to come to an end," Pawlenty said then.
As he's made his way around the country, with a focus on early GOP nomination states such as New Hampshire and Iowa, Pawlenty has enphasized his blue-collar, South St. Paul upbringing. He has also been selling himself as a conservative who was able to twice win statewide elections in Minnesota -- which he often refers to the land of well-known Democrats Eugene McCarthy, Walter Mondale, Paul Wellstone and Al Franken.
Pawlenty regularly boasts that he was able to hold the line on spending in Minnesota by battling Democratic lawmakers and public unions. In almost every speech he has given, Pawlenty has sharply criticized Democratic President Barack Obama on everything from Obama's approach to foreign policy to his handling of the economy.
At the Conservative Political Action Conference in February 2011, Pawlenty said America needs more "common sense" and less "Obama sense."
"My friends, we need to restore American confidence. We need to restore American optimism. We need to restore America's hope for the future. We need to restore the American dream by restoring American common sense," he said.
Democrats have accused Pawlenty of misrepresenting his fiscal record. They say he ignores the fact that he balanced budgets with federal economic stimulus money, and relied on accounting shifts and gimmicks that allowed him to claim he wasn't raising taxes.
They also note that local property taxes soared during Pawlenty's eight years as governor, saying that he passed down recurring state budget problems to local governments.
Pawlenty has financed much of his national travel through the national political action committee he formed in September 2009. On March 21, 2011, Pawlenty used his Facebook page and a fast-paced video to announce that he had formed a presidential campaign exploratory committee.
Last week Pawlenty held a fundraiser in Minneapolis that sources told MPR raised more than $800,000. Those sources say Pawlenty took in a similar amount from two events the previous week in Texas and in Chicago.
Days before Pawlenty's Minneapolis fundraiser, Mitt Romney collected more than $10 million during a one-day telethon.
Pawlenty spokesman Alex Conant told MPR News Pawlenty does not expect to be able to raise as much money as Romney, but that he's confident Pawlenty will have enough money "to be competitive."
Gallery
1 of 2
2 of 2