Pawlenty announces 2012 bid, faces tough road to White House
With the Iowa State Capitol building behind him, former Gov. Tim Pawlenty launched his campaign for the White House on Monday before an audience of a couple hundred supporters.
"I'm Tim Pawlenty and I'm running for President of the United States," he said.
Hoping to attract as much news coverage as possible, the Pawlenty campaign engineered the declaration of his candidacy through a series of announcements, starting late last week when news leaked that his announcement would come today in Iowa.
The release of a campaign web video last night and Pawlenty's announcement today helped keep his name alive throughout the news cycle.
In both his video and his appearance at the Iowa state capitol, Pawlenty criticized President Obama.
"In 2008, Barack Obama told us he would change America, and he has," Pawlenty said in his 20-minute address. "In 2012, we will change America again. And this time, it will be for the better."
Before you keep reading ...
MPR News is made by Members. Gifts from individuals fuel the programs that you and your neighbors rely on. Donate today to power news, analysis, and community conversations for all.
Pawlenty warned that the United States needs to address its deficit spending and massive debt of more than $14 trillion. To reduce spending, he called for changes to popular entitlement programs, including Social Security and Medicare.
The former Republican governor also called for an end to what he called bailouts and handouts. Standing in the heart of Iowa corn country, Pawlenty said it's time to begin phasing out government subsidies of the ethanol industry.
"Politicians are often afraid that if they're too honest, they might lose an election," he said. "I'm afraid that in 2012, if we're not honest enough, we may lose our country."
Palwenty concluded by claiming that the problems he effectively addressed in his two terms as Minnesota's governor are the same types of problems he could successfully tackle nationally as president.
"The problems we face as a nation are severe, but if we could move Minnesota in a common sense conservative direction we can do it anywhere, even in Washington D.C.," he said.
Despite all of his campaigning, Pawlenty still struggles with a relatively low national profile.
Among the roughly 200 supporters who turned out for Pawlenty's speech in Des Moines was Wendy Jensen, of Ames, Iowa, who didn't seem concerned about Pawlenty's low showing in most polls. Jensen said she thinks Pawlenty has a good chance of winning the GOP nomination to run against President Obama next year.
"I like the fact that he's in favor of small government, and is in favor of traditional marriage and is against abortion," Jensen said.
Pawlenty focused exclusively on economic issues during his speech, with the only exception being a quick reference to having appointed conservative judges to the Minnesota Supreme Court.
As Pawlenty seeks more than ever now to sell himself nationally as a successful governor, Democrats are showing their resolve to challenge Pawlenty's claims.
Representatives from the Minnesota and Iowa Democratic parties held a news conference down the street from Pawlenty's event to offer their take on Pawlenty 2012. Minnesota DFL Chairman Ken Martin accused Pawlenty of bankrupting Minnesota and lying about his record.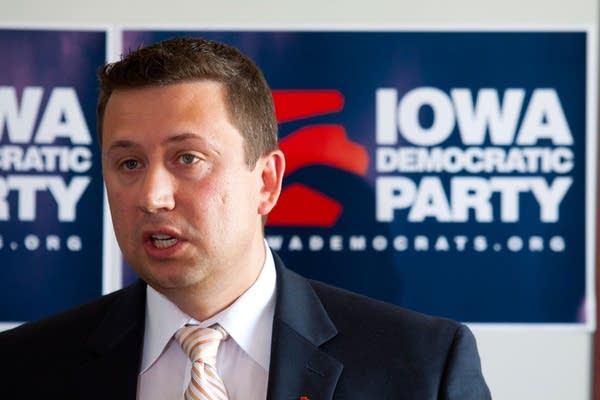 "Our former governor's announcement today isn't a surprise to anyone," Martin said. "He spent the better part of his last two years in office ignoring the needs of his state while trying to woo the Republican base, and here he is today announcing in Iowa instead of Minnesota so he can avoid his miserable record back home."
Pawlenty has said that he left Minnesota with a surplus at the end of his two terms. Although state finance officials say Minnesota has a $399 million surplus in the current two-year budget, Pawlenty fails to note that he left Gov. Mark Dayton and the Republican-controlled Legislature with a more $5 billion deficit in the coming biennium.
The field of possible 2012 GOP presidential candidates has begun to shrink leaving more opportunities for Pawlenty and the other candidates that remain.
Former Arkansas Gov. Mike Huckabee's decision to opt out could benefit Pawlenty, who hopes his social conservative credentials will attract Huckabee fans. In another potentially positive development for Pawlenty, Indiana Gov. Mitch Daniels announced Saturday that he won't be running.
Pawlenty is trying to run as the GOP alternative to former Massachusetts Gov. Mitt Romney, who is much better known and financed. But Pawlenty's biggest remaining obstacle may be fellow Minnesotan U.S. Rep. Michele Bachmann.
Bachmann will be in Des Moines later this week and there's considerable speculation Bachmann may also use her Iowa trip to launch a presidential campaign.
Gallery
3 of 3
1 of 3
2 of 3