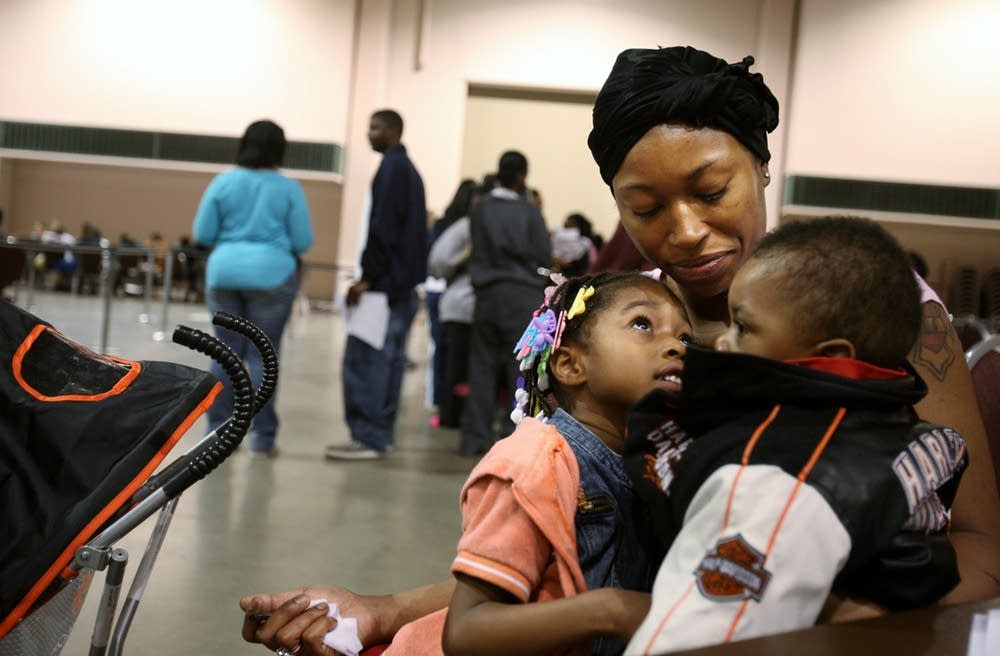 Families who lost everything in Sunday's tornado in north Minneapolis are now coping with their new reality.
About 1,200 residents poured into a makeshift assistance center at the Minneapolis Convention Center Tuesday. The Project Homeless Connect event is usually aimed at helping people who are chronically homeless, but the latest effort focused on serving the hundreds recently displaced by the tornado.
Long lines of residents, some looking dazed and disheveled, stretched along the wall of the main convention hall. The biggest line was for financial assistance from the county, which could go toward the first month's rent of a new place. The second-longest line was for such basic needs as food, medication and clothing. Each family picked a number, and volunteers who greeted them said the wait could be a couple of hours.
Dennis and Deborah Parker were among the first to arrive. The couple didn't have much to begin with. But what they did have disappeared when the tornado struck.
"Basically, it's like we're starting over again. We need everything," Dennis Parker said.
"The most pressing need right now is a place to stay," said Deborah Parker. "That would be a top priority."
The Parkers say there's a tree standing in the middle of their rental house on Girard Avenue, which also was home to their five kids, their goddaughter and her baby. The storm cracked the ceilings in almost every room, and much of the furniture and clothing is destroyed. The landlord notified the family it wasn't safe to live there, so the Parkers spent last night at the Northeast Armory on cots.
DeShaun, their 15-year-old, held his cousin's baby in his arms. The baby is sleeping peacefully -- something DeShaun wishes he could experience at night.
"It's hard to go to sleep," he said. "I got homesick last night, I almost threw up. We're not used to this, so it's going to be hard adapting to it."
While housing is the Parkers' first priority, they came to the Convention Center for a host of other needs, too. Dennis and one of his sons both have diabetes, and are down to their last insulin pen. The others went bad when the power went out because they couldn't refrigerate them.
Money is another problem. Deborah Parker, who's been out of work for a year, said her last unemployment check just came. Then the storm hit. Their housing options are limited because their closest relatives are in Chicago.
Cathy ten Broeke coordinated Tuesday's event. She directs the initiative to end homelessness in Minneapolis and Hennepin County. Ten Broeke said mental-health professionals are here to help.
"This is so traumatic," ten Broeke said. "There a lot of people dealing with a great deal of anxiety -- not only about what happened but what it means for their future. They don't have insurance. They don't have a lot, and they worked hard to build what they did have. And for now it's all gone."
Ten Broeke said making matters worse is that there are few affordable housing options for folks who were already living on the edge.
As many struggle to cope with the aftermath of the tornado, patience began to run thin. More than six-thousand north side residents are into their third day without electricity.
Manuel Moore said when he woke up on Tuesday, there were no tree-cutting crews on any of the nearby blocks. When he arrived at the green lawn of the Convention Center, he saw something that got his blood boiling: landscapers.
"I see this truck, with two healthy-bodied guys trimming some bushes with chainsaws, and we need them over in north [Minneapolis]. And I want to know who's responsible. Can someone answer that question for me?"
Xcel Energy is asking for patience as it tries to restore service to the hardest-hit areas across the metro.
Many north siders say they're doing their best with what they have. Drucilla Pickens, carrying her 1-year-old son on her hip, said the tornado shattered the windows in her house and her food is spoiled. But Pickens said she decided to stick it out at home rather than going to a shelter and take someone else's spot.
"It's a lot of families out here struggling," Pickens said. "If we can make it work, we can make it work."
The Parker family from Girard Avenue says its landlord plans to rebuild. But that may take months, and all nine of them need a place to stay now.