Minnesotans weigh in on Pawlenty's record as governor in reacting to presidential run
Former Gov. Tim Pawlenty announced his candidacy for president Monday, which means he will spend months under the scrutiny of the national press and the general public. But he's not alone.
The state of Minnesota will also be under close examination. Opponents will look for problems that originated in the state that could be attributed to the two-term Republican governor. Political pundits will discuss how the state's demographics compare to those of key swing states. And the national media will try to characterize life in Minnesota for a wider audience.
Minnesotans are sharing their thoughts on Pawlenty's eight years as governor and what outsiders should know about politics in the Gopher State. Many are critical of Pawlenty's approach to balancing the state budget deficit and blame the former governor for increases in property taxes. Others say Pawlenty's time in office shows that his politics are moderate compared to those of other potential Republican presidential contenders and support his approach to spending.
Many members of MPR's Public Insight said Pawlenty bears responsibility for the state's projected $5 billion budget deficit.
"Pawlenty did not 'raise taxes' but he left Minnesota in a financial crisis and with a deeply divided legislature," said Donna Bredlow of Moorhead. "Local property taxes were raised in our community."
The budget is on the minds of many Minnesotans as the state faces a possible government shutdown due to the impasse in budget negotiations between Gov. Mark Dayton and the Republican-controlled legislature. Whereas Pawlenty stuck to a policy of no new taxes but faced opposition from DFL lawmakers, Dayton has pushed for new taxes but has failed to convince Republican lawmakers.
Many respondents said the current problems began with Pawlenty's administration.
"He did not balance the budget," said Teresa Joppa of Moorhead. "He mislabeled fee increases as 'not taxes.' He forced cities and counties to raise property taxes by cutting LGA (local government aid) while claiming he didn't raise 'taxes.'"
Tom Goodwin, a retired science teacher in Lakeville, said Pawlenty's refusal to raise taxes led to larger class sizes and fewer dedicated teachers.
"His choices as governor were short-sighted, politically motivated, and ultimately harmful to most Minnesotans," Goodwin said. "I have no reason to expect more from him as president."
Jim McKie, a retired teacher and pilot in West St. Paul, disagrees. He admires Pawlenty for taking a stance against tax increases.
"He held the State representatives accountable to the citizens, and forced them to balance the budget," McKie said. "His firm resolve to limit the amount of taxes on Minnesotans has helped."
Some compared Pawlenty to other Minnesotans who sought a higher office.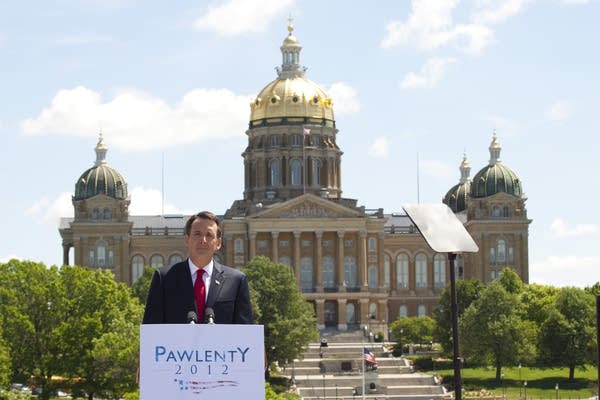 "The bar is set pretty high for Minnesota politicians by Hubert Humphrey, Walter Mondale and Eugene McCarthy to name a few," said John Chase, of St. Paul. "Tim Pawlenty doesn't even seem close."
Cambridge resident Joel Reiter disagrees. He called Pawlenty "the best governor Minnesota has had in my lifetime." Reiter said Pawlenty has helped reduce road congestion — and, as a result, shortened Reiter's commute time by 20 minutes.
"Pawlenty is a smart guy and able politician," he said. "The bar on presidents has been set pretty low. I don't see why he couldn't exceed the performance of the incumbent or the other candidates."
Others said they noticed a rightward shift in Pawlenty's politics toward the end of his second term when it became clear that he was contemplating a presidential run.
"He could have been worse but he was elected before the Tea Party was at its height, and he now openly panders to them," said Michael DeZurik, a retiree who lives in St. Joseph.
Dann Adair of North Branch said Pawlenty doesn't represent the best of Minnesota.
"Minnesota values are typified in a concern for our natural environment, high quality education, excellent and accessible health care, acceptance of many cultures, and taking care of those most in need," he said. "The only Minnesota value I've seen in Gov. Pawlenty is his love of hockey."
Pawlenty provided his own summary of his time as governor in his presidential candidacy announcement Monday.
"In Minnesota, I cut taxes, cut spending, instituted health care choice and performance pay for teachers, reformed our union benefits, and appointed constitutional conservatives to the Supreme Court," he said. That is how you lead a liberal state in a conservative direction."
Gallery
1 of 1
Your support matters.
You make MPR News possible. Individual donations are behind the clarity in coverage from our reporters across the state, stories that connect us, and conversations that provide perspectives. Help ensure MPR remains a resource that brings Minnesotans together.