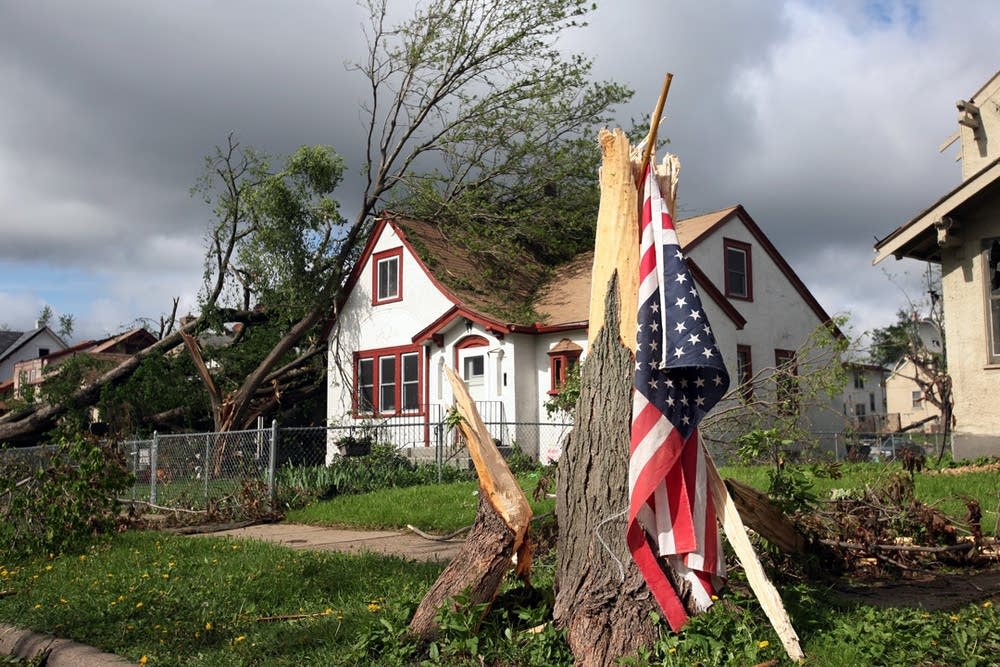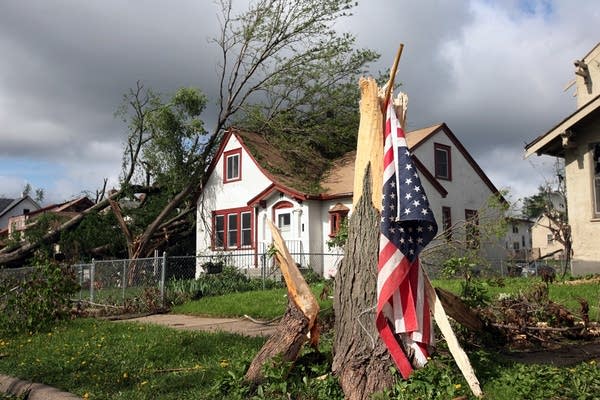 It's been a week since a tornado devastated a wide swath of north Minneapolis and families are coming out of shock and taking the first few steps to put their lives back together. Yet many are still waiting for services and funds that will only come once a federal disaster area is declared.
On Saturday morning, the Minneapolis park district set up a giant screen, barbeque and a stage at Farview Park in north Minneapolis — the area hardest hit by the tornado. Kids with hands sticky from cotton candy got their faces painted while adults stood around socializing.
Inside the Farview Park building, where the disaster assistance center has helped thousands of residents since last Wednesday, the normal business of recovering from a tornado was going on. The place was packed with water bottles, food and volunteers helping residents connect with services.
State Rep. Joe Mullery, DFL-Minneapolis, was manning the Camden Lions Club table in the gym. When he saw park district spokeswomen Dawn Sommers, he cornered her asking about the availability of take home food.
"They were told there's going to be take home food here today, and there isn't other than our Camden Lions food," Mullery said. "So then you're supposed to call 311 but they don't know anything. They just said you have to call churches."
Sommers responded, saying that the issue was resolved that morning.
"That's part of the challenge," Sommers said. "What was true today at four is different at 8, different at 10."
Mullery has lived in north Minneapolis his whole life. Over the last week, he's become an information resource for the community. He asks residents for their questions, then calls around, and presses officials for answers.
Mullery said most residents come to him with questions about what will be covered by the Federal Emergency Management Agency. FEMA workers were out in the north side this past week assessing damage, but there's no firm date on when they'll have a cost estimate on the amount of damage, which will then be used to decide whether to declare north Minneapolis a disaster area. Once that declaration is made federal funds and services arrive much more quickly.
Mullery said that wait is difficult for people trying to get on with their lives. He tries to find them what answers he can.
"So, I found out some of the information except on cars, it's dependent on your income quite a bit as to whether it will been covered," Mullery said. "Personal property they will cover for renters or people that don't have insurance coverage through their homeowners."
Mullery said that personal property includes necessities, like appliances, a stove, a refrigerator or a washer. He said FEMA won't cover things like computers, a stereo or antiques.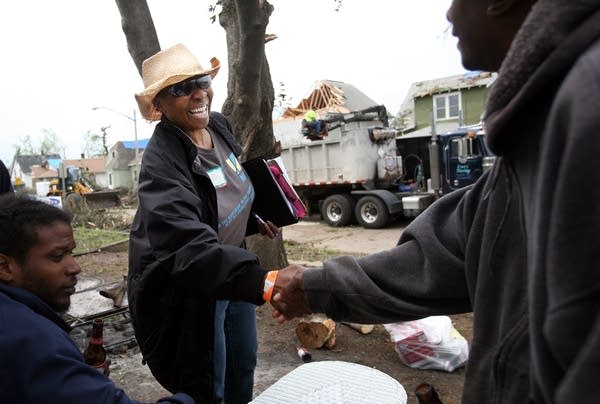 Mullery said Minnesota wasn't prepared for a disaster involving a population of urban poor who can't necessarily find shelter with family or pull out credit cards to pay for a hotel. He said these are people who need help fast.
"City, the local governments, the agencies, the nonprofits, even the state has to think outside the box as to what could happen rather than just planning to deal with what we've had before as a problem," he said.
Mullery spent a good part of the day talking to people about their experiences over the last week. He stopped north side resident Melissa Crawley, who told him information about available services is spreading slowly, by word of mouth, since many people don't watch television or listen to the radio.
ONE WEEK LATER
On Sunday, exactly one week after the tornado hit, north Minneapolis residents sought solace in the community's many churches.
Pastor Melissa Pohlman of Christ English Lutheran Church told her members that they should take heart in the way the community came together after the tornado. Pohlman's church fed hundreds of people for five nights after the tornado. As her congregation left the building Sunday, Pohlman prepared to head downstairs to tell the church's governing board about the bills they'll get for this past week.
"We're going to have bills for trash, electricity, water and gas that will be astronomical," Pohlman said. "We've gotten some donations, but all those incidental things you don't think about it you just say 'do it' and now we're going to have to pay for it."
About a mile south, Kwaanza Community Church met for services in an old church building. Their new building was damaged in the tornado. Pastor Mark Bonde told the congregation he knew they were going through a lot of emotional ups and downs this week.
"People are asking the questions: what have I lost? What do I need to do to meet my basic needs? What do I need to do to take proper care of myself" Bonde said. "As we go through this assessment we have to be patient and we need to be flexible."
Bonde went on to remind the congregation of the rainbow that stretched over the north side about an hour after the tornado passed through. He told them that those are the glimpses of happiness they must look for.
That resonated with church member Tara Parrish, who lost a whole refrigerator of food when the electricity went out, although her house wasn't damaged. She's a single mother on food stamps, and she panicked. After standing for hours in a line at Farview Park, county workers gave Parrish a whole month's worth of food stamps.
"There are these flickers of hope and these signs of things that are miraculous and sometimes you just have to snap yourself out of it and say 'OK, I don't have my chicken, but I got the roof,'" Parrish said.
Parrish may see more of those flickers of hope soon. The Farview Park assistance center is open through Tuesday, and the city's official North Side Volunteer Clean-Up Day is set for Saturday.