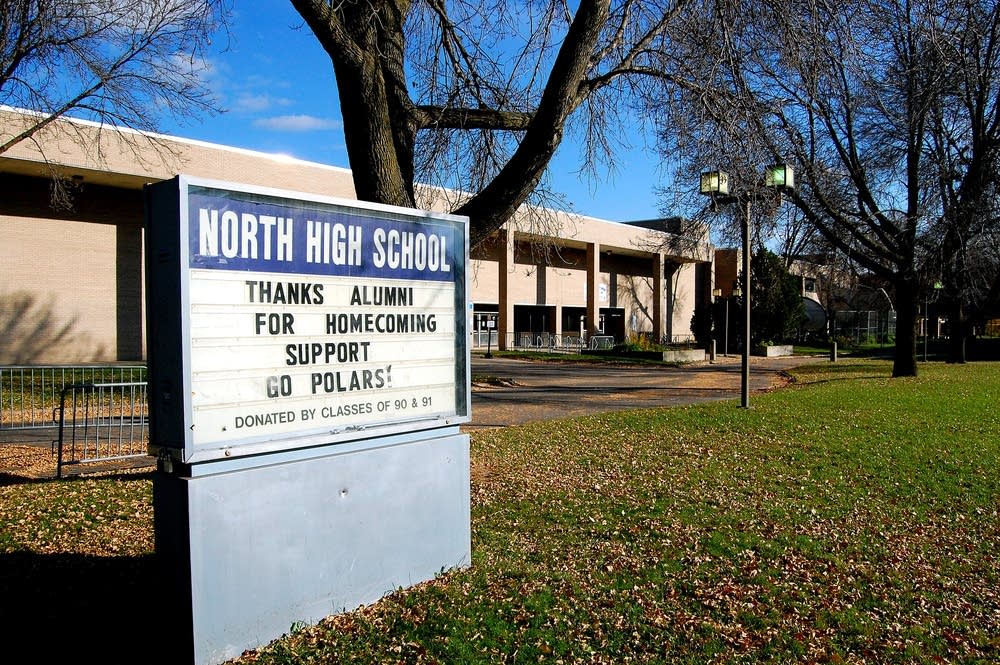 The class that at one point could have been North Community High School's last graduated over the weekend.
These students were at the middle of a tug-of-war between the school district and community in north Minneapolis about whether to keep the high school open despite dwindling enrollment. Graduates said the year was tough, but it made them resilient, and brought them closer together.
As the senior class entered the Minneapolis Convention Center auditorium and walked down the aisles toward the stage, the graduating seniors had an air of defiance and triumph.
The boys wore royal blue graduation gowns, and the girls wore white. The class of 80 students took up three short rows.
Their principal for just 10 weeks, Peter Christianson greeted the many excited families clutching flowers and video cameras.
"It is said that adversity builds character," he said. "If you believe that, these young people sitting in front of you today all have a black belt in character."
It's hard enough being a teenager. But this year the kids at North High also had to deal with the emotional ups and downs of not knowing what was going to happen to their school.
The school had just 265 students in grades nine through 12 this year, and only 26 percent were proficient in reading. That prompted Superintendent Bernadeia Johnson to recommend the school shut down.
But the community fought back.
Parents and students made a push to recruit new students to North High. Johnson relented, saying she was impressed by the community's efforts and would overhaul the high school instead of closing it.
Valedictorian Linda Her was among the students who visited middle schools, stood in front of young students and made the pitch for them to come to her school. Her's family immigrated to the U.S. from Laos, and she wasn't going to let anything stand in the way of becoming the family's first valedictorian.
"We have gone through numerous struggles and challenges that no other high schools have experienced," Her said. "But like Craig Scott, a famous writer, has said, from every wound there is a scar, and every scar tells a story. A story that says I survived."
Her told her classmates they had proven themselves resilient. She said they would thrive and be successful. The graduates seemed to believe that as they walked — or in some cases, danced — across the stage and shook administrators' hands. At least 10 of the students have full scholarships to college.
All families cheer at their students' graduation — but these parents jumped up and down, shook their fists in the air, and screamed.
At a reception in the North High cafeteria after graduation, senior class president and varsity cheerleading captain Antoinette Rice said the toughest thing about the last year was dividing her focus between grades, extracurricular activities and fighting to keep the school open. But the last year also had its advantages.
"It showed us that we really do need each other and we really are a family even though we might argue and get bad grades," she said. "It definitely brought the teachers closer to the students and students trust the teachers more and we feel like we have a connection with them outside of school."
Rice is going to a college in South Carolina to study nursing. She eventually wants to be a pediatrician.
Fellow graduate Alexander Rivera is going into the Navy. The biggest problem he had with the last year was the comments from kids at other schools.
"They say like 'Oh, isn't that school going to get shut down? Why you go to that school?' It was kinda hard in that sense, but the people inside the school always like comforted you," Rivera said.
Rivera was also dealing with some pretty big problems in his family life. He ended up homeless for several months, living off friends' couches. He said his teachers kept pushing him to keep things together so he could graduate.
"Graduating means a new beginning. Not the end, but a new beginning. Now I start like my journey through being a real adult and be successful I guess," Rivera said.
While this senior class moves on, North High's future is still uncertain. A working group of alumni, teachers, city officials, and students are meeting to design a new North High program. It's supposed to be in place by the fall of 2012.