Bachmann announces run for president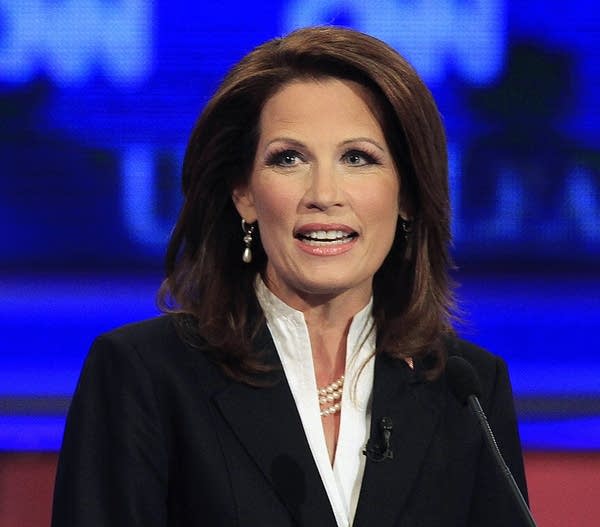 Minnesota Rep. Michele Bachmann, an outspoken Republican with close ties to the tea party, announced Monday that she is running for president, a candidacy that could further shake up a volatile fight for the GOP nomination.
The first female contender to enter the 2012 race, Bachmann announced her bid during a Republican presidential debate in New Hampshire. The third-term Minnesota congresswoman has been leaning heavily toward a run over the past few months, visiting early primary states, raising money and railing against President Barack Obama.
"We cannot risk giving President Obama four more years to dismantle our nation. We must act now," Bachmann said in a fundraising letter sent within an hour of her entrance. "That's why I've made the decision to get in this race."
She brings high energy, charisma and proven fundraising ability to the race to nominate a Republican challenger to Obama. She also is known for unyielding stances, biting commentary and high-profile gaffes.
Grow the Future of Public Media
MPR News is Member supported public media. Show your support today, donate, and ensure access to local news and in-depth conversations for everyone.
Bachmann is attempting the rare leap from the U.S. House to the presidency.
Despite having low seniority and few policy accomplishments, she has risen to prominence in Washington in part by her frequent television appearances and willingness to attack Obama in sharp terms.
Her popularity with tea party activists and her credentials as a social conservative make her a credible threat to other candidates courting conservatives who make up the core of the Republican Party. Her impact may be felt most in Iowa, the first stop in the nomination battle and where Christian evangelicals dominate.
While she hasn't built the broad campaign infrastructure of some GOP rivals, she has gradually patched together a blend of tested and fresh-but-determined advisers. She's also shown an ability to raise money from a network of small-dollar donors, including $13.5 million she put toward the nation's most expensive House race of 2010.
Bachmann spent the bulk of her political career in Minnesota and Washington as a minority party member, reveling in her role as a fierce voice of the opposition. She didn't let up when Republicans gained control of the U.S. House last fall, enhancing her standing through public breaks with party leaders after she was denied a place in caucus leadership.
The camera-friendly congresswoman has irked some party leaders by grabbing at the spotlight, such as the alternate televised response she delivered to Obama's State of the Union speech this winter.
Her willingness to speak her mind - she once accused Obama of running a "gangster government" - has brought her both loyal fans and plenty of critics. In 2009, she called it an "interesting coincidence" that the last swine flu outbreak in the U.S. occurred under a Democratic president, though it actually happened when Republican Gerald Ford was in office.
Since first hinting at a presidential campaign ahead of an Iowa speech in January, she has made sustained trips there and to New Hampshire and South Carolina, all places with an outsized voice in the nominating process. She previously told reporters she would announce her intentions this month in her birthplace of Waterloo, Iowa.
Veteran Republican campaign consultant Ed Rollins confirmed to The Associated Press that he would be Bachmann's campaign manager. He said a formal rollout hasn't been set.
"We are now a campaign committee and we will come out to Iowa sometime in the next couple of weeks," Rollins said.
Other full-fledged candidates include former Govs. Mitt Romney of Massachusetts and Tim Pawlenty of Minnesota, former House Speaker Newt Gingrich, Texas Rep. Ron Paul, former Pennsylvania Sen. Rick Santorum and businessman Herman Cain.
Still a possibility is Sarah Palin, the former Alaska governor and 2008 Republican vice presidential nominee. Palin assisted Bachmann in her 2010 race. And while the two deny any inherent rivalry, the possibility they may both run in 2012 has already stirred up such talk.
Bachmann, 55, enters as a definite factor in Iowa's caucuses, not just because it is her native state and now neighbor. Despite her status as an elected official, she is attractive to GOP activists looking for a candidate with outsider appeal. She particularly resonates with the conservative coalition that led former Arkansas Gov. Mike Huckabee to a 2008 caucus win.
She has vigorously courted evangelical pastors during her early trips to Iowa. Bachmann has also landed the support of up-and-coming GOP players, including state Sen. Kent Sorenson, an ardent social conservative.
Sorenson is lined up to run Bachmann's Iowa campaign. Bachmann has also signed a former top deputy to Huckabee's 2008 Iowa campaign. However, it's not clear whether those hires and Bachmann's popularity with this segment of the caucus electorate would necessarily translate into organizational strength.
Former Massachusetts Gov. Mitt Romney's decision to bypass the Iowa GOP's presidential straw poll in Ames gives Bachmann a stronger chance for a breakthrough moment a couple of months out of the gate.
Before politics, Bachmann was an attorney who at one point chased tax cheats for the federal government. A mother of five and foster parent over the years to more than 20 girls, Bachmann dove into public life during a fight over Minnesota school standards. She spent six years in the Minnesota Senate before winning an open seat Congress, where she's been since 2007.
Bachmann's husband, Marcus, runs a Christian-based counseling clinic.
---
Associated Press writer Thomas Beaumont contributed to this report from Des Moines, Iowa.
(Copyright 2011 by The Associated Press. All Rights Reserved.)
Gallery
1 of 1