As community gardening booms, Mpls. program struggles
Minneapolis is in the middle of an urban gardening boom, but a city program to rent vacant lots to gardeners has failed to attract much interest.
Critics say the two-year-old program is an example of how city government can take a simple concept — planting seeds in the ground — and turn it into a complicated undertaking.
The city leases the vacant lots for $1 a year to nonprofit organizations and groups with a nonprofit sponsor. Each group needs to have at least $2 million of liability insurance and pay a $25 administrative fee and a $250 damage deposit. The city requires groups to shovel the sidewalk in the winter, and it charges a $100 fee to use water from a city hydrant.
"If you're unfamiliar with leases, it can be very scary," said Kirsten Saylor, executive director of Gardening Matters, a nonprofit group that provides education and resources for gardeners.
Seven of the city's 15 lots have been rented. Last year, only 4 lots were rented.
Saylor said the program works well for some larger neighborhood associations, but could be difficult for smaller groups with fewer resources.
Gardening Matters offers liability insurance for $120 to groups that cannot afford a separate policy, but Saylor said the city should explore other options.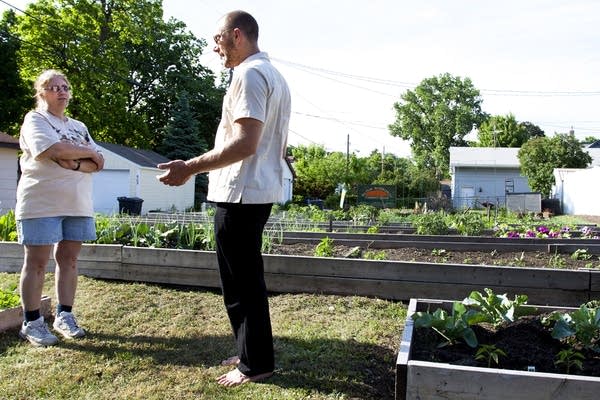 "If you're dealing with low-income communities and low-income gardeners, $120 is something that could be better spent on something else," she said.
City planner Amanda Arnold said she's aware of the concerns. "There are some parameters that are difficult for some folks," she said. "It's not wide open to just anybody who would like to do a community garden."
Arnold said she hopes the program will gain momentum over time. Last year, the program didn't start until mid-way through the gardening season. "It was better than nothing, and it was a good step forward," she said.
THE REBIRTH OF A NEIGHBORHOOD GARDEN
The city selected vacant lots based on their "non-buildable qualities." Many of the lots are too small to sustain a house, and city officials said the careful selection means that the gardens won't have to relocate once the housing market picks up.
The prospect of a long-term, sustainable garden appealed to residents of the Beltrami neighborhood in northeast Minneapolis. The neighborhood lost its community garden a few years ago when the landowner, the Minnesota Department of Transportation, was considering using the area for a freeway ramp. The ramp was never built, and the small patch of land is now vacant.
"Let's just say there was some angst," said Beltrami Neighborhood Council staff member Nancy Przymus. "It was very sad."
"The city can't give you community. You have to make it,"
The community's eagerness for green space led the Beltrami Neighborhood Council to sign the first lease under the new program last year. The council provided $2,000 for start-up costs. Volunteers spent last summer turning the small vacant lot at 1213 Spring Street NE into a garden — hauling soil, building raised garden beds, and developing a garden plan. The city prohibited the group from planting directly into the ground after soil testing revealed traces of lead.
Sandy Miller was among the volunteers who spent a collective 500 hours creating the garden. "We literally put together this whole thing," she said while watering her plants on a recent afternoon.
The garden includes a free parcel open to the community and 16 individual plots the group rents out for $20. Miller rents one of the plots, where she grows an assortment of radishes, onions, lettuce, carrots, and spinach. Her mother, who is 82, also rents a garden space.
Miller said the garden is a fun way to experiment with different types of plants. She's growing radishes with reverse colors — white on the outside and red on the inside. She's also planted purple and white carrots. "It's a space where I can be a little creative," she said.
Saul Phillips, the secretary of the Beltrami Neighborhood Council, said he hopes the garden sparks conversations about healthy local food. "If somebody drives by in August and sees nice big red tomatoes, they might give it some thought," he said.
Przymus, the neighborhood council staff member, expressed some frustrations with the city regulations, but she said there's a value in encouraging people to create a garden with little assistance.
"The city can't give you community. You have to make it," she said. "I think if you're going to handhold people, that would be the wrong approach."
She said neighbors were willing to put up with city regulations in exchange for the land. "You lease it for a buck and that means you get to put your sweat equity in and make it happen," she said. "It's a real labor of love."
A GROWING MOVEMENT
The urban gardening movement has grown rapidly in recent years, spreading to schools, churches, and private businesses. The Twin Cities metro area is home to 270 community gardens, according to a 2010 survey by Gardening Matters. A similar survey in 2005 found 219 gardens.
As the movement expands, gardeners are becoming less reliant on public programs. Ten years ago, half of the metro area's community gardens were on public land, Saylor said. Last year's survey found that percentage dropped to one-third.
Gardening advocates say schools and churches are the main forces behind the shift. New gardeners are looking for local partners, and schools and churches have been eager to embrace the movement. Last year's survey found that schools own 10 percent of the metro area's community gardens. Churches own 12 percent.
City planners said the rental program has a place within the larger community garden movement. The program is part of Homegrown Minneapolis, a city-led initiative to improve access to healthy, locally grown foods. As part of that effort, the city has helped create mini farmers markets in low-income communities, organized classes on food preservation, and created a garden program for teenagers in north Minneapolis.
The city has 8 vacant lots still available for rent this year. The others have been rented by Pillsbury United Communities, the Powderhorn Park Neighborhood Association, Project for Pride in Living, the Seward Neighborhood Group, and Kwanzaa Community Church.
See below for a map of all Minneapolis garden sites.
Gallery
1 of 2
2 of 2
Your support matters.
You make MPR News possible. Individual donations are behind the clarity in coverage from our reporters across the state, stories that connect us, and conversations that provide perspectives. Help ensure MPR remains a resource that brings Minnesotans together.