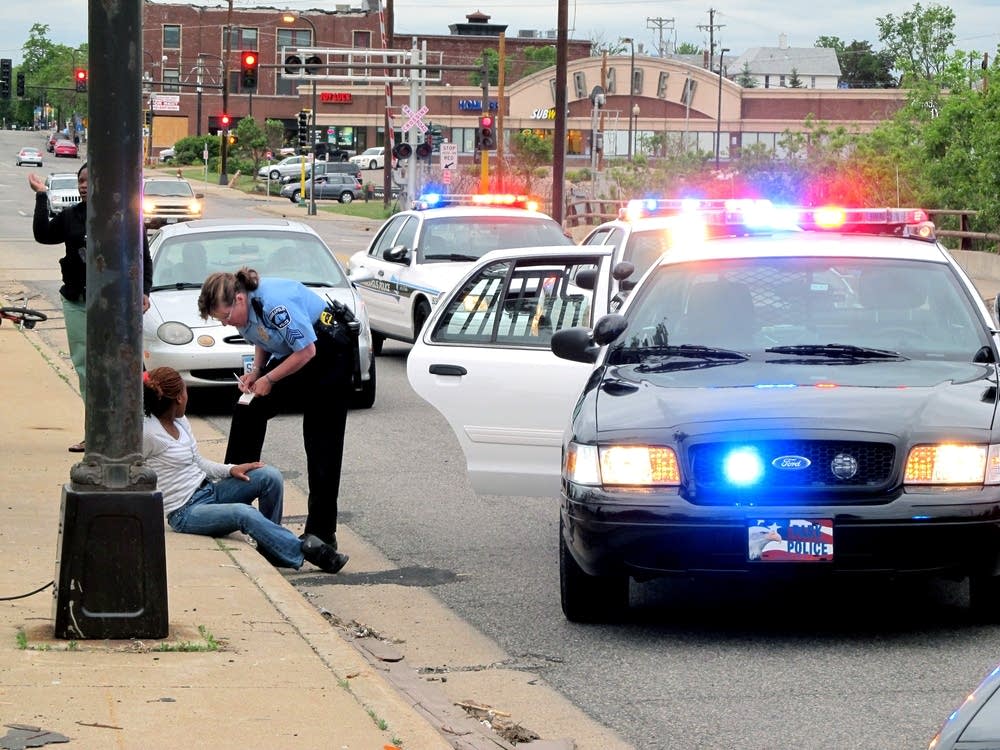 Violent crime has plagued some of the north Minneapolis neighborhoods hardest hit by the tornado last month, but police officials say it's too early to tell if the storm will have a lasting effect on crime.
The area continues to recover from the tornado, and while many homes and apartments are being repaired some fear the impact of the storm could worsen problems the north side was already facing, such as home foreclosures and poverty.
On a recent day, Officer Richard Walker was in a hurry as he responded to a report of shots fired near Lyndale Avenue and Webber Parkway. After rushing to the scene at 80 mph, Walker and other officers responding found a group of about half a dozen young boys on their bellies on the sidewalk.
A woman on the scene said someone was getting stabbed nearby.
Police officials would not go into detail, but a police spokesman would later say no one was stabbed, although a 15-year-old was arrested and charged with carrying a dangerous weapon — a BB gun that looked like a semi-automatic pistol.
The incident occurred on the parkway near Webber Park — which was struck by the May storm's heavy winds. Most of the debris has been removed, but the broken trees are a reminder of the devastation.
Officer Walker has patrolled the north side for the last five years. He said he's still getting used to seeing the storm's aftermath.
"To me it's like a new look over here. I patrol over here often, ten hours a day," Walker said. "When you come by, it's like a different north side."
A gas station on the corner of Penn Ave N. and 26th Street that used to draw frequent police calls suffered so much damage that it is closed and boarded.
"This was an area that needed some improvement, absolutely, but like I said, before our crime was on the way down," he said. "So a lot of these calls that were coming here were diminishing greatly."
Calls to the gas station have really dropped following the storm. This year, before the tornado, the station generated two dozen police calls. After the storm, there have only been a couple burglary calls.
North side resident Jill Baertsch said she's noticed a difference at that corner. She said some of the gas stations that used to have a lot of loitering are boarded now.
"It just seems like they're more quiet now," Baertsch said.
The tornado blew away Baertsch's garage, and also damaged a lot of homes and trees along her street. She said she didn't see much criminal activity on her block before the storm or afterward. She said her neighbors haven't seen much either.
"I think everyone has been a little bit more watchful and trying to look out for each other," she said.
A DIP IN CRIME
Crime on the north side has been decreasing over the last several years, with violent crime dipping more than 20 percent from last year.
Lt. Bret Lindback said there was a brief spike in burglary calls immediately following the tornado, but those numbers appear to be returning to normal levels.
Lindback has worked in north Minneapolis for nearly 25 years and has studied how street gangs operate. Historically, the north side has seen more gang activity than other parts of the city. He said the storm may have displaced some young gang members, but said that may not necessarily keep young offenders away.
"Just because a family, let's say, moves to Brooklyn Park or Brooklyn Center doesn't mean that that young person isn't going to still have friends in Minneapolis that he wants to hang with and that he's not going to be down here offending either," Lindback said. "So it's just too early to say what that impact of the loss of the housing stock is going to have on our crime on the north side."
Lindback said he's concerned the repair and rebuilding of the north side could lead to an increase in some non-violent crimes. He said unsecured tools or construction equipment are easy targets for thieves.
Police officials say not all crime involves guns or gangs. They're also warning north siders to be on the lookout for unscrupulous or unlicensed contractors.