Renters living in storm-damaged homes complain about slow repairs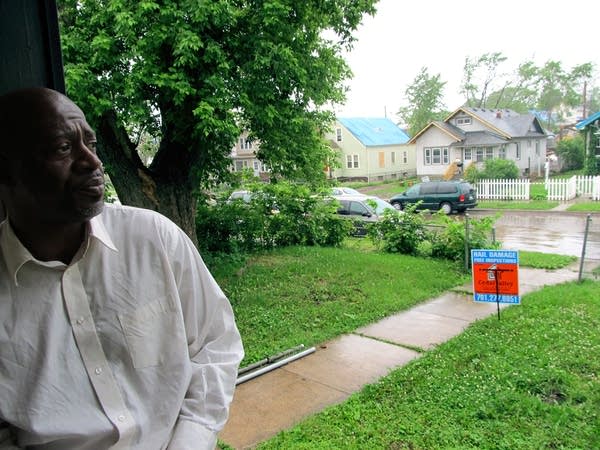 Some renters in north Minneapolis say the pace of recovery from last month's tornado is too slow. Many are still living under leaky roofs and looking out of broken windows.
City officials say a majority of the 70 tenant complaints logged by the city's 311 service this month have come from north Minneapolis.
A steady rain fell last week on Logan Avenue North — a street where most houses are partially covered by blankets of blue polypropelyne tarp. Maurice Dixon, who rents the upper half of a duplex that was damaged by last month's tornado, said repairs are slow going on the block — except for a rare, untarped house across the street.
"That's the only one I see been getting any work done," Dixon said.
Dixon is impatiently waiting on repairs to the roof over his head. The rain has found a breach in the tarp and is leaking into his apartment. Dixon points to a small patch in the ceiling of his bedroom that is cracking and buckling from moisture. A small pool of water has collected on the hardwood floor next to his closet. The leaks have appeared occasionally over the last few weeks, he said.
"It didn't rain that much and it was dripping like that. And I was like, wow, just imagine when it throw down. Cause it's finnin' to throw down," he said.
And it did throw down. The rain began to come down in sheets not long after Dixon made that comment. Not only does the roof leak, but Dixon's apartment still has a broken window. Dixon has tried to cover it with a crumbling piece of drywall but it falls over when the wind blows. He said he's been trying to reach a guy named Mike at the property management company.
"I called and left a message and I haven't received a phone call back," Dixon said.
"I left him a message, I believe a week ago, just kinda letting him know what was happening, what was going on," said Mike Surface, who works for Aims Realty, based in St. Paul. He said he left the message before Dixon called about the leaky roof. Surface said the repair process is complicated because it involves several parties: his company, the insurance company and the contractor.
Surface said an error by the insurance company caused a brief delay. He said Aims has hired a contractor, but doesn't know when they'll start work because the roofers are all very busy.
"Things take time and one month is not a long time in this case, considering all the work that's been going into it," Surface said. Minneapolis city housing officials estimate that rental properties make up around 40 percent of the housing in the tornado-damaged section of the north side. Legal Aid attorney Drew Schaffer said renters in badly damaged buildings can leave without breaking their lease.
"Even if the lease doesn't say it, there's a state law that allows a tenant to exercise their option to move out and surrender possession of a building that becomes uninhabitable," Schaffer said.
Schaffer said so far Legal Aid has gotten a few complaints from renters who've moved out of storm-struck buildings and say landlords have withheld their damage deposits. However, the situation gets more complicated when there's a disagreement between the tenant and owner over what constitutes an 'unlivable' dwelling. A city inspection report can help either side make their case, Schaffer said.
"Other than that, if the city doesn't confirm it and there's still a dispute between the landlord and the tenant then a tenant has the right, if they want to, to put the landlord on written notice," Schaffer said. "Then after a period of 14 days passes, they can actually start what's called a rent escrow case."
In that event, a tenant pays rent to the court during the dispute. If the court finds in favor of tenants, the rent is returned to the tenants. Schaffer said tenants can also open a rent escrow case if they believe a landlord is negligent in making repairs to a property.
In Dixon's case, his apartment may not be unlivable but he said it's not pleasant. Dixon, who is unemployed and taking care of his two daughters, said he'd like to move but doesn't have anywhere else to go.
"I just really need some help right now, just until I can get to where I'm trying to go. That's pretty much where I'm at," he said.
City officials are encouraging renters like Dixon to call the city or Legal Aid for help.
Gallery
1 of 1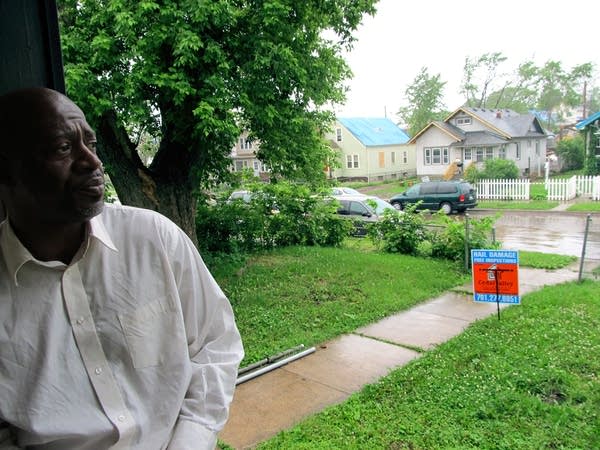 Your support matters.
You make MPR News possible. Individual donations are behind the clarity in coverage from our reporters across the state, stories that connect us, and conversations that provide perspectives. Help ensure MPR remains a resource that brings Minnesotans together.