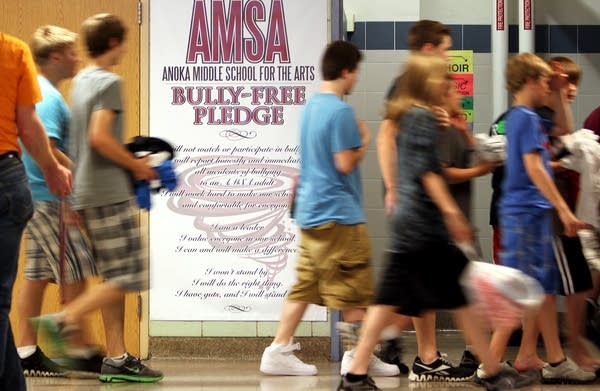 The conservative Alliance Defense Fund said Tuesday it supports the Anoka-Hennepin School District's sexual orientation curriculum policy that has been scrutinized in recent weeks.
The policy, which has been in place since 2009, says teaching about sexual orientation is not a part of the curriculum. It also orders teachers to remain neutral if the subject comes up in class.
The Southern Poverty Law Center and National Center for Lesbian Rights have threatened to sue the Anoka-Hennepin district over the policy. They argue that the district isn't doing enough to protect gay students, and they say the policy contributes to a hostile atmosphere and makes gay students more susceptible to bullying.
The Alliance Defense Fund, a group of Christian attorneys who have worked in several states on efforts to ban same-sex marriage, sent a letter to the school district on Tuesday. In it, Legal Counsel Jeremy Tedesco said the civil rights groups' arguments have "no basis in law."
"The district should not allow SPLC and NCLR to browbeat them into abandoning its sensible policy of requiring district personnel to remain neutral on issues regarding sexual orientation," Tedesco wrote. "Neutrality does not equal hostility. Rather, neutrality respects all sides of a controversial issue, and advocates none."
Leaders from the Southern Poverty Law Center and National center for Lesbian Rights argued in an op-ed this week that the school district's policy in practice is not neutral because it silences gay students and keeps historical content about gay, lesbian, bisexual or transgender people out of the curriculum.
"Truly neutral policy doesn't play favorites," they wrote. "A true neutrality policy on sexual orientation would hold that all sexual orientations are equally legitimate."
Anoka-Hennepin Superintendent Dennis Carlson has defended the sexual orientation curriculum policy, saying it is separate from the district's bullying and harassment policies. He has said the curriculum policy is needed to foster respect among students and families who have different views on homosexuality.
The school district and the civil rights group have agreed to keep talking about their differences.
MPR News reported earlier this month that some teachers in the district believe the policy lacks clarity. Among teachers interviewed, there were several different interpretations of how the policy should be applied to daily school activities.