Three key moments define Bill Kling's legacy in public radio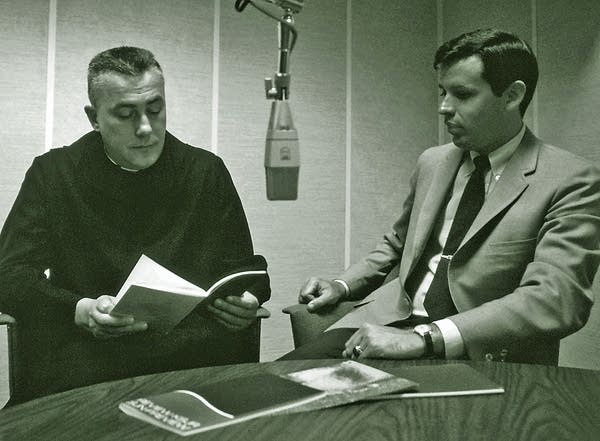 After more than four decades as president of Minnesota Public Radio, Bill Kling steps down as leader of the organization at the end of this week.
Over the years he's been hailed as a visionary and a maverick. He's shaped many major developments in public broadcasting that go beyond Minnesota Public Radio.
Three pivotal moments in Bill Kling's career helped shape the entire public radio system in the United States.
COLLEGE GRAD, RADIO EXEC
Grow the Future of Public Media
MPR News is supported by Members. Gifts from individuals power everything you find here. Make a gift of any amount today to become a Member!
A life really can change in a moment. That's how fast Kling rose from college student to radio executive.
In 1964, Kling was a senior at St John's University in Collegeville when his history professor, Father Colman Barry, asked him about his plans for the future. Barry had a plan for him.
"It was just a casual conversation, and he said, 'What are you going to do?' And I had no idea," Kling said.
Kling was considering graduate school, if only to delay his eligibility for the military draft during the Vietnam War. A masters degree in business, or maybe communications, seemed like good possibilities. He'd often talked with Barry about his love of radio.
What Kling didn't know was that Barry was about to become president of St. John's, and he had a plan to use technology to expand the university's reach.
"He said 'Why don't you go in communications?'" Kling recalled. "And he said, 'I'll find the money, and we will pay for your education if you agree to come back and start a radio station here.'"
Kling could have said no. But he didn't. Instead, he went to Boston University to earn a master's degree, then returned to make good on his promise.
The station, KSJR, 90.1FM, went on the air in 1967, and Kling began building a statewide radio network.
Kling leaves his post as president of American Public Media Group and Minnesota Public Radio 44 years after creating a radio service that provides news and cultural programming to more than 900,000 Minnesotans and 16.5 million people across the country.
Kling is still a little astonished at the offer from Father Barry.
"He just had this incredible trust," Kling said. "If you want really to ask the question of the right person, it should be of Colman: 'What were you thinking? Whatever made you think you could take a college senior and ask him to go create IBM for you?' You don't do that. You don't start there."
But even Kling never asked that of Barry, who died in 1994.
"I wish I had," Kling said.
The 1960s were ripe with possibility for public broadcasting, in part because of the new interest in FM radio. The world was changing fast, and radio personnel realized they could be at the forefront as they experimented with new types of news and music programs.
In 1969, Kling was one of the station managers who co-founded National Public Radio, a new network for a new age.
"The atmosphere in my mind was something like Judy Garland and Mickey Rooney -- 'Hey! Lets do a show!'" said Susan Harmon, who worked at WAMU in Washington, D.C., back then.
In Collegeville, in 1969, nobody realized that a new radio show would create an identity not only for Minnesota Public Radio, but all of public broadcasting.
MR. KLING HIRES MR. KEILLOR
A young broadcaster who recently graduated from the University of Minnesota needed a job. And KSJR needed a classical music announcer to do the morning shift. So, in what turned out to be another pivotal moment, Garrison Keillor found himself sitting across a desk from Kling in a job interview. The new station didn't yet have a human resources department.
"He wrote a wonderful letter that, first of all, had the most beautiful handwriting I think I have ever seen," Kling said.
The two men couldn't have been more opposite.
"He was my age, but he was dressed in a suit and a tie, and black street shoes," Keillor recalled of Kling, describing his own attire that day as "frontier gambler," complete with fringed leather vest and floral shirt.
"Somehow we got along," Keillor said. "He was ambitious. I was 26, 27 years old, and I wanted to be part of something that was ambitious. I didn't want to be in a backwater."
Keillor took that morning shift.
"And so we hired him," Kling recalled, "[with] never any inkling that he had these creative urges that would make him totally subvert what was supposed to be a morning classical music program into what became the Prairie Home Morning Show."
Kling said Keillor began slipping Judy Collins, and then the Beach Boys, in with Beethoven during the morning show. Keillor then began delivering mythical sponsorship messages, and telling stories about a small town on the prairie.
"Everybody had dreams in [the '80s.] Bill just dreamed bigger dreams and actually realized most of them."
Here's one from 1972.
"I wanted to say a word in here about the Lake Wobegon Sinfonette. The orchestra's home is the high school lunchroom and gym in Lake Wobegon. It's rather interesting acoustically in that it does not give the audience all the sound it wants in the same place."
Keillor's delivery was softer and less sonorous back then, but he began attracting attention, even though not a lot of people had the FM radios you needed to hear the show.
Kling remembers a Star Tribune writer noting that he stumbled across the Prairie Home Morning Show, and thought it was good.
"And then it became a cult," Kling said.
Even with a good FM radio it was hard to hear the show from the Twin Cities, but people started trying.
"I don't know how many people were listening in those days," Kling said. "There was no way to measure it, but it certainly wasn't very many, and yet they were the kinds of people who talked a lot. Today you would call them the chattering classes or something, and so they would talk about it, and more people listened and it grew and it kind of put us on the map."
The Minnesota map anyway. Prairie Home Morning Show became a live variety program on Saturday evenings.
COMPETING WITH NPR
That led to Kling's next pivotal moment -- a meeting with Frank Mankiewicz, then president of National Public Radio, in 1983. At that point all funding from the Corporation for Public Broadcasting was going to NPR.
Kling and others grew concerned that this monopoly on funds would stifle programs with national potential that were produced outside NPR. He approached Mankiewicz with a proposal to use future funding for a satellite system to distribute such programs like A Prairie Home Companion.
"A lot of people would have said 'Well sure, we'll think about that.' You know, patted you on the head and sent you out the door, and then continued to do exactly what they were doing," Kling said. "He was very clear, very straightforward. And he simply said 'No.'"
The meeting was at a trade association gathering in Arizona. Kling went downstairs, and gathered some like-minded station managers by the pool. They agreed on the spot to create American Public Radio, a secondary satellite network, one that would complement National Public Radio -- and compete with it.
A Prairie Home Companion was one of the first offerings of the network, which went on to become Public Radio International, a major producer and distributor of radio programs.
In the early 1980s Prairie Home broadcasts brought huge new audiences, and vital funding to local public radio stations.
"Everybody had dreams in those days," said Ara Guzelimian, program director at KUSC in Southern California from 1977 to 1984. "Bill just dreamed bigger dreams and actually realized most of them."
Satellite distribution was just one of many ways Bill Kling changed the broadcasting landscape, said Guzelimian, who is now dean of the Julliard School of Music in New York City.
"I think public radio would be significantly different and poorer in a whole number of areas: Creative initiative and programming, technology, governance, ventures that produce income for public radio," Guzelimian said. "He's always been a step ahead of the system in thinking up what comes next."
There have been bumps in the road: Funding shortages, disputes with other stations, and a state legislator's push to disclose the salaries of the highest-paid employees of Minnesota Public Radio.
Some critics have questioned Kling's aggressive entrepreneurialism, saying it's unseemly for a nonprofit to so openly seek to make money, even if it is in support of its mission.
Harmon, who left WAMU to go to WETA in Dallas and is now managing director of the consulting firm Public Radio Capital, isn't one of them. For her, Kling is a visionary leader who not only succeeded in building an impressive system, but also found a way to pay for it.
"This is the kind of person we want in the nonprofit sector," she said.
When asked where his vision comes from, Kling said he simply aims to solve problems. Time and again he's proposed ideas which critics have dismissed as crazy, and then carried them through.
"It isn't that it's crazy; nor do they think that it's crazy. It's just that they don't see how they can get there," said Kling. "That is where optimism comes in. If you can explain it well enough, sooner or later you will find someone who will back the idea, and then you will demonstrate it, audiences will react to it. And once an audience gets a hold of it, you are home free."
Kling intends to keep following that same pattern of aiming to get things done in his latest venture, as he pursues the money and expertise to expand public radio journalism around the country.
Kling's successor is Jon McTaggart, currently the chief operating officer of the organization. McTaggart has worked for MPR in a variety of capacities since 1982.
Gallery
5 of 5
1 of 5
2 of 5