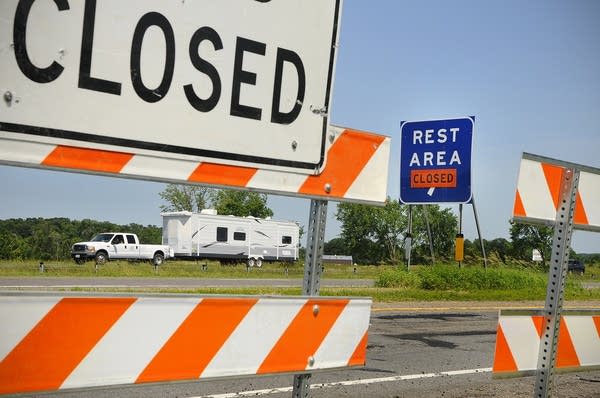 Protesters rallied at the Capitol on Thursday as rest areas, state parks and the Minnesota Zoo prepared to close — all likely victims of a state budget that might not beat the clock.
Without a budget agreement between DFL Gov. Mark Dayton and Republican legislative leaders, a state government shutdown will officially begin at midnight. But Minnesotans are already getting a sense of how a shutdown will feel.
Motorists hoping to stop for a bathroom break were beginning to see "closed" signs on rest areas, and camping enthusiasts were being kicked out of state parks, which all closed at 4 p.m. Nonprofit organizations rushed to make last-minute decisions on whether to get financial help or curtail services.
Time is running short for Dayton to call the Legislature back into a special session, even if the leaders were to fashion a budget deal. Budget negotiations started and stopped throughout the morning and afternoon Thursday.
Many Republicans entered the House Chamber at 8 p.m. to show the public that they are ready to get to work. House Majority Leader Matt Dean said he wants Gov. Dayton to call a special session so the Legislature can quickly pass a "lights on" bill to keep state government running.
"We need the governor to call us back into a special session," Dean said. "The governor is the only guy who can get this thing started and he's the only one who has the keys to get us started."
Before you keep reading ...
MPR News is made by Members. Gifts from individuals fuel the programs that you and your neighbors rely on. Donate today to power news, analysis, and community conversations for all.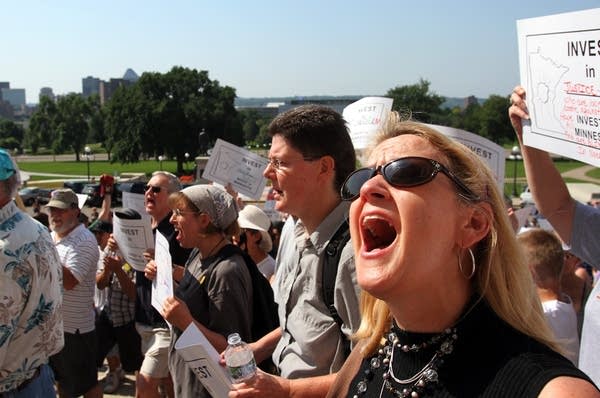 Dean said "it's pretty obvious" that they are at a critical point" as the clock ticks closer to midnight.
DFL House Majority Leader Paul Thissen criticized Republicans, who he said are more interested in "political theater" than getting a budget deal done.
"Instead of playing mock Legislature the Republicans should be working to get a balanced and fair budget negotiated," Thissen said.
Union and political organizations are planning protests at the Capitol. Liberal group MoveOn.org promised to hand pink slips to Republicans. State employee unions AFSCME and MAPE are holding a State Capitol vigil Thursday night.
At a morning rally held by nonprofit groups and others, participants urged a budget solution that would tax wealthy Minnesotans. Mary Cecconi of Parents United said that while leaders have promised to limit cuts to education, other state-funded programs are important for Minnesota children, too.
"If you're trying to help kids grow up to be productive citizens who will seed the economy, they don't grow up in a vacuum," Cecconi said. "To succeed in school, they need healthy families and communities supporting them."
While some groups were urging Dayton and legislative leaders to address their needs in the overall budget agreement, others were focused on dealing with the shutdown's potential impact.
Several lawsuits were filed against Minnesota Management and Budget following a ruling in which a judge ordered only the most critical core functions of state government to continue in a shutdown. Organizations ranging from the logging industry to horse racing to the Minnesota Zoo accused the state of failing to fulfill its obligations.
"We could operate the zoo for at least two months without a single dime of state funding, so we are not asking for any support right now other than to follow the statute, which we believe allows us to use the money that we earn here at the zoo to operate the zoo," said Lee Ehmke, director of the Minnesota Zoo.
Ramsey County Judge Kathleen Gearin said Wednesday that the zoo was not a critical function. She said zoo officials should keep the animals safe and secure, but the zoo shouldn't be open to visitors.
Canterbury Park in Shakopee also sued following Gearin's decision that state regulators who oversee horseracing aren't essential.
"It is disgusting," Canterbury Park President and CEO Randy Sampson told MPR's Morning Edition. "There's just no fairness to this at all. We're caught up in something that we have absolutely no control over and yet we're certainly, at least now, at risk of having a major, major impact."
July is a busy month for Canterbury, and Sampson said he's concerned about lost revenue.
Road construction projects across the state could also fall victim to a shutdown, causing delays and extra costs. That includes projects for which state funding has already been allocated, like the Bren Road/Highway 169 project in Minnetonka.
City officials have been fully managing and inspecting the project, but MnDOT said state officials are still responsible for any projects in the state's right-of-way. The determination left Minnetonka City Manager John Gunyou frustrated.
"We continue to believe there are no real financial, engineering or administrative reasons why this important project should not proceed, with or without a state shutdown," he said.
Some organizations could get relief from Special Master Kathleen Blatz, a former state Supreme Court chief justice who will begin hearing shutdown funding requests Friday morning.
POLITICAL DIVISION
It remained unclear how Dayton and Republicans would resolve their differences. Leaders must close a $5 billion budget gap for the next two-year budget cycle, which begins Friday.
Dayton wants the state to spend $1.8 billion more than Republican leaders, who have proposed an all-cuts budget to address the crisis. Senate Majority Leader Amy Koch and House Speaker Kurt Zellers have rejected Dayton's proposal to raise wealthy Minnesotans' income taxes to pay for the spending.
If a shutdown begins Friday, Minnesota might not be the only state experiencing such a scenario. New Jersey Gov. Chris Christie, a Republican, threatened to veto the budget Democratic lawmakers sent him. And in Iowa, Republican Gov. Terry Branstad and Senate Democrats sparred over funding for abortions at University of Iowa hospitals, which was putting an overall budget agreement in doubt.
But Iowa lawmakers were still in session, and it was likely a stop-gap funding measure could be pushed through to avoid a state shutdown. In New Jersey, Christie had the option to line-item veto Democrats' budget legislation, which would avoid a shutdown there.
Margaret Anderson Kelliher, a former Minnesota DFL House Speaker, told MPR's Midday that Dayton and legislative leaders are likely feeling under the gun.
"The pressure is immensely high right now, so if the pressure can be used to broker a deal, today is the day to do that," Kelliher said.
Tom Hanson, who served as Minnesota Management and Budget commissioner under Gov. Tim Pawlenty, said there's still time for a deal.
If there is an agreement, Dayton could call the Legislature back to the Capitol before midnight to pass a quick continuing resolution, giving lawmakers a few days to examine the overall deal.
A shutdown wouldn't help Dayton or legislators politically, Hanson said.
"I don't think either side wants it to shut down. It's not something you want on your resume," he told Midday.
(MPR reporters Stephanie Hemphill, Jessica Mador and Tom Scheck contributed to this report.)
Gallery
1 of 1