Colleges encourage students to be good neighbors
The occasional outbreak of rowdy parties as students move into their rental houses off-campus can make it challenging time of year for people who live in neighborhoods surrounding colleges.
This year several Minnesota colleges ramped up programs to keep the peace between students and their neighbors, and they have met with some success.
To combat those types of problems near its campuses, the University of Minnesota has worked to improve relationships between students and full-time residents.
It's not a hard equation to figure out. Take college students living on their own, add alcohol, and a list of problems appears for neighborhoods near campuses. Chief among them are noise, underage drinking, disorderly conduct, and that most un-neighborly of offenses: public urination.
The message to students: please respect the neighborhoods you live in.
In St. Paul's Como neighborhood near the U of M, that message is coming from a small group of people who set out to meet students as they move into their rental homes.
Before you keep reading ...
MPR News is made by Members. Gifts from individuals fuel the programs that you and your neighbors rely on. Donate today to power news, analysis, and community conversations for all.
This group is made up of an employee with U of M, an Minneapolis police officer, and Sylvia Holtberg, a 35-year resident of the neighborhood, perhaps the right person to ask students to respect their temporary home.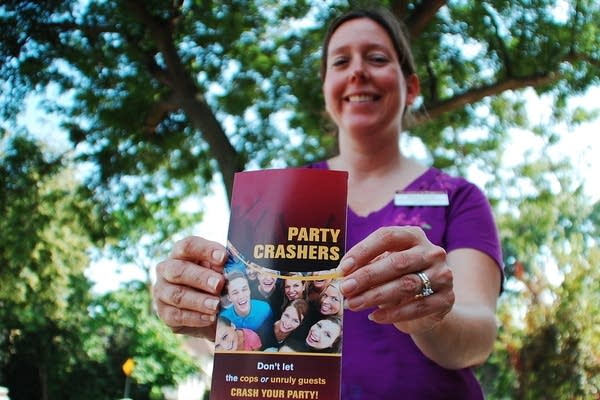 Holtberg's message appears well-received by student renters, especially U of M junior Brian Stark.
Respecting neighbors is something on Stark's mind, especially since noisy neighbors bothered him just last year, he said.
"Last year, me and two other guys lived in a duplex and our neighbors were very inconsiderate of the noise level," he said. "I worked at a bakery and I would get up at work at six in the morning and they'd still be up partying from the night before."
By meeting her, Holtberg hopes students are more likely to keep their parties a little quieter and maybe clean up the beer cans in the front yard.
"Just by putting a face to residents, it really gives the students a little pause for thought," she said.
The university has been working to improve student behavior in her neighborhood for about three years, Holtberg said. She believes the effort is working and already has heard fewer noisy house parties.
Colleges across the state are putting together similar efforts to keep students from getting out of control, something that happens especially this time of year.
There was a tipping point of sorts during move-in day last year at the University of Minnesota in Duluth.
A tradition had emerged in neighborhoods near campus to host lawn parties and welcome freshmen with sexually suggestive messages scrawled on signs.
College officials used it as an opportunity to educate students about respecting their neighborhoods.
Lisa Erwin, vice chancellor for student life at UMD, said she saw no such signs on last Thursday's move-in day.
Erwin said the college has started offering students information that amounts to "Renters' 101" — the year before they move off campus.
"Beyond seeing themselves as guests in the community or short-timers, we want to connect with the people that live around them, understand the history of the neighborhood, the relationship that they have as citizens as neighbors, just as well as their role as students," Erwin said.
Meanwhile, officials at St. Cloud State University also saw fewer problems during their school's move-day this year.
One indication: a dip in citations by police for underage consumption, open container and disorderly conduct.
That's because the college is working closely with police to educate student renters on what they can and can't do, said Gerry Bulisco, assistant dean of students at St. Cloud State.
A new city ordinance that charges renters with a misdemeanor if underage drinking takes place in their house has also helped, he said.
Last year, police charged 13 people under the ordinance during move-in days, Bulisco said. This year, only one person was charged.
"We think that along with the education, the enforcement piece has also gotten people's attention," he said. "If you're going to have a party, you've got to be responsible, check IDs and be respectful of your neighbors."
College officials say for the most part their efforts aren't about convincing students to stop having parties, just to keep them under control.
They say, from appearances, more college students are getting that message.
Gallery
1 of 1