As U.S. Rep. Michele Bachmann campaigns for the Republican presidential nomination, she has been noticeably absent from New Hampshire, the state that hosts the first primary next year.
Bachmann has almost exclusively focused on Iowa and South Carolina, leading some political insiders to conclude that her campaign is that of a niche candidate who is unable to wage a national campaign.
When Bachmann was still exploring a run for president, she took a few high-profile trips to New Hampshire, and sounded like someone who would be spending some time there.
"God bless you New Hampshire," she told a Nashua audience in March. "I knew we could count on you."
Bachmann announced her presidential campaign at a GOP debate in June in Manchester. But since then, she has only returned to the state once. She abruptly canceled a scheduled trip to New Hampshire last month on the heels of her victory in the Ames Straw Poll. Instead she headed to South Carolina.
"I'd like to see a little bit more of, a lot more actually, of Michele here in New Hampshire," said Jerry DeLemus, chairman of the Granite State Patriots Liberty Political Action Committee.
DeLemus hosted a fundraiser featuring Bachmann earlier this year. He has not endorsed Bachmann, but as a big fan, he's concerned she is not taking advantage of the support she has in New Hampshire.
"I would tell her to get a hold of the activists," DeLemus said. "Reach out to the activists yet again and let them put together some events to have her at because they love her. Heck, I'd help her."
Polls show former Massachusetts Gov. Mitt Romney with a commanding lead in New Hampshire. DeLemus said while Romney may be the favorite among establishment Republicans, there are plenty of others looking for an alternative.
Bachmann's campaign did not respond to questions from MPR News about its plans for New Hampshire.
Bachmann appears to have settled into a strategy that's focused on generating support in Iowa, where the first caucuses will be held next year and in South Carolina where it's likely the second primary will be held, after New Hampshire.
Given Bachmann's base of social conservatives and those who identify with the tea party, focusing on Iowa and South Carolina makes much more sense than spending time and money in New Hampshire, veteran New Hampshire political analyst Dean Spiliotes said. He notes that moderate Republicans and independents will vote in the state's GOP primary along with more conservative Republicans.
Spiliotes also said a big effort in the Granite State could hurt Bachmann.
"Were she to do well in Iowa and then compete heavily here and not do quite as well or do poorly, that would really negatively impact any momentum she might get," he said.
But Republican political strategist Pat Griffin who has worked on numerous political campaigns, including those of both presidents Bush, sees Bachmann's absence from New Hampshire differently.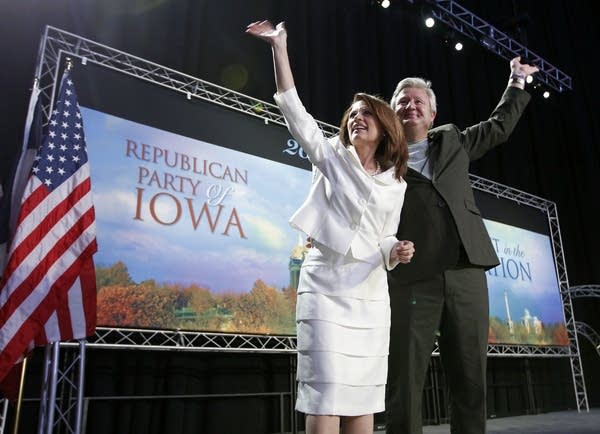 "By avoiding the first real turnout election state in the primary process, by not coming to New Hampshire, Michele Bachmann sends a very strong message that she is a niche candidate and niche candidates don't win nominations," he said. "And they never, never become president."
There likely to be fewer tea party supporters voting in New Hampshire's primary than will participate in the nomination battles in Iowa and South Carolina. But the roughly one in five that will vote represent a vocal and important wing of the New Hampshire GOP, notes Griffin, who said ignoring them just doesn't make sense.
"I tend to think if Michele Bachmann literally did nothing more than once a week came in, did a couple of stops, spoke to the base, talked to the people who are with her, they would continue the campaign in her absence," he said. "The problem is she's kind of thumbed her noses at people in New Hampshire and, in my experience, New Hampshire doesn't appreciate that much."
Griffin also said that if Bachmann chose to go beyond popping in and out of New Hampshire, trying to drum up support there can be a lot less expensive than other early states. Unlike Iowa and South Carolina, New Hampshire is tiny, its voters easily are assessable and the cost of television ads is relatively inexpensive.