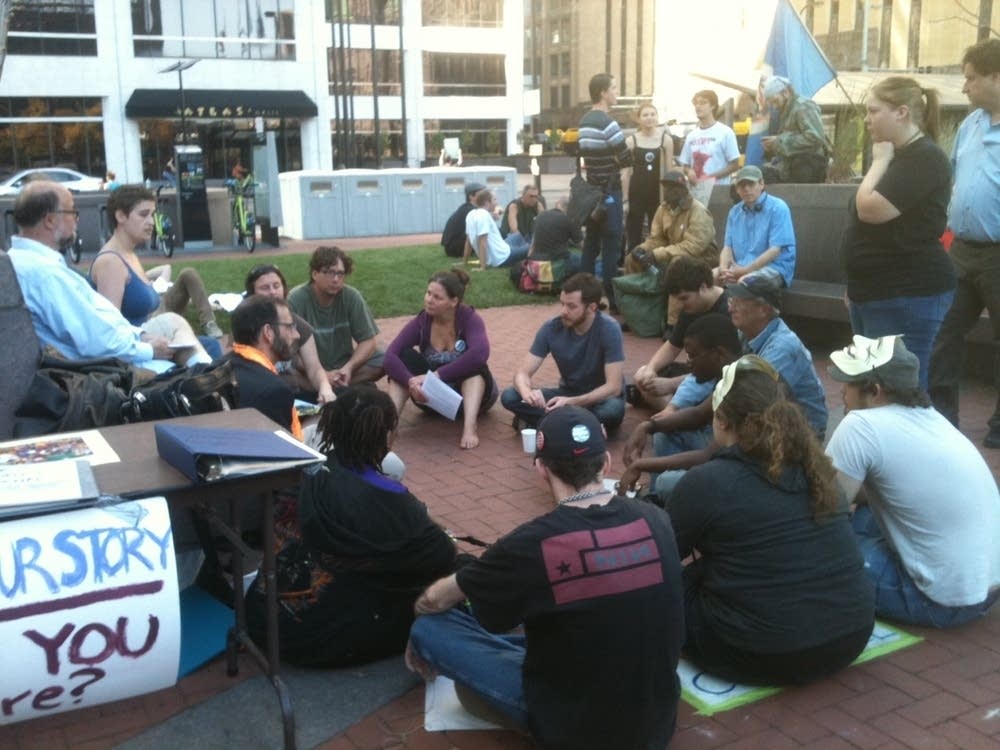 Many members of the OccupyMN movement are preparing to blend their life of activism with the normal work week as they return to their jobs Monday.
Protestors filled the Hennepin County Government Center Plaza Friday and hundreds have held discussions, played music, had meals and slept overnight there in the three days since. It's one of many protests of the financial sector going on across the country.
Participant April Lukes-Streich said the plaza has begun to feel like home. She said she and others have made plans to adjust to the coming workweek.
"I personally have to go to work starting on Tuesday again, but I plan to be here everyday at 4 o' clock until about 10 and then camp out on the weekends," she said. "I think a lot of people are doing that ... But our 5 o' clock rallies, that's when the most people are usually here and I think that'll help keep up the numbers."
OccupyMN organizers say demonstrators agreed on a formal structure and voting process for making decisions on Saturday night. They say demonstrators have agreed to a formal structure and voting process.
"If all the Occupy movements put clear demands on Congress saying no cuts to working people, tax the rich, cut the Pentagon budget, expand the social safety net, which I think are majoritarian positions, that could have a major impact the way this movement is spreading," organizer Ty Moore said. "But that takes a lot of political cohesion and coordination to do. I don't know if it will happen, but I think we should try."
Moore said organizers have planned marches and rallies in downtown Minneapolis for everyday of the coming workweek.