Activists want Minn. school district to cut ties with Wells Fargo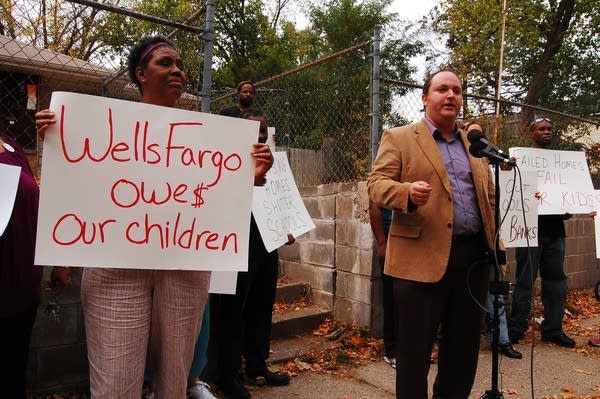 Community activists want the Minneapolis Public Schools board to stop the district from banking with Wells Fargo.
The group MN Neighborhood Organizing for Change said bank foreclosures have hurt the district's bottom line to the tune of $28 million dollars. That is the amount in state funding the group estimates Minneapolis lost when students left the district after Wells Fargo foreclosed on their families' homes.
MN Neighborhood Organizing for Change is targeting Wells Fargo targeted because it's the largest lender in the market, said Nick Muhammad, the group's community organizer.
"Wells Fargo's not going to take me closing my account very seriously. But the state accounts they do hold, that they're custodians over — those are accounts that generate a significant amount of money for them," Muhammad said. "If we can get them to lose one of those accounts, or at least have it temporarily stalled, it'll let them know the community is serious about them changing their practices."
Wells Fargo said in a statement that its priority is to prevent as many foreclosures as possible by working directly with customers. The district says it's reviewing the group's estimates.
Gallery
1 of 1
Gain a Better Understanding of Today
MPR News is not just a listener supported source of information, it's a resource where listeners are supported. We take you beyond the headlines to the world we share in Minnesota. Become a sustainer today to fuel MPR News all year long.