Low-income neighborhoods hit harder by housing crisis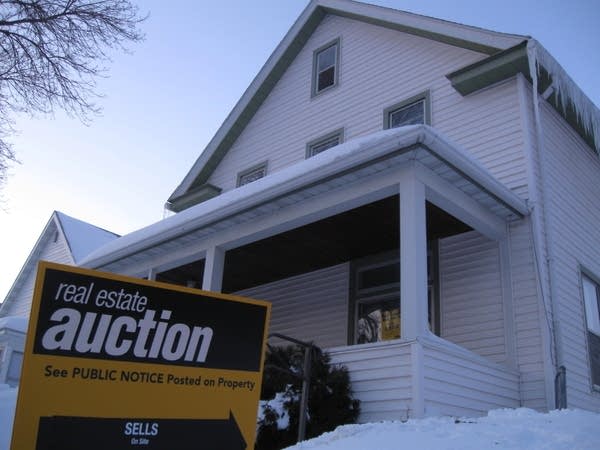 A new report on the housing crisis shows foreclosures have disproportionately affected low income and poor communities in St. Paul.
The study, by the interfaith group ISAIAH, shows three of St. Paul's low income neighborhoods saw the biggest drop in housing values in the city over the last five years.
The neighborhoods of Dayton's Bluff and Payne Phalen on the east side, and Thomas Dale — also known as Frogtown — saw home values drop about 50 percent since 2006. That's almost double the drop in the more affluent Mac-Groveland, Highland and St Anthony Park neighborhoods.
Kate Hess Pace, ISAIAH organizer said low-income and minority neighborhoods were more likely to be targeted for risky subprime mortgages, and the instances of foreclosure was more severe in these communities.
"It's actually been widening disparities between people of color and whites in terms of how it's impacted neighborhoods, home value, the amount of vacant homes and generational wealth," Pace said.
At the peak of the foreclosure crisis in 2008, some sections of St. Paul's hardest hit neighborhoods had upwards of eight vacant properties on a block.
Before you keep reading ...
MPR News is made by Members. Gifts from individuals fuel the programs that you and your neighbors rely on. Donate today to power news, analysis, and community conversations for all.
And vacant buildings are expensive.
St. Paul pays to inspect vacant properties and respond to complaints. The city also pays to remove hazards, cut grass, remove snow and garbage. To help offset these costs, the city charges property owners about $1,100 a year. That's far less than the $6,700 fee Minneapolis charged in 2006, according to the report.
The authors of the ISAIAH study say St. Paul should raise its fee to encourage owners to quickly sell or rehabilitate their properties.
But Ricardo Cervantes, who heads the city's department of safety and inspections, said raising the annual fee isn't necessarily the right thing to do. Owners who don't comply with orders or need services get charged additional fees. Problem properties can quickly accumulate hundreds of dollars in charges in addition to their annual payment.
Cervantes worries that raising the vacant building fee too high could impede foreclosure recovery.
"If you have this large annual fee, that might be a barrier for someone to step in and say 'Well, that could go towards the rehab of the property.' "
There are 1,448 vacant buildings, both commercial and residential properties, in St. Paul. That's down from January of 2010 when there were 1,598 vacant buildings.
The numbers may be lower citywide but the poorest neighborhoods are still struggling, said Jill Henricksen, director of the Greater Frogtown Community Development Corporation.
"We've got vacant houses that are sitting there. They've got the city placard on the front door so folks know that it's vacant. They are being vandalized," Henricksen said. "They are being broken into. Garbage is being dumped. We are seeing an increase in prostitution. We are seeing an increase in theft. All kinds of things around these properties."
Many remaining homeowners in the neighborhood owe more on their homes than the homes are worth on the market.
With the Central Corridor light rail project coming to the area, Henricksen worries that vulnerable homeowners and renters may be permanently displaced if property values rise.
Gallery
1 of 1