Dayton huddles with NFL on Vikings stadium deadline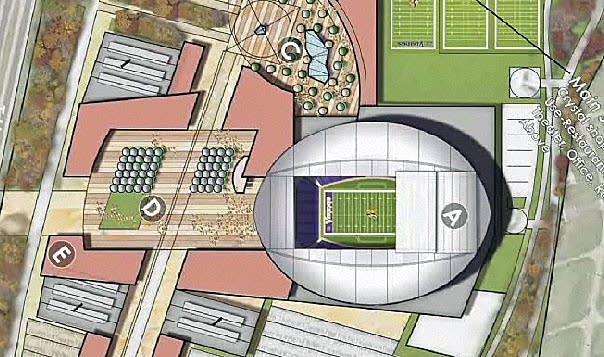 Gov. Mark Dayton is scheduled to meet Tuesday with officials from the National Football League to discuss a new Vikings stadium, after raising the stakes in the stadium debate on Monday by announcing that he's willing to call a special legislative session for the week of Thanksgiving to pass a bill that would finance the new facility.
The governor has been ramping up his lobbying efforts on behalf of a stadium deal. He encouraged hundreds of business leaders Monday night at the Minnesota Business Partnership's annual dinner to lobby for the stadium. After his speech, Dayton said his deadline should force GOP legislative leaders to act.
"If they don't want to support the project, are they really willing to tell the people of Minnesota that they're going to turn their back on several thousand jobs and keeping the Vikings in Minnesota?" he asked. "The challenge, as I said in the meeting, is, 'What are you for?' rather than, 'What are you against?'"
Lawmakers will have to make a few difficult decisions. Chief among them is how the state finances its portion of the stadium. They will also have to decide whether the stadium should be built in Ramsey County or in Minneapolis.
Dayton said he's open to either site, but the Vikings say they prefer an Arden Hills site that relies on a half-cent sales tax increase in Ramsey County. Vikings lobbyist Lester Bagley said the stadium site should no longer be an issue.
"If [legislators] don't want to support the project, are they really willing to tell the people of Minnesota that they're going to turn their back on several thousand jobs and keeping the Vikings in Minnesota?"
"We are focused on Arden Hills. There is no plan in Minneapolis. There is an Arden Hills proposal. It's a great site. What's left to be determined is the source of the state's $300 million contribution."
In a private, one-hour discussion with Republican and DFL legislative leaders, Dayton said he was willing to meet with anyone to ensure that the Vikings stadium deal gets done. Dayton said the six week window may be the only opportunity to pass a Vikings stadium before the 2012 elections.
He also called it a shared responsibility. Dayton and the Vikings are pushing for a special session because the team's lease in the Metrodome expires in January. Republican legislative leaders weren't feeling the same urgency.
"I would like the Vikings to have a stadium," Republican Senate Majority Leader Amy Koch said Monday. "A great devil is in the details of who is paying for it, and I haven't come to an agreement on that."
Koch said she didn't hear many specifics from Dayton on how the state would pay for its portion of the $1.1 billion stadium. She hasn't offered a plan on the Vikings either, but she said she can't promise votes until the bill's specifics are finalized.
"Until we have something concrete that we can go to our members and say, 'This is what it would look like, what do you think?' it's really difficult," she said.
Republican House Speaker Kurt Zellers also declined to outline any specifics but ruled out statewide taxes to pay for the stadium. Zellers and Koch also said they wanted to see Democrats support the final deal.
DFL Senate Minority Leader Tom Bakk said several Democrats will vote for the measure, but he said support could vary based on what's in the proposal. For example, Bakk said fewer of his members could support a plan that relied on an expansion of gambling.
"I am very comfortable saying there will be DFL votes in the state Senate. It's just a matter of what the proposal is and how many. Let's get beyond that. It will be a bipartisan vote. Let's get to some hearings and start to hear what the proposal might be that there's a final vote on," he said.
The governor scheduled to hold more meetings this week on the Vikings stadium. After meeting with NFL officials on Tuesday, he's scheduled to meet meets with Vikings owner Zygi Wilf on Wednesday.
Gallery
1 of 1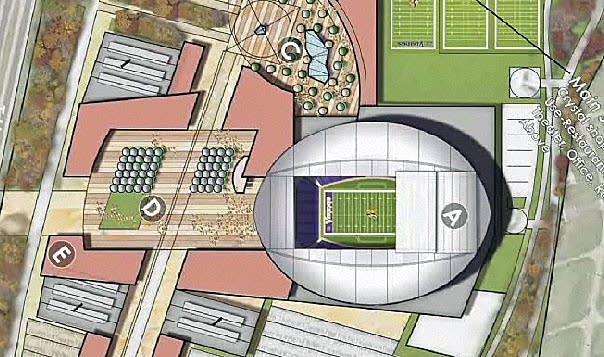 Your support matters.
You make MPR News possible. Individual donations are behind the clarity in coverage from our reporters across the state, stories that connect us, and conversations that provide perspectives. Help ensure MPR remains a resource that brings Minnesotans together.