Twenty years ago a new drug dramatically improved the survival odds of severely premature babies. The medication helped infants with immature lungs breathe easier, giving premature babies a better chance to survive, and even thrive.
Children's Hospitals and Clinics of Minnesota participated in the clinical trials that led to FDA approval of the drug called Survanta. Children's doctors who tested the medication on their young patients in the late 1980s immediately realized it was a game-changer.
Premature babies, especially those who are born before 32 weeks of gestation, often experience life-threatening respiratory distress. That's because they lack a crucial lubricant that helps their lungs expand and contract. This slippery substance, called a surfactant, is similar to soap. It lubricates the millions of tiny air sacs that line the lungs and prevents them from collapsing.
Premature babies start making their own surfactant within a few days of birth, but by then it may be too late to save them.
During Dr. Ronald Hoekstra's early career in the 1970s and 80s, respiratory distress syndrome was the number one cause of death among preemies. So when he heard that Abbott Laboratories had developed a biological human lung surfactant derived from calf lungs he was eager to give it a try.
Human clinical trials got underway at Children's Minneapolis hospital in 1986. Because they were blind trials, Hoekstra did not know which of his young patients had received the lung lubricant and which ones did not.
"We guessed a hundred percent," he said. "That was how dramatic it was."
Based on a review of patient records during the first five years of the clinical trials, the survival rate among babies who had received the surfactant was as high as 73 percent, compared to 55 percent among babies who didn't receive the drug, Hoekstra said.
Mollie Loiselle of Eden Prairie, Minn., was born at Children's midway through the clinical trials. She arrived in March of 1988 — 15 weeks early — and weighed 1 pound, 15 ounces. Loiselle's parents didn't know at the time if surfactant would help their daughter, but they were willing to try it.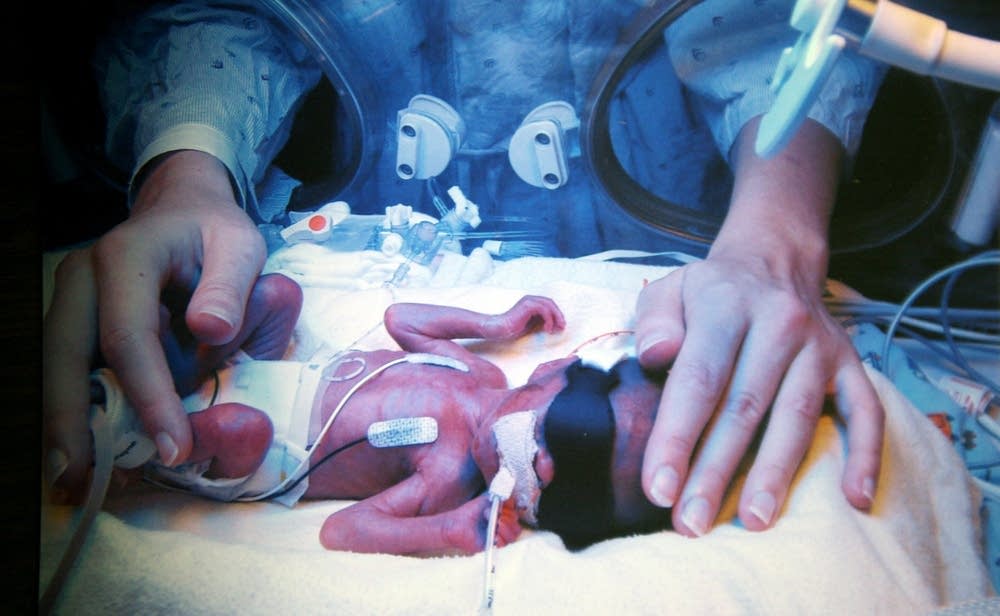 "I had a 50-50 chance of getting the drug or not and I got it," she said.
Loiselle spent about three months in the hospital. When she finally went home an oxygen tank went with her. She used it for a year. She also took an inhaled medication to strengthen her lungs until she was two.
Now 23, Loiselle has no side effects from her premature birth. She attributes her normal life to the surfactant she received, and to her parents' willingness to enroll her in the clinical trial.
"If they hadn't made that choice to be part of the study, I think that the probability of me having developmental disabilities, of having severe lung issues, asthma even [was high]," she said. "I don't even have asthma."
Loiselle did so well that Abbott Laboratories, the company that makes Survanta, chose her for their advertising campaign. Her pictures appeared in medical journals, fliers and a calendar. The publicity has made Loiselle into a celebrity among doctors.
"I meet them and they say, 'Oh hi. You're surfactant Mollie! Oh, I know you.' And I've never met them before," she said.
Survanta, or one of its several competitors, is now used as a standard part of care for all micro preemies born in the United States.
Lori Wollmuth, of Mankato, Minn., had never heard of lung surfactant until her twins Freddie and Dylan were born in July — three-and-a-half months before their due date. But Wollmuth, 30, has learned a lot about the substance since then.
"I call it a miracle drug that probably saved them," she said.
Wollmuth and her husband recently agreed to enroll Freddie and Dylan in a new study that explores the effectiveness of giving babies an additional dose of lung surfactant along with nitric oxide, another substance naturally produced by the body. Since it's a blinded trial, Wollmuth doesn't know if either of her twins are receiving the experimental treatment.
"If there's something we can do to help these guys pave the way or make more medical breakthroughs to allow a greater survival rate or less side effects, we're all for it," she said.
There's no doubt that lung surfactants have helped save many premature babies. Until recently there hasn't been much information available on how those children fared as they grew up.
It's estimated that more than 10,000 infants in the United States have chronic lung disease related to their premature birth. But new research shows that while these children face daunting medical hurdles, many can grow up to live normal lives.
This past June, Hoekstra, the doctor at Children's Hospital, published results on 162 premature children born between 23 and 26 weeks gestation who are now 18 to 22 years old. He said 88 percent have graduated from high school and 57 percent are in college. Nearly 90 percent have had a job outside the home.