Minnesota Sounds and Voices: Forging ties with autumn leaves
Look around: It seems like there's a bumper crop of leaves this fall in Minnesota. And the leaves that paint the landscape burnt orange and bright red can just as easily forge ties to the land and other Minnesotans.
Ed Lynde sees that connection to the land. He says that in the fall, more than a thousand people a day stream into the yard of his Maple Grove nursery business to dump bags of those crunchy leaves. The leaves get run through a grinder, stored for the winter, and in the spring -- they're compost.
"I love this stuff," he says. "Smells like dirt, smells like good dirt."
In his own way, he's recycling and saving the planet -- a role he hadn't considered.
Grow the Future of Public Media
MPR News is supported by Members. Gifts from individuals power everything you find here. Make a gift of any amount today to become a Member!
"I don't know if my headstone is going to carry that epitaph, but I would like to think we're helping people enjoy the environment in which they live," he says.
That's exactly how Jun-li Wang views the community leaf pile she started in front of her St. Paul home, where kids are welcome to jump, roll, squeal and squirm in a time-honored seasonal rite "on their way to the library, or on the way to school or see another friend. My leaf pile is here for them to play in."
And after not much more than a half-hour of kid-powered leaf bashing, the end result looks like the stuff that comes out of Ed Lynde's leaf cruncher, "perfect for mulching," Wang says. But she sees a leaf pile as more than soon-to-be mulch. It's a way to bring people together.
"How do you turn those places into spaces where people interact and thrive and they get together and talk?" she asked. When it works, "They have memory, and they have a different sense and affection of that specific location. It's something that I believe is really important."
---
Listen to Dan Olson's story -- part of his new series, Minnesota Sounds and Voices -- by clicking on the audio player above.
Gallery
5 of 5
1 of 5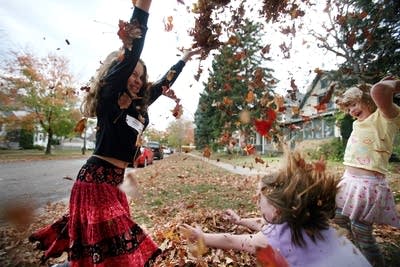 2 of 5