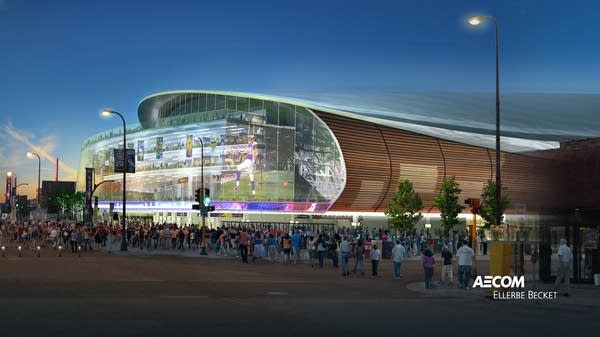 Gov. Mark Dayton, who meets behind closed doors Friday with legislative leaders to discuss a new Minnesota Vikings stadium, is open to all stadium proposals, including those for locations in Minneapolis or Arden Hills, Minn.
That openness has set off a lobbying frenzy aimed at convincing Dayton to accept — or reject — different proposals to pay for a stadium.
Minneapolis Mayor R.T. Rybak is the latest to weigh in with a stadium plan. His proposal relies on either a citywide sales tax increase of a third of a cent, or a casino in downtown Minneapolis. The money raised would help pay for a stadium on the Metrodome site, the Farmers Market or near the Basilica of St. Mary. Rybak said he thinks Minneapolis — not Arden Hills — is the best site for the Vikings.
"I believe this is one that has the best shot of getting support," Rybak said. "Nobody is going to walk into this Capitol with an idea that will be met with palm branches and everybody saying 'Great idea. This is the way to build a stadium.' If that were to happen it would have happened long ago."
Rybak is working to win public approval for his plan. But he's also working to win over Dayton. The governor hasn't said what he'll support.
"I know what everybody out there is against; I want to hear what people are for," Dayton has said repeatedly. "I want specific proposals from everybody who has an idea or a suggestion or an angle on how we can do this successfully to put this forward and put them in public so the debate becomes what's the best way to accomplish this project."
Because Dayton hasn't ruled anything in or out, lobbyists, lawmakers and the public are free to offer up any ideas. Some of the financing plans have been yanked from a graveyard of proposals that were killed off in the last legislative session or even before that. They include slot machines at the state's two horse tracks and that downtown Minneapolis casino. Another proposal calls for selling the Metrodome to the team for a $1 or tapping money from the Legacy Amendment to pay for the stadium.
There is also the option of allowing electronic pull tab gaming in bars. Senate Minority Leader Tom Bakk, DFL-Cook, said that could win bipartisan support.
"It scores enough money to pick up half or more of the state's share of a new stadium and it helps our charitable organizations out at the same time," Bakk said.
Officials with the Minnesota Management and Budget agency say the electronic pull tabs provision could raise up to $42 million a year.
Dayton's open call for stadium ideas also has critics lining up to try to kill any stadium bill. A bipartisan group of nine lawmakers held a Thursday news conference to say they would work to defeat any plan that expands gambling. State Rep. Ann Lenczewski, DFL-Bloomington, said doing it for a stadium would open the door to even more gambling.
"Once the state goes into a state-run gambling situation they now need to promote it because this is the way they're going to fund their government," Lenczewski said. "They absolutely get addicted to this and states that do this absolutely need to incentivize their constituents to do more gambling."
All the lawmakers at the news conference said they oppose using any public money for a new stadium. State David Hann, R-Eden Prairie, is among those who say they will accept the consequences of no new stadium even if the Vikings move to another state.
"We don't want them to leave but if they're going to leave, I guess that will happen," Hann said. "We don't want that to happen but I guess that's their decision. We think we have to create a better economic environment that benefits every business in this state."
Republican legislative leaders seem content to let Dayton be the public focus for lobbying efforts. They say they too are waiting to see what he proposes even though they say they won't accept a tax increase or a local sales tax increase without a referendum.