Years after Somali men left Minn., youth decry extremism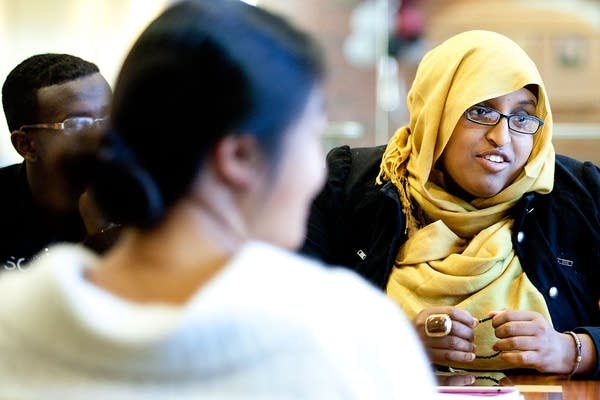 Every day, gaggles of Somali men gather at the Starbucks coffee shop on Riverside Avenue in Minneapolis to argue about the politics of their homeland. Their heated discussions take place so frequently that many in the Somali community refer to them as "Starbucks dads."
"They literally sit out on this patio all day, and all night," said Abdul Mohamed, 21, who often walks by the men on his way to class at Augsburg College.
Ordinarily, Mohamed passes them without saying a word. But a couple of months ago, he decided to approach them to drop off fliers for a panel discussion. Its topic: why some young men in the community had been recruited to fight in Somalia.
"One of the individuals we handed it to looked at it and just threw it back right at our face, and said, 'I'm not going to come to this. What is this about?' " Mohamed said. "He didn't understand it right off the bat, but what's even worse is he didn't try to understand it."
Grow the Future of Public Media
MPR News is Member supported public media. Show your support today, donate, and ensure access to local news and in-depth conversations for everyone.
Three years after a man from Minneapolis blew himself up in Somalia, as part of an attack that killed more than 20 people, the involvement of Somalis from Minnesota in the war-torn African country remains a sensitive issue. It could also be an ongoing one.
Officials in Somalia say another Minneapolis man carried out a similar suicide mission there last month. Both men were among the roughly two dozen young men who left Minnesota for Somalia since 2007. U.S. authorities, who launched a sweeping counterterrorism investigation with the Twin Cities as its epicenter, say the men went to Africa to join the extremist group al-Shabab.
Concerned that young men in their community are being radicalized, young Somali-American community leaders in Minnesota are stepping up to keep their peers on the right path. But some Somali-Americans are still struggling with a lack of support, the pressures of negative media attention, and the problem of the so-called "Starbucks dads."
TRYING TO CHANGE A NARRATIVE
To some young Somali-Americans, the Starbucks dad is a metaphor for absent parents too mired in the affairs of their home country to pay attention to their children here.
In a culture where family is everything, young people who are cut off from their parents are vulnerable to al-Shabab recruiters, said Mohamed Farah, 27, of Eden Prairie. Farah is a member of a group of young men who hosted a recent panel discussion on the indoctrination of young men by the terrorist group, called "Radical Minds."
"And if you've got a kid who isn't going to school, who has no friends, who is just having a bad time in life, it's easy for someone to come up and give him a higher purpose," Farah said. "What's a higher purpose than religious justification?"
Farah is convinced that many of the Minnesota men who joined al-Shabab were trying to prove that they were good Muslims.
Both Farah and Mohamed have been trying to fight that narrative through a group they founded called Ka Joog. As practicing Muslims themselves, Mohamed said, they're in battle to counter the recruiter's message with one that values education, the arts, and a strong sense of youth identity.
"The best thing we can do is get rooted with these students, be a part of their everyday life, so if they do get involved with this, they can come out openly and talk to us," Mohamed said.
Still, simply talking about al-Shabab's extremist rhetoric remains a touchy subject, even for young people. Mohamed said it doesn't help that Somalis feel like they're under a heat lamp with all the negative news about their home country.
FBI SOLDIERS ON WITH INVESTIGATION
Reports that yet another suicide bomber in Somalia could have been from the Twin Cities has intensified the heat. While the FBI still hasn't confirmed the identity of the bomber, the attack is a grim reminder of what can become of the men authorities say were radicalized in Minneapolis.
Federal officials say a group of young men held secret meetings in mosques, homes and restaurants and recruited their peers to what they called a "good jihad" in Somalia. They also say some of the recruiters then followed the pipeline to Mogadishu.
For Somalis in Minnesota, the news is becoming more disturbing. On an al-Shabab website, a man the terrorist group identified as the most recent suicide bomber implores Muslims to fight non-Muslims, not only in Somalia, but also abroad.
"My brothers and sisters, do jihad in America, do jihad in Canada, do jihad in England, anywhere in Europe, in Asia, in Africa, in China, in Australia," the man said. "Fight them and be firm against them."
FBI officials say they have no credible information that any of the men are planning attacks in the United States, but it remains their top concern.
Special Agent E.K. Wilson, who is leading the Minneapolis investigation, said authorities have made some progress fighting al-Shabab recruitment.
"Looking back, we can say we're in a much better way in terms of a threat posture," Wilson said. But the case, he added, remains "very much ongoing."
U.S. Attorney B. Todd Jones said the government can't be too sure that it has stopped the flow of fighters entirely. When six men left for the Horn of Africa three years ago, he said, they were part of a second wave of fighters. A third wave followed a year later, when the investigation was long underway.
Jones concedes that he cannot say with certainty that no additional men have gone to Somalia.
"You never say 'never,' " he said. "In this business, you don't know."
Out of the 20 alleged fighters identified, at least nine are believed dead, including two confirmed suicide bombers. Three men have returned to Minnesota and are awaiting sentencing on terrorism charges. That leaves eight al-Shabab recruits from the Twin Cities who are still unaccounted for.
In the government's broader investigation into support for al-Shabab, federal authorities have charged 20 Minnesotans, including two Rochester women who were convicted last month of funneling money to the group.
YOUNG SOMALIS A KEY ALLY FOR FBI
One thing authorities can control is their relationships with the Somali community. Over the past few years, St. Paul police and the FBI have tried to win trust. Todd Jones has found some key allies with Somali-Americans in their teens and 20s.
"There are differing views on what it means to be a good Muslim, what it means to be Somali-American," Jones said. "The groups we've worked with — the young Somali-Americans — are clearly committed to their future here in the United States."
Jones also notes that a recent video produced recently by the Mogadishu Times features a number of Somali community members denouncing al-Shabab. Even though the extremist group does not have popular support among Somalis in Minnesota, Jones said publicly speaking out of the group requires courage, and could result in a backlash from some corners of the community.
At a recent meeting, Jones exchanged hugs with members of the young advisory group. He's shared Iftar meals to break the fast during Ramadan, and even danced with them to Somali folk songs. Such gatherings offer a safe space where young Somali men and women can vent to him about being stopped for questioning at the airport or perceived acts of discrimination.
Jones told the men they can work within the system to make sure their civil rights are protected. He hopes they can spread what they learn to their peers and elders, including those confused about what amounts to support for a terrorist organization.
"Our primary job at the U.S. Attorney's office is to enforce the law, and part of that job is to make sure people know what the law is," Jones said. "Sometimes the messenger makes a difference, and the connections they have to the community makes a difference."
The young Somalis who Jones has spoken with include Mohamed Samatar, a student at the University of St. Thomas who works with high school dropouts in Minneapolis.
Samatar recently organized a 5K run to help famine victims in Somalia. When his thoughts drift to the al-Shabab suicide bombers from Minnesota, he thinks of all that wasted potential.
"I feel so sad, because when I see these kids, it could have been them doing this," Samatar said. "They could have had this chance of giving back to their community. But bad elements came together, and they ended up in pieces in a war-torn zone in Somalia."
Samatar thinks the young men enlisted with al-Shabab to vent their frustrations about life. The most disaffected young people in his community lack support at home or in school, he said.
At just 19, Samatar knows he doesn't have all the answers. But as a young Somali-American, he says he needs to be part of the conversation.
Gallery
1 of 1