Klobuchar confident St. Croix bridge bill will move forward
On the same day it cleared a Senate committee, Sen. Amy Klobuchar said Thursday that a bill she's backing for a new bridge over the St. Croix River has support from Transportation Secretary Ray LaHood.
Klobuchar acknowledged that some of her Democratic colleagues in Congress as well as 30 state legislators from Minnesota and Wisconsin have opposed building the $690 million bridge. But she says the Stillwater Lift Bridge needs to be replaced.
"I do appreciate their opinion, but they don't represent the whole state," Klobuchar told MPR's Morning Edition. "This is a bridge that was built in the 1930s. It's so bad it was featured on the History Channel."
The 30 state legislators on Wednesday said the money could be better spent on other transportation needs. And others who oppose Klobuchar's bridge plan, including Democratic U.S. Reps. Keith Ellison and Betty McCollum say there's no need for such a big bridge.
But Klobuchar said a mile of traffic builds up in the summer at the Stillwater Lift Bridge, which is in bad shape. She also said there isn't time to get another bridge design approved, saying "it would take 20 to 30 years to get approvals."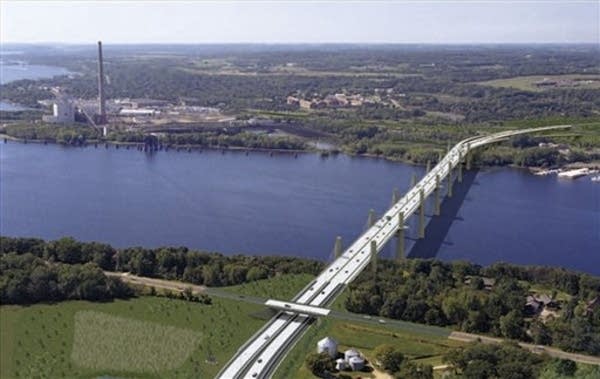 "It's basically saying we're not going to build a bridge because it would take so long to do," she said.
On Thursday in Washington, the Senate Energy and Natural Resources Committee approved Klobuchar's bill, which allows the bridge to be exempted from the Wild and Scenic Rivers Act and be built.
Klobuchar had also included a financing plan for the bridge that involves funds from the Interior Franchise Fund. The fund is used by the Department of Interior to centralize administrative services, Klobuchar said.
The bill will now go to the full Senate.
Klobuchar said even a smaller scale bridge over the St. Croix would likely need a similar exemption.
"No matter what bridge we build, if you believe we need a bridge, we need an exemption under the Scenic Rivers Act," she said.
Sen. Mark Udall, D-Colorado, did express some concern about the exemption.
"I know the long convoluted history of this bridge," Udall said. "I understand how hard the Senate delegations and House delegations from both states that border the river worked but the precedent is of concern to me."
The Coalition for the St. Croix River Crossing, which supports Klobuchar's plan, issued a statement Thursday thanking her and Sen. Al Franken for pushing the legislation. It noted that the companion legislation is awaiting action in the House.
"After 25 years of discussion and debate, we have never been closer to building a new crossing to replace our 80-year-old, fracture-critical, functionally obsolete bridge," read the statement, signed by Stillwater Mayor Ken Harycki and the other co-chair of the coalition, John Soderberg. "We know we have the right project because all other alternatives have been reviewed and rejected."
Franken told the panel a new span would offer other benefits.
"This bridge does create a lot of jobs," he said. "And I know we're all for creating jobs."
(MPR's Cathy Wurzer and Brett Neely contributed to this report.)
Gallery
1 of 1
Your support matters.
You make MPR News possible. Individual donations are behind the clarity in coverage from our reporters across the state, stories that connect us, and conversations that provide perspectives. Help ensure MPR remains a resource that brings Minnesotans together.