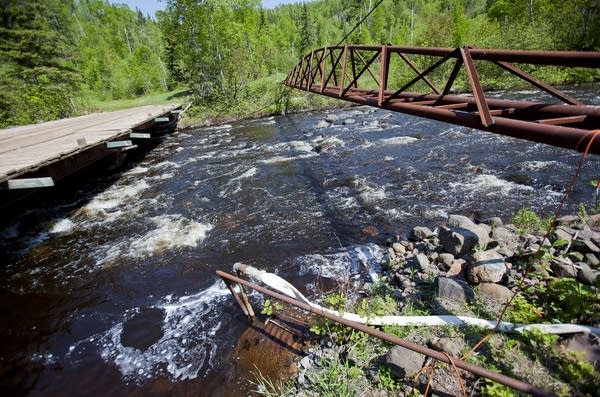 The Minnesota Department of Natural Resources will issue a special permit to Lutsen Mountains Ski Hill to take water from the Poplar River for snow-making, despite the stream's very low level.
DNR Commissioner Tom Landwehr made the decision after reviewing more than 600 comments from the public. The DNR says more commenters were in favor than against issuing the permit.
For several years the ski hill has taken much more water from the Poplar River than its permit allowed. A law passed last session allowed withdrawal of 150 million gallons, but it included a provision that appropriations must stop if flows fall below 15 cubic feet per second for more than five consecutive days. The flow has been at or near that threshold for weeks.
The DNR refers to a separate law to allow the company to use more water. The agency says there is "just cause" to allow the use because of potential economic impacts to the region, the likelihood that trout will die this winter anyway, and the expectation that the trout population can recover.
Landwehr says the new temporary permit speeds up the ski operation's shift from the river to Lake Superior as its water source.
"I can't fix what's happened in past," he said. "That's why we're having this permit and these provisions that we are today, because we expect this to be resolved in three years. We do not want another 10 years of this situation."
The permit requires Lutsen to find an alternative source of snow-making water by 2014.
Lutsen says it's negotiating with a nearby golf course and other local businesses to try to create a public water authority to help pay for a new pipe from lake Superior.
Environmental groups are divided on the matter. Conservation Minnesota is aligned with the DNR in pushing for the shift to Lake Superior as the water source.
But Kevin Reuther with the Minnesota Center for Environmental Advocacy said it's wrong to allow Lutsen to continue breaking the rules when the company has brought the problem on itself.
"They have known over the last decade, while they've been illegally withdrawing water from this trout stream, that it's not a sustainable source," Reuther said.