Lawmakers unlikely to heed call to cut grants for students at for-profit colleges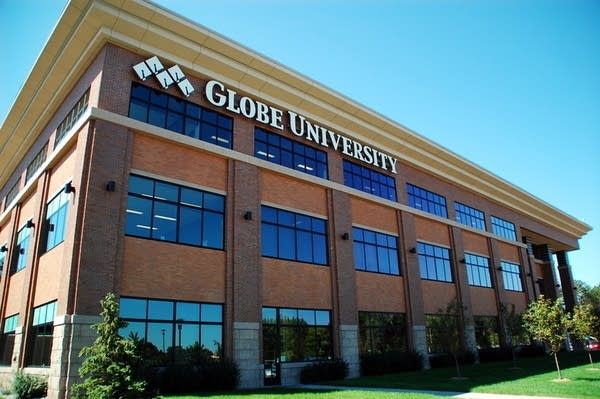 As the state continues to struggle financially, lawmakers say they may look at cutting financial aid for students who attend for-profit colleges — but at this point the issue isn't high on their to-do list.
Minnesota is one of the most generous states in the country when it comes to providing financial aid to students at for-profit colleges.
Jake Pfeffer of White Bear Lake will pay around $52,000 to get his music business degree at Globe University in Woodbury.
Pfeffer, 21, will pay for about half with student loans and the rest with help from federal and state financial aid. $2,000 will come from Minnesota's State Grant program.
"To some people it won't seem like a lot," Pfeffer said. "But every dollar helps. Money is really tight when you're going to college; you're trying to work all the time and college is expensive."
The Minnesota State Grant program is open to students from low-income families, regardless of the school they attend.
Gain a Better Understanding of Today
MPR News is not just a listener supported source of information, it's a resource where listeners are supported. We take you beyond the headlines to the world we share in Minnesota. Become a sustainer today to fuel MPR News all year long.
In recent years, there's been a growing debate over whether students who attend private for-profit colleges, like Globe University, should receive financial aid from the taxpayer-funded program.
"The fundamental flaw is that the state shouldn't be subsidizing profit for institutions," said Aaron Klemz, who writes about higher education issues on the Cucking Stool blog. He's also a faculty member at state-funded Century College in White Bear Lake.
State money being given to students who attend for-profit colleges should instead be spent on the state's non-profit colleges, he said,
"The choice to shift more money to the for-profit sector is a choice to fund profit," Klemz said. "It's a choice to say the state would rather fund marketing and profit margins for these corporations than fund public institutions that serve our communities."
Klemz thinks Minnesota is out of step with its neighbors. Wisconsin's similar state grant program, for example, doesn't offer grants to students who attend for-profit schools. According to the National Association of State Student Grant and Aid Programs, Minnesota is fifth in the nation in money it provides to students attending for-profit colleges.
The Minnesota Office of Higher Education said last year $22 million in state financial aid went to students attending for-profit schools — about 13 percent of the grant money given to all students. Any changes to the State Grant would be up to the Legislature.
Sen. Michelle Fischbach, R-Paynesville, who chairs a Higher Education Committee at the State Capitol, said it's not an issue that's on her radar because money from the State Grant program doesn't go directly to schools.
"The student decides where that money is going to go and takes it, but it's awarded to the student instead of awarded to a school," Fischbach said.
Rep. Joe Atkins, DFL-Inver Grove Heights, who sits on a Higher Education Committee in the State House, does want the Legislature take a look at which students qualify for state financial aid.
"That doesn't necessarily mean excluding for-profit institutions from receiving State Grant dollars. The key though is that we get bang for our buck when they use them at for-profit institutions," Atkins said.
That could be done by requiring for-profit schools to meet benchmarks in graduation rates and student debt for their students to qualify for financial aid from the state, Atkins said.
Tom Kosel, the head of government relations at Globe University, said such a move is fine with him — as long as all schools are involved.
"A discussion about benchmarks that would be across the board for all institutions would be welcome," he said.
Larry Pogemiller, the new head of the state's Office of Higher Education, doesn't foresee any legislative action adjusting the State Grant program this session.
"I think most feel that's benefited Minnesota students pretty well," he said. "It doesn't appear that the data indicates that there's an overuse on the for-profit side versus the non-profit side."
But Pogemiller admits that could change if a lawsuit by the state targeting a national for-profit college company is successful.
Minnesota Attorney General Lori Swanson is suing Education Management Corporation, which runs two schools in Minnesota, over claims the company paid incentives to its recruiters, which is illegal.
Pogemiller said if the lawsuit proves wrong doing by a for-profit college in Minnesota, it could start a new conversation over where students can spend financial aid they get from the state.
Gallery
1 of 1