Latinos lead charge of new small businesses in Minn.
Enrique Aguilar recently opened a new accounting business, hoping the coming tax season will be the key to his startup's success.
After a career working as an accountant for other firms, Aguilar, 61, has another reason to be optimistic. In the 14 years that he's lived in southwest Minnesota, he's watched Worthington's Latino population grow to some 4,500 residents now, more than a third of the town's population.
"Many people know me in the town," said Aguilar, who was born in Mexico City. "So, I hope they can look for me this tax season."
He is among about 1,000 new Latino business owners in the last several years, a boost to the state's economy. The number of Latino owned-businesses in Minnesota has grown by one quarter in just five years, according to Census figures. That's nearly double the rate of overall business growth in the state.
MPR News is Member Supported
What does that mean? The news, analysis and community conversation found here is funded by donations from individuals. Make a gift of any amount during the Winter Member Drive to support this resource for everyone.
Fueling the business growth is a strong rise in the state's Latino population, which has grown by about three quarters over the last decade to 250,000. More than 65 percent of Latinos live in the Twin Cities metropolitan area, but other areas of the state have fast-growing populations.
Many of the new arrivals are changing the face of business in the state, said University of Minnesota Public Affairs professor Katherine Fennelly. She said some immigrants jump immediately into business, while others take years accumulating partners and financing before starting their companies.
Either way, Fennelly said there's a clear pattern.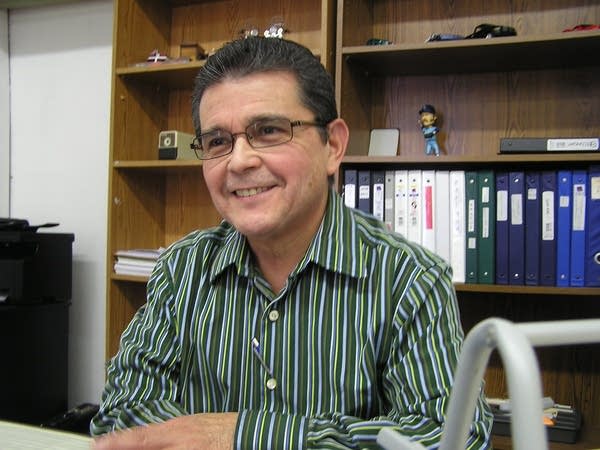 "Immigrants are more likely than native-born residents to start businesses," she said.
Fennelly said immigrants are about a third more likely to do so, in part because the act of immigrating to a new country requires many of the same sorts of character traits found in entrepreneurs.
"People who come to the United States, are people who have a certain amount of initiative," she said. "They're people who are willing to take a risk in order to better their lives and those are characteristics that bode well for the establishment of new businesses."
Aguilar's 19-year-old son, also named Enrique, will help him run his accounting office. The younger Aguilar said he and his father have a built-in advantage with many of the area's Latino residents — the ability to communicate with clients in their native language.
"They'll want to go to a grocery store where people are working there who speak Spanish," the younger Aguilar said. "I think the same thing would happen in an office like this, is they'll feel comfortable being able to open up and being able to do business with us."
The Aguilars' leap of faith is increasingly common.
According to the U.S. Census Bureau, the number of Latino-owned businesses in Minnesota grew from under 4,000 to 5,000 in just half a decade. The companies have sales of about $1.6 billion and nearly 6,000 employees.
Bruce Corrie, an economist at Concordia University in St. Paul, said there could be many more Latino-owned companies, but often a lack of financing or experience prevents immigrants from getting started. He said negative attitudes about immigrants in the larger community can also get in the way be an obstacle.
"The popular perception at large is to look at these communities as a cost or as something that's taking away from the state and not to look at their potential," Corrie said.
That's something new entrepreneurs like the Aguilars hope to overcome.
Gallery
1 of 1