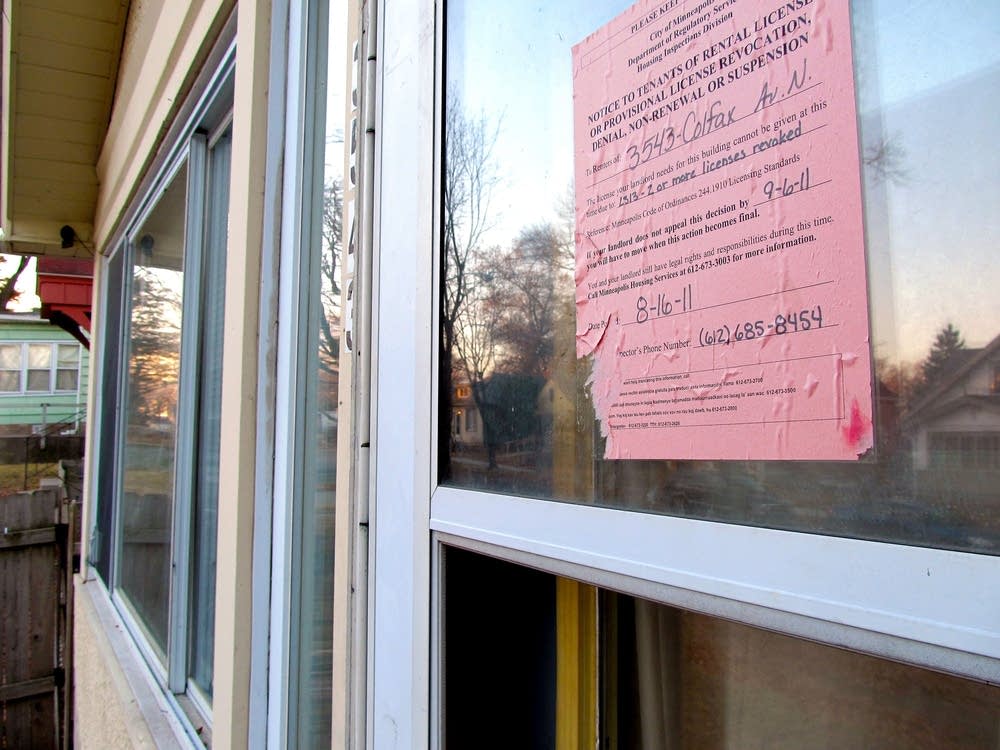 The Minneapolis City Council Friday voted to revoke the rental licenses for more than a dozen properties all owned by the same landlord.
The city removed rental licenses on 16 properties owned by Ronald Folger of Oakdale. Folger already had two rental license revocations in the past year. Under a city ordinance, landlords with two revocations lose their ability to hold a rental license in the city for five years.
The city's action against Folger leaves his north Minneapolis renters caught in the middle, as the tenants have six months to find new places to live.
Earlier this week, Folger asked members of a city council committee to let him keep a couple of his properties. Folger did not deny he violated a city ordinance. He told council members that he is worried for the people living in his properties.
"I have some great people there, they don't know where to go," Folger said. "I have one gal that I'm in the process of kicking her out, she's been looking for three weeks. I said, 'You have to go, I'm losing my licenses.' And she goes, 'I don't know where to go — I've looked everywhere.'"
Folger is in the process of selling one of his properties to a tenant under a contract-for-deed arrangement. Some of his tenants can also stay put if someone else buys the property and gets a new rental license. But in the meantime, some residents are exploring other options.
Sheila Morgan is a tenant in one of Folger's homes losing its rental license. Inside, it's cozy and neat. The home has hardwood floors and built-in shelves. An unlit Christmas tree stands in the corner of the living room.
"I don't have another place to move to. St. Stephens dropped some stuff off today. That's kind of a relief off my shoulders, too," Morgan said. "Because I've been sitting here stressing out figuring out what I'm going to do with me and my four kids."
St. Stephen's Human Services homeless shelter has a relocation program for people like Morgan. The program pays for moving expenses, temporary storage and damage deposits for people who find new places to live.
Morgan says Folger has been a good landlord. However, she said one of Folger's previous property managers did a poor job of responding to repair requests.
Council member Don Samuels said like many problem landlords, Folger bought more properties than he could handle. He said some of Folger's properties are fraught with code violations such as water leaks and rotting cabinets.
Folger told committee members that he asked one of his property managers to evict a tenant who was caught with two grams of crack cocaine. But he said the manager comply because she felt sorry for the tenant. Folger's failure to properly remedy the situation led to the first of his two earlier revocations this year.
"He is blaming the property manager. He is blaming himself for being over his head. He was making this investment — probably watched late night tv and saw this as an opportunity," Samuels said. "We cannot allow — there is no other area of licensing, whether it be driving a car or getting a liquor license or anything that allows this level of incompetency."
Samuels said incompetent or careless landlords are bad for neighborhoods, especially those in his north Minneapolis ward. He says poorly maintained properties bring down surrounding property values. And he says landlords who don't carefully screen tenants often rent to people who are disruptive.
But the north side is also trying to rebound from the foreclosure crisis and the tornado which ripped through the city this May. These natural and man-made calamities have displaced thousands of north-siders. Activists such as the Rev. Jerry McAfee say there is already a shortage of affordable housing. McAfee and a group of other north Minneapolis-based clergy have spoken out against housing foreclosures. He worries that the city's push to tackle problem landlords is creating more problems for people who need an affordable place to live.
"I do know, from being a landlord myself, that sometimes the city can be a bit heavy-handed. My question is, 'Well, if you got rid of the landlord, what's happening to the people?'"
One of those people facing eviction, Sheila Morgan, mutes her ringing phone. She said she has family in Wisconsin, but wants to stay in north Minneapolis.
"Me and my kids are going to have a good Christmas in this house. And then, basically after that I'm not going to worry about my kids about nothing. You know, 'just packing up your room is what we gotta do and mom's going to take care of the rest.' "
Morgan will also have time to enjoy the New Year and a few more holidays in the house before they have to go. City officials extended the eviction deadline until mid-June so students in the affected homes won't have to move in the middle of a school year.