Minn. GOP sorts out what's next for leadership
Minnesota's Republican state senators huddled behind closed doors throughout the day Monday as they continued to manage the political and public relations fallout of last week, when Senate Majority Leader Amy Koch was forced to step down.
Koch, of Buffalo, resigned her leadership post after Senate leaders confronted her about an inappropriate relationship with a Senate staffer.
Senate Republicans are trying to figure out what to do next. Near the top of their agenda is preparing a budget for the next two years — a spending plan that must cut roughly $2 million.
But one of the first things they have to do is call a meeting to elect a new majority leader. Interim Senate Majority Leader Geoff Michel of Edina said the vote must come by Dec. 29, but he said no date has yet been set.
"We literally have to name a day and we haven't been able to do that yet based on people's availability and their calendars and their holiday plans," Michel said. "We want to have all of our members there."
No one has stepped forward to announce a bid to replace Koch.
Michel wouldn't say whether he plans to run for majority leader. Neither would Sen. David Hann of Eden Prairie, who said most members of the Senate Republican leadership team are working to organize the election and on other matters. Hann said he hasn't given any thought to a run.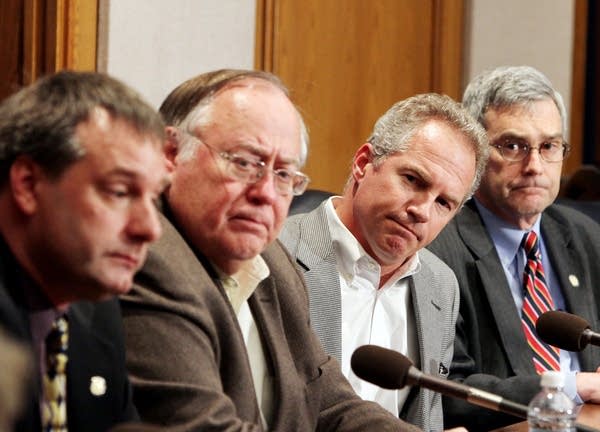 "I'm part of the leadership team and we're working through the process that we have," Hann said. "I think it's premature to get into that. We have a leadership team in place. We're preparing for an election and we're trying to contact members and get them back here."
Koch abruptly resigned from the majority leader post on Thursday night, and in her announcement said it was the right time for her to step down. By Friday, four of her Republican colleagues announced that they had confronted her over an inappropriate relationship with a male staffer. Koch has not returned repeated calls about allegations since Friday.
Several GOP senators also have not returned calls to discuss the incident. Others, like Julianne Ortman of Chanhassen evaded reporters after a committee hearing. Ortman said she would comment after the majority leader's election.
Besides Koch's resignation, senators also decline to comment on why former senate Republican caucus spokesman Michael Brodkorb is no longer working for the Senate. Brodkorb also is a former deputy chair of the Minnesota Republican Party, which is looking for a new leader after Chairman Tony Sutton resigned earlier this month.
Michel would not comment on whether Brodkorb was fired or resigned from the Senate.
The secretary of the Minnesota Senate, Cal Ludeman, confirmed that Brodkorb was let go because he reported directly to Koch, who no longer is majority leader.
"He serves at will to the Senate and then to Senate Caucus," Ludeman said. "But the Senate Caucus leadership then lost 'its will' for him to continue to be employed so it is because of that relationship directly to the previous Senate Majority Leader."
Reached by MPR News, Brodkorb said he would not answer any questions from reporters.
Until this weekend, Brodkorb also volunteered for Republican Sen. Mike Parry's campaign for Congress in the 1st District. Parry said Brodkorb decided to quit his role with the campaign.
"He is a very straight-forward shooter," Parry said. "He has been with me. He thought it was best for himself and his family to leave the campaign."
Parry also said Brodkorb's media and political-messaging skills would be missed in the Minnesota Senate.
The savings from Brodkorb's $90,000 annual salary could help Senate Republicans cut their budget by 5 percent, as required by last summer's state budget deal.
Meanwhile, the Senate Rules Committee is scheduled to meet Wednesday to discuss how the Senate intends to cut $2.2 million from its budget over the next two years. Koch is still listed as the chairwoman of that committee but Michel said he doesn't expect Koch to be at the meeting.
DFL Senate Minority Leader Tom Bakk said he doesn't know enough in about the allegations against Koch to say whether an ethics charge should be filed against her. He suggested if there is, Republicans should start the ethics process.
"If it does warrant one, I think they should be given the opportunity to clean this thing up internally," Bakk said.
Ethics complaints in the Senate go before a committee made up of two Democrats and two Republicans. If a majority of the committee agrees the complaint is valid, it makes a recommendation about discipline to the full Senate.
Gallery
1 of 2
2 of 2
Your support matters.
You make MPR News possible. Individual donations are behind the clarity in coverage from our reporters across the state, stories that connect us, and conversations that provide perspectives. Help ensure MPR remains a resource that brings Minnesotans together.