Grocery option helps those on tight budgets - without a handout
In the holiday season, when budgets are tight, some Minnesotans struggle to put enough food on the table. A growing number of people need help, but many are reluctant to visit a food shelf. A food discount program based in the Twin Cities offers another option.
Marlys Haugen considers herself more of a giver than a taker. At age 73, she is not looking for charity.
"I have never liked to take anything for nothing," Haugen said.
But Haugen lives on a tight budget — she has social security and a small retirement. She suspects she would qualify for a food shelf or food stamps, but worries other people need those things more than she does.
Grow the Future of Public Media
MPR News is supported by Members. Gifts from individuals power everything you find here. Make a gift of any amount today to become a Member!
"I feel I may be taking away from a family who has children who need that desperately," Haugen said.
So on a recent night, Haugen went shopping — but not at the grocery store. She traveled about 30 miles from her home in Glenwood City, Wis. to Stillwater Junior High in Minnesota. There, people lined up in the lobby for boxes of produce and meat — the kind of food that's hard for her to afford.
It's a discount program run by the Emergency Foodshelf Network, called Fare for All. Prices here are at least 30 percent less than at traditional grocery stores. Organizers save money by purchasing in bulk from wholesalers, and by using donated space and volunteers to conduct the sales.
"I couldn't make my social security dollars reach for the kinds of food I get here," Haugen said.
She pays, just like at the store.
That's the key.
"It is not a handout, which is what means a lot to me, and a lot to the people that are there," Haugen said.
It's a small, but growing, program. Fare for All opened several new sites this year, bringing the total to 77. Sales have risen 28 percent since 2008. The recession contributed to the rise, but also, Fare for All organizers decided to take the food right to the people who need it. They started "express" sites in the Twin Cities, selling discounted food in churches, schools, and community centers. People can simply stop in, no need to preorder, unlike the organizations other statewide sites which require people to preorder. They opened a site this year in north Minneapolis, and last year on the east side of St. Paul.
Marna Canterbury, who directs the United Way of Washington County East, saw necessity in Stillwater, and asked Fare for All to come.
"What we are seeing is that there's more and more people who are looking for ways to stretch scarce financial resources," Canterbury said.
A registered dietician, Canterbury likes that Fare for All offers healthy food, which is often the first to go when budgets get tight. Canterbury hopes people will come to Fare for All before they need a food shelf.
"Whatever we can do to come around a family or an individual to help them conserve resources can help prevent them from getting to the crisis point when they're out of food," Canterbury said.
The more people who come to Fare for All, the bigger her buying power, says Sophia Lenarz-Coy, who directs the program.
"You're putting your buying power into our pool, and you're helping other people who really need it," she said.
She admits the program has disadvantages. People need transportation to get to the sites. The sites are only open certain days. Also, the prices are probably not any better than at discount grocery stores, like Aldi. So why not just go there?
"Discount grocery stores are great, they're also not everywhere. And so we're we're trying to be strategic about our locations to increase access to good food at good cost," Lenarz-Coy said.
Haugen goes to Fare for All for a different reason. Back at home she goes through the food she bought. She needed it. Her Social Security check won't come until the 28th.
"Which you all know is after Christmas," Haugen said. "So this I have been saving, from when I went on Tuesday, to have for Christmas dinner with my family."
Haugen likes the food, but more so, she likes the idea that if more people shop at Fare for All, it will keep prices low for those who are struggling more than she.
"I cannot go out and make big donations to anything. But this way, I feel that I am helping someone in a small way, but I am also reaping the rewards from the groceries," Haugen said.
At Christmas time, it's nice to feel she's giving, not just taking.
Gallery
3 of 3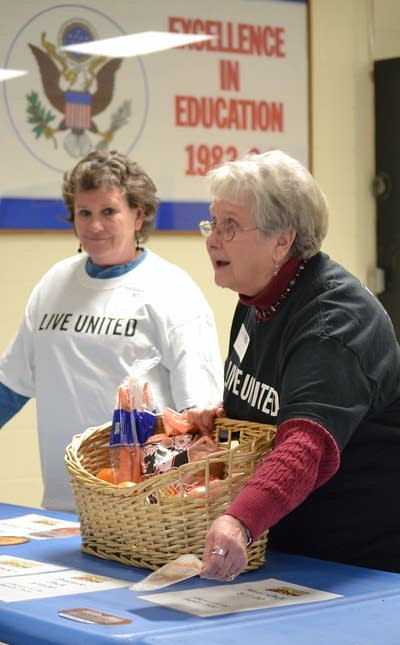 1 of 3
2 of 3