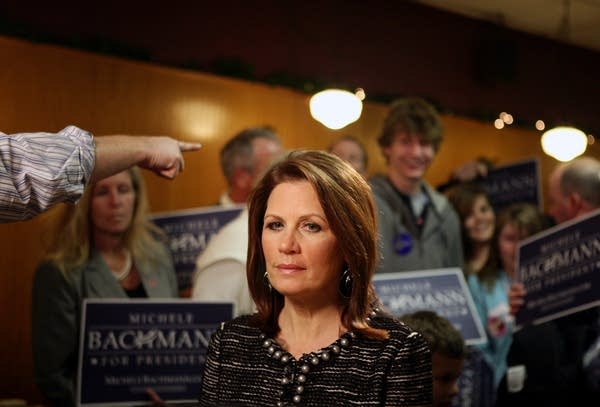 Rep. Michele Bachmann's presidential campaign says it's moving on with a new campaign chairman in Iowa, after the last man to hold that position defected Wednesday to Texas Rep. Ron Paul's campaign.
Just hours after appearing alongside Bachmann, Iowa state Sen. Kent Sorenson told Ron Paul supporters gathered in Des Moines he was switching sides, asserting that Paul's campaign was at a turning point and that his new boss offered an opportunity to elect a conservative who, "Holds our values dear."
For months, Sorenson had campaigned throughout Iowa with Bachmann, often delivering heart-felt testimony about his belief in her. Her campaign fired back at him late Wednesday, accusing him of telling her, "Everyone sells out in Iowa, why shouldn't I?"
"It's clear that this was a deliberate move by the Ron Paul campaign to discredit our campaign and our growing momentum," Bachmann said in a statement. "Ron Paul is in trouble in Iowa and his campaign is worried about people learning about his dangerous stance on foreign policy and how he will make America less safe."
The statement continued: "...Kent campaigned with us earlier this afternoon and went immediately afterward to a Ron Paul event and announced he is changing teams. Kent said to me yesterday that 'everyone sells out in Iowa, why shouldn't I,' then he told me he would stay with our campaign. The Ron Paul campaign has to answer for its actions.
"We are almost through with our 99-county tour and have seen overwhelming support all across Iowa. This is clearly an effort on the part of the Paul campaign to throw cold water on our growing momentum."
In the same statement, Bachmann announced Iowa state Sen. Brad Zaun would serve step up from his position as Iowa co-chair to assume the chairmanship of the campaign.
Speaking Thursday morning on WHO radio in Des Moines, Bachmann said money motivated Sorenson.
"He said it was a great deal of money, and he said he had to provide for his family and that's the decision that was made."
Officials from Ron Paul's campaign say Bachmann is wrong about money motivating Sorenson, and in a statement released on Paul Paul campaign stationary another Bachmann staffer said that Sorenson's decision to leave was "in no way financially motivated."
Meanwhile, two politically active pastors in Iowa's robust evangelical conservative movement disclosed an effort to persuade either Santorum or Bachmann to quit the race and endorse the other. "Otherwise, like-minded people will be divided and water down their impact," said Rev. Cary Gordon, a Sioux City minister and a leader among Iowa's social conservatives. Neither candidate appeared interested.
Bachmann remains in the single digits in recent Iowa polls.
(The Associated Press contributed to this report.)