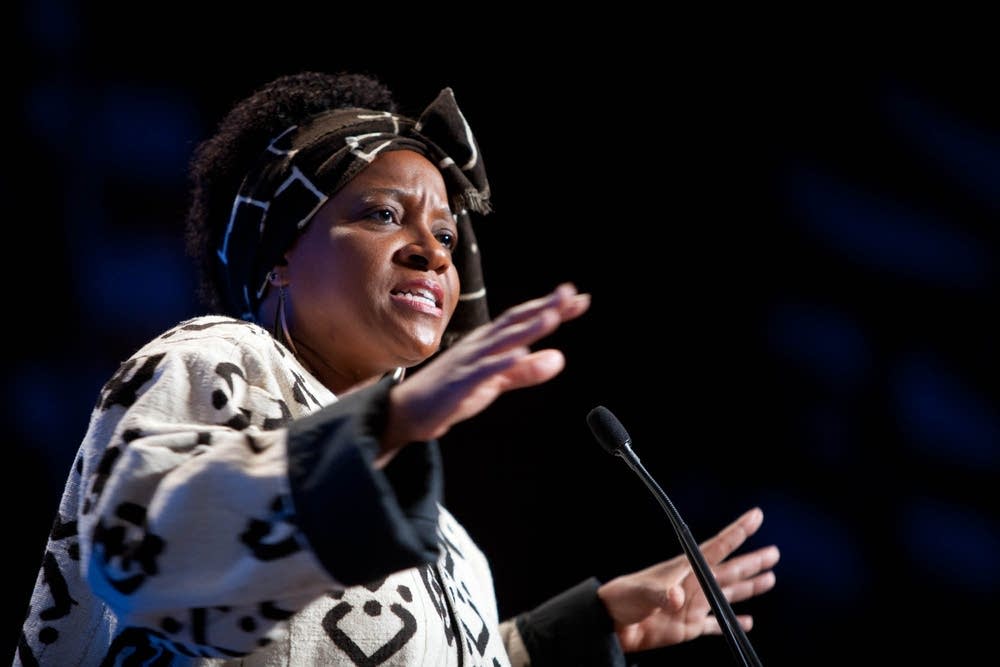 About 2,000 community and business leaders gathered Monday morning at the Minneapolis Convention Center to honor the legacy of Martin Luther King, Jr.
Human rights activist Naomi Tutu, the daughter of Nobel Peace Prize winner Desmond Tutu, spoke at the breakfast and called on the crowd to finish the work still undone.
"In this city, a 3-year-old boy, Terrell Mayes, was shot in his own home," she said. "As long as our children are not safe, we are far from the promised land."
The annual event, now in its 22nd year, is one of the largest events in Minnesota marking the MLK holiday.
Naomi Tutu was born in South Africa during apartheid and has worked all over the world fighting for race and gender equality.
During her speech, Naomi Tutu discussed an African concept she called "ubuntu."
It revolves around the idea that everyone has value and is connected to one another, she said. It's an idea King followed -- even when others weren't doing the same.
"It's not some strange and exotic kind of political or social theory," Naomi Tutu said. "It's a very basic idea, the idea of our shared humanity."
She told a story about a time King was riding in the car at night with his brother-in-law, who was frustrated when other drivers left on their bright headlights.
"He finally said something to Dr. King. You know, 'The next person who comes along and doesn't dim their lights, I'm not going to dim mine either, then we're going to see what happens.' And Dr. King said -- 'no. You have to dim your lights. We need at least one person on this road able to see clearly.'"
Naomi Tutu said she sees plenty of evidence that the world has not yet reached the promised land King spoke about: Children in developing countries lack access to education, girls are sometimes forced to marry at a young age, whole populations live with unsafe water supplies. She called on the audience to fight for human rights.
After the speech, Minneapolis City Councilmember Don Samuels said he sees a need for Naomi Tutu's words here at home.
"This is a call for us today to rise to the level of humanity that we attributed to Dr. Martin Luther King and his peers," he said. "To see each other, no matter how extreme our depravities seem to be, as human beings."
As Samuels sees it, today is a day for hope. We sometimes forget, he said, how stumped King and his peers were, back in the early days of the civil rights movement. Minnesota still has large gaps between white people and people of color in the areas of unemployment, education and health care.
Those problems can seem overwhelming, Samuels said.
"You know, the typical white suburbanite, white guy, white woman, professional, is listening to the accent of an inner city family, the body language, the circumstances, and is totally stumped," he said. "This thing can't be fixed, right? But, look, here is an opportunity for us to reflect on the impossibility of the civil rights movement, the total unliklihood that that could ever be successful. And yet in one generation our society was transformed."
King would have been 82 years old this year.